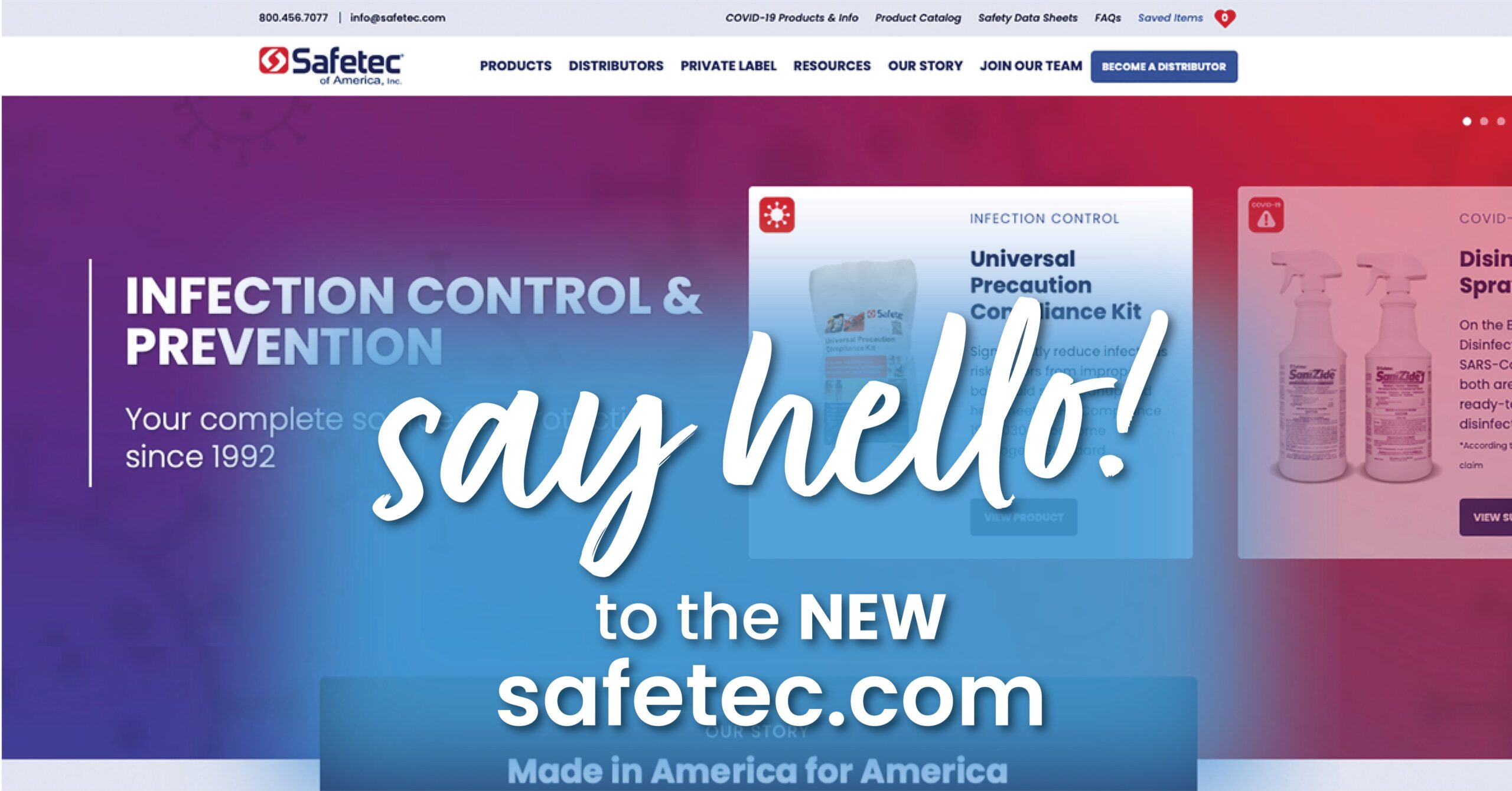 Say Hello! To the NEW safetec.com
After months of hard work and dedication, we are excited to announce the launch of the fully redesigned safetec.com. We aimed to make the new website faster, easier to navigate, and more user-friendly. Customers are at the heart of everything we do at Safetec, so we set out to create a fresh new user experience to serve our current and future customers better.
This new website aims to provide our visitors an easier way to learn about our company, capabilities, and products. Our new website boasts a neat, uncluttered design and easy-to-use navigation that will quickly direct you to the most relevant information you need. Additionally, it gives better access to who we are, how we work, our product catalog, and our private label capabilities. Most of all, the new website portrays our passion for customer service and enjoying what we do.
Safetec Products
Our new product filtering system allows users to filter our products by category, industry, or type to help you find exactly what you are looking for. The Saved Items feature will enable users to "heart" or save the products that interest them. The saved products will appear in the new Saved Items cart in the top right corner. Here, you can compare the saved products and fill out the form requesting more information or become a distributor, allowing our team to view the exact product or product lines that caught your eye.
Private Label
Safetec is continually growing our private capabilities by increasing capacity, and purchasing the latest machines and technology. Our improved Private Label section gives users and future customers an overview of all our private label and contract manufacturing abilities and benefits to a partnership with Safetec. We understand that private brands are more than just labels, they represent your business, and we are ready to show you all we can do!
Distributor Resources
Safetec.com now offers a distributor resource hub housing all of Safetec's collateral and resources available to our partners. Here you will find SDS sheets, Sell Sheets, Compliance Resouces, Video Library, Safetec Blog, Product Catalog, and Customer Testimonials, creating a true resource directory for our valued customers.
Our Story
Here at Safetec, we are proud of who we are and how we got here. From humble beginnings in 1992 to a leader in infection control and first aid manufacturing. The vastly improved Our Story section gives our users just that, the history of Safetec through an interactive timeline, starting with the purchase of the manufacturing rights to Red Z in 1991 through today. Our Story also features a Why Work With Us module, Certifications, Employee Spotlights, and our personal favorite, Meet the Team.
Join Our Team
We believe we are only as strong as our people, so attracting the right talent is especially important. The new Join Our Team section highlights the diversity of our staff, letting prospective applicants know that diversity and inclusion rank amongst our core values as a company.
Users can also view our open positions and sign up for email notifications of new job openings. We've also added a Keep Up With The Team section, highlighting all the fun events we do as a team and to show the world we are more than just a manufacturer; we are a family.
Additionally, we will constantly update our content with helpful information, company announcements, and client successes in the Blog, Safetec in the News and Resource Center. You can also sign up for Safetec Weekly, our weekly blog newsletter.
Finally, we would like to thank our amazing team at Safetec, who put in the time, energy and hard work to make this site what it is, an extension of who we are and where we are going. We hope you like the site as much as we do! Check out the new website at safetec.com. Enjoy!