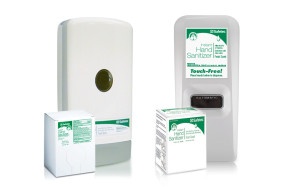 09/05/16
By Dana Szymkowiak
When I Drip, You Drip, We Drip
Your Guide to Automatic & Manual Hand Sanitizer Dispensers When you are thinking about the best products for hand sanitation needs, the top product on your list should be the dispenser. There are generally two…
Continue Reading

09/02/16
By Dana Szymkowiak
Are You Cleaning Your Hands The Right Way?
Probably not! Hate to be the bearer of bad news, but you have been washing your hands wrong for your entire life. Hard to believe, but it's true. Think back to when you were taught…
Continue Reading
12/15/15
By Dana Szymkowiak
The Fist Bump: A More Hygienic Alternative to the Handshake
Think twice the next time you decide to shake someone's hand. A study published in APIC shows that there might a better alternative.
Continue Reading