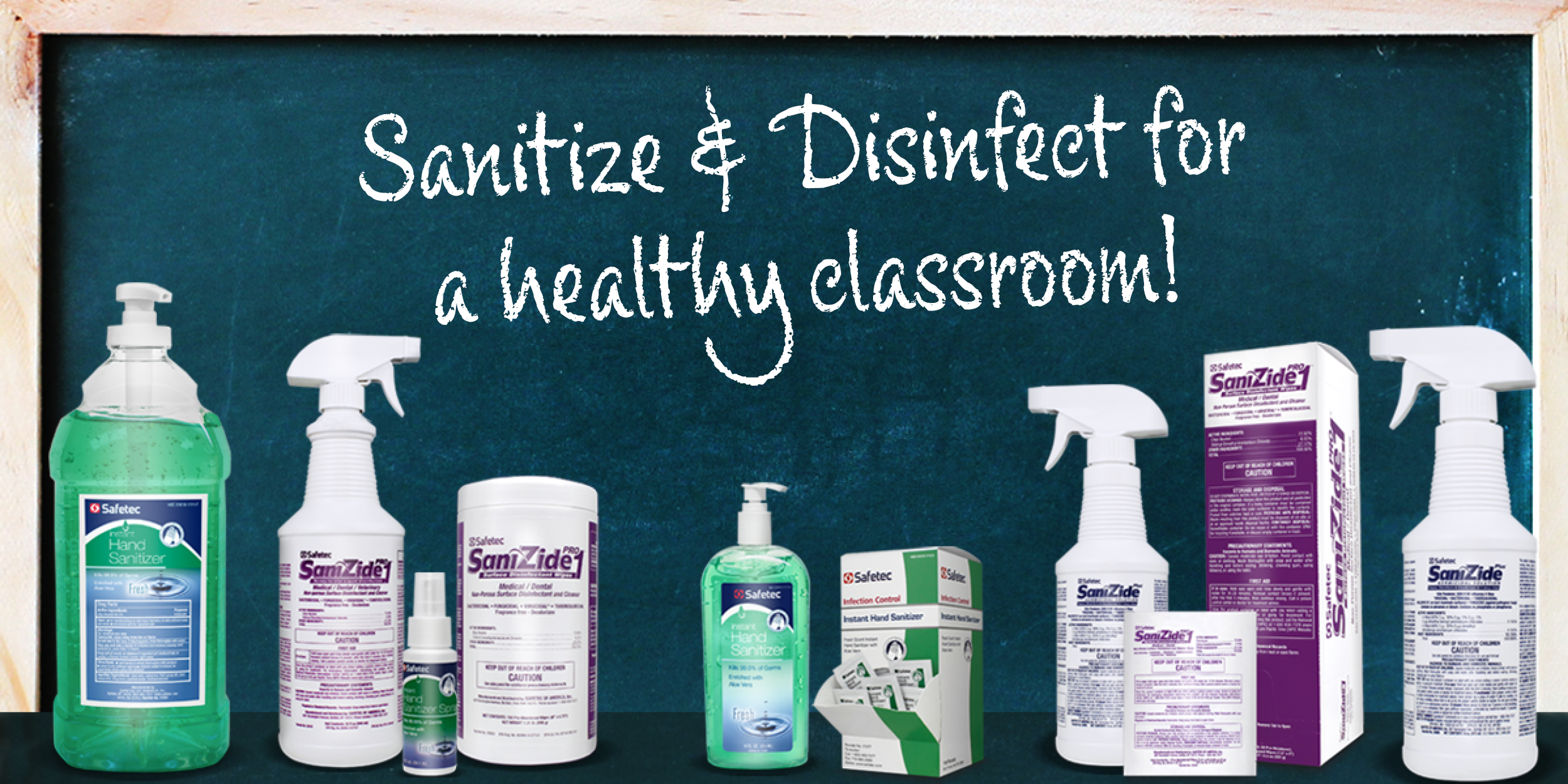 Back to School: Is Sanitization on your Supply List?
07/21/22
By Dana Szymkowiak
As summer break is slowly coming to an end, students, teachers, faculty, and staff are preparing to head back to school.  While most are shopping for new clothes, paper, pencils, and more items that can be checked off your school supply list, here are some other essentials items to consider that will help keep everyone in the classroom safe:
Hand Sanitizer
During the pandemic, when most school districts stocked up on hand sanitizer, the FDA temporarily allowed increased manufacturing of non-FDA regulated sanitizer to meet the high demands. Many of these pandemic products are not safe or effective.
When choosing a hand sanitizer, follow these easy guidelines to help that your products are safe and effective for use in your school district:
Make sure that the formula contains the CDC recommendation of at least 60% ethyl alcohol or 70% isopropyl alcohol for proven efficacy against germs.
Ensure the product is in the original packaging with appropriate labeling and is not on the FDA-banned list of sanitizers.
Check the product's expiration date – the safety and efficacy of the product can be guaranteed up to the expiration date.
Avoid hand sanitizers with undesirable smell, stickiness, or those that irritate or dry hands.
Safetec Hand Sanitizer is available in single-use pouches, bottles, sprays, and dispensers. It's formulated with 66.5% ethyl alcohol to kill 99.9% of widespread germs and enriched with aloe vera to help preserve your skin's health.
Surface Disinfectant
Thoroughly cleaning and disinfecting high-touch areas in the classroom is crucial to your health and safety. Here are a few quick tips on how to maintain a safe and healthy environment:
Know the difference between cleaning and disinfecting. Simply put, cleaning removes dirt, dust, and impurities while disinfecting kills germs, bacteria, and viruses.
Use an EPA-registered and approved surface disinfectant. The EPA regulates surface disinfectants to ensure they are effective and safe for consumers. Click here for a full list of approved products.
Always follow the directions on the label to ensure safe and effective use of the product. The label will include safety information and application instructions. For example, many products recommend keeping the surface wet with a disinfectant for a certain period (see "contact time" on the product label).
Focus on high-touch areas and easy transition paths that can spread disease. Be sure to clean and disinfect:

Doorknobs and handles
Desktops and chairs
Cabinets, lockers, and bookshelves
Shared computer keyboards and mouse
Light switches
Sinks, countertops, and surrounding areas
Shared electronics, such as printers
Safetec offers two different surface disinfectant options. SaniZide Pro 1® and SaniZide Plus® Surface Disinfectants are a convenient and effective way to disinfect high-touch surfaces in your facility. Our disinfectants are ready-to-use, broad-spectrum, EPA Registered hospital-grade formulas on the EPA List N for use against SARS-CoV-2 (the virus that causes COVID-19). *
SaniZide Pro 1® makes staying compliant even easier by reducing the risk of cross-contamination with true, one-minute kill claims effective against 48 microorganisms and safe for repeated use on hard, nonporous surfaces.
SaniZide Plus® is a convenient, fast-acting, multi-purpose, broad-spectrum cleaner, disinfectant, and deodorizer for environmental surfaces. Our alcohol-free formulation is a non-flammable, non-corrosive, EPA-registered, quaternary ammonium compound that meets non-hazardous shipping requirements.
A trusted USA Manufacturer for over 30 years
As a U.S. infection control, first aid & OTC manufacturer, we have been dedicated to leading the fight against preventable infections and cross-contamination for nearly 30 years. Driven by our firm commitment to high-quality products, we manufacture EPA-registered and over-the-counter (OTC) products in our FDA-regulated facility. With our shared vision of protecting people, we offer the very best value in complete product solutions to keep you, your employees, patients, and communities safe.
*according to the emerging viral pathogen claim
Sources: https://www.epa.gov/pesticide-registration/selected-epa-registered-disinfectants