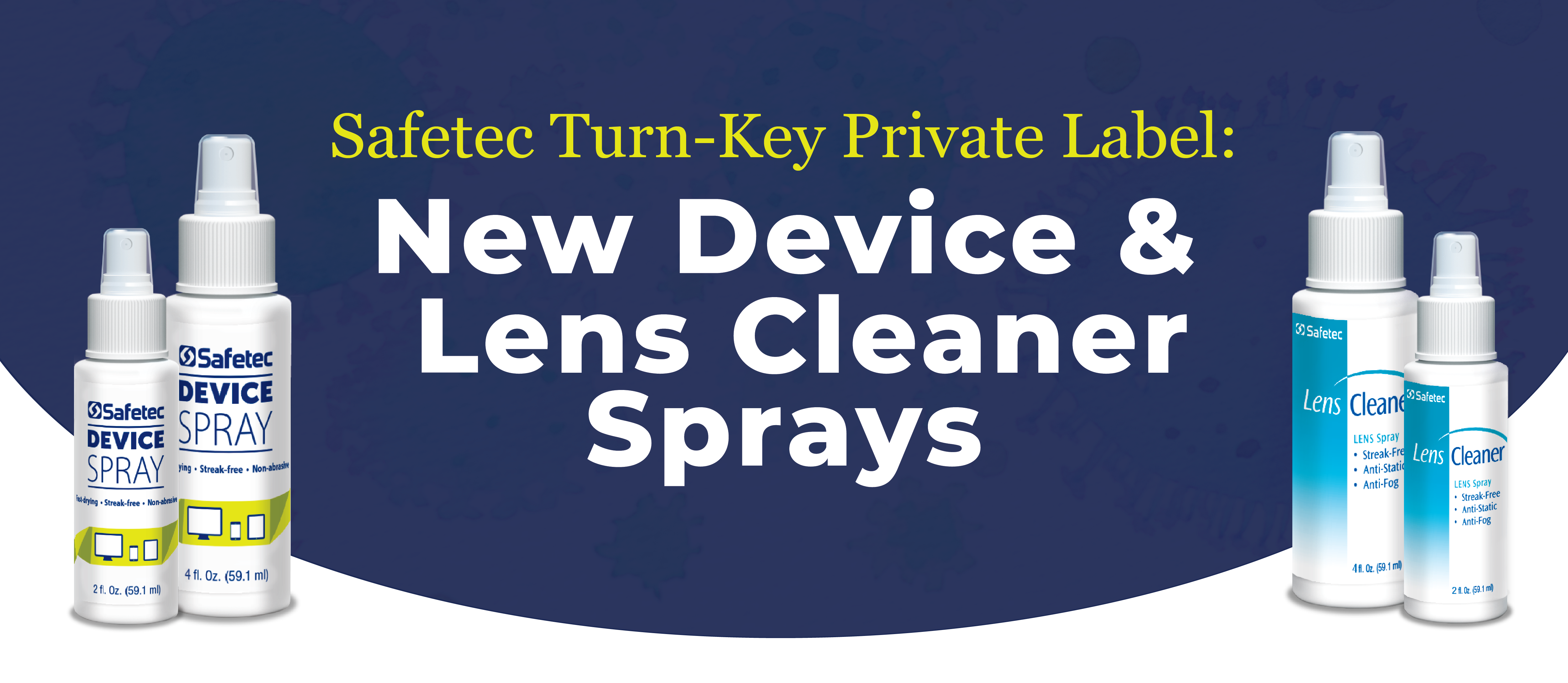 Safetec Turn-Key Private Label: New Device and Lens Cleaner Sprays
06/12/23
By Dana Szymkowiak
In today's competitive market, businesses often seek to differentiate themselves by offering unique products under their own brand names. Safetec of America, Inc. understands the significance of private-label products and their value to businesses and consumers. Our turn-key private label capabilities offer a seamless and comprehensive solution for businesses looking to create their own branded products.  
With our extensive expertise and dedication to customer satisfaction, we are equipped to handle all aspects of the private label manufacturing process. From product formulation to packaging design and labeling, our in-house experts will work closely with you to ensure a seamless and successful experience. At Safetec, we prioritize delivering exceptional quality and meeting your specific requirements. 
Introducing Device and Lens Cleaner Sprays  
Safetec's latest addition to our private label offerings includes our highly effective Device and Lens Cleaner Sprays. These two formulas are available in 2 oz. and 4 oz. spray bottles with the Safetec pre-designed labels. Or customize your own label art, allowing you to create a private label version of our existing Lens Cleaner and Device Wipe formulas. This is the same trusted formula that has been offered in an individual wipe, now conveniently available in a spray format, providing a versatile solution for cleaning plastic, glass, and touchscreen surfaces. 
Safetec's Device and Lens Cleaner safely remove dirt, grime, smudges, and fingerprints, leaving crystal clear and streak-free results. The sprays are formulated to be anti-static, reducing the likelihood of dust and debris buildup on cleaned surfaces. Additionally, they are silicone-free, ensuring compatibility with sensitive electronic devices and lenses. 
Safetec's turn-key private label solution is designed to provide a hassle-free experience. Our dedicated team will guide you through the process, addressing your unique requirements and preferences. Contact us today to take advantage of this private-label opportunity. 
Let's Work Together! 
As a full-service contract manufacturer, our mission is to guide our partners in developing and launching their brands by offering in-house services from formulation to packaging, helping them bring their idea from mind to market. 
We take your specific needs to heart and offer flexible order minimums and lead times. Our commitment to quality and innovation has helped us become a top supplier of private-label healthcare, first aid, and personal care products in the United States. 
Contact us today to explore how Safetec can help bring your private label vision to life.