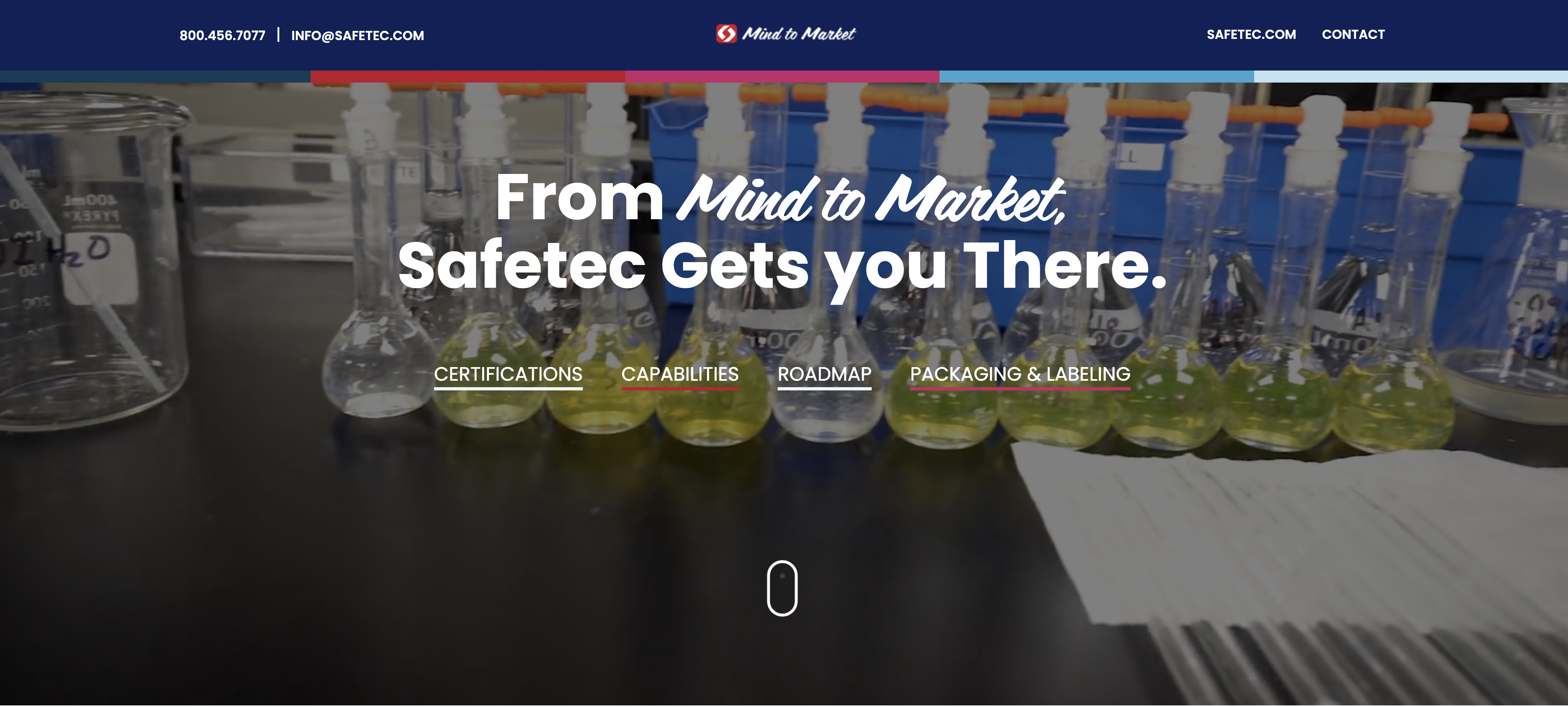 Safetec of America Unveils "Mind to Market"
08/07/23
By Victoria Robinson
Safetec of America Unveils "Mind to Market": A Comprehensive Private Label Website Showcasing Unmatched Expertise and High-Quality Solutions
Buffalo, NY 08.07.23 – Safetec of America, a leading name in infection control and first aid products, is thrilled to announce the launch of its dedicated private label website, "Mind to Market." This cutting-edge platform aims to demonstrate Safetec's unwavering commitment to delivering top-tier products. Safetec's Mind to Market can be a game-changer for businesses seeking to create their own line of exceptional products.
Mind to Market offers an immersive experience that provides a deeper understanding of Safetec's unparalleled expertise, packaging options, state-of-the-art machine capabilities, and standard formulations. As a window into Safetec's comprehensive private label solutions, this website showcases the company's dedication to fostering successful partnerships and facilitating seamless private label product development.
"Our new Mind to Market website is more than just an online platform; it is a testament to our dedication to excellence and our desire to assist businesses in bringing their ideas to life," said Ken Bianchi, Executive Vice President of Safetec of America. "We are thrilled to offer our partners a comprehensive resource showcasing our abilities to cultivate successful collaborations."
With Mind to Market, potential clients gain access to Safetec's extensive expertise and resources that are crucial in developing a successful private-label product line. The website is a strategic tool to generate interest and foster engagement from those seeking reliable, flexible, and experienced partners in their private-label endeavors.
At Mind to Market, visitors can explore various features designed to enhance their understanding of Safetec's capabilities. Highlights of the website include:
Expertise Showcase: Learn about Safetec's decades-long industry experience and its unmatched knowledge in infection control and first aid products.
Packaging Options: Discover the wide array of packaging choices available, tailored to meet the unique needs of each product.
Machine Capabilities: Watch captivating videos of Safetec's advanced machines in action, demonstrating their precision and efficiency in the manufacturing process.
Standard Formulations: Gain insights into Safetec's tried-and-tested standard formulations, developed with the utmost care and adherence to quality.
Regulatory Support: Safetec's dedicated quality and regulatory team assists partners in meeting FDA standards and confidently navigating the complex regulatory landscape.
"We are proud to offer this comprehensive resource to our existing and potential partners, aimed at driving new partnerships and enabling prosperous collaborations," said Tori Robinson, Creative and Brand Manager at Safetec of America. "Mind to Market represents our commitment to supporting our clients' vision and achieving mutual success."
To experience the Mind to Market website and explore Safetec's private label capabilities, visit www.privatelabel.safetec.com.
About Safetec of America:
Safetec of America is a renowned infection control, first aid, and personal care product provider, committed to manufacturing high-quality solutions for over 30 years. With a focus on customer satisfaction, innovation, and expertise, Safetec is an industry leader in private-label solutions, serving clients across the globe.
For media inquiries and interview requests, please contact:
Tori Robinson
Creative & Brand Manager
Phone: (716) 895-1822
Email: victoria@safetec.com