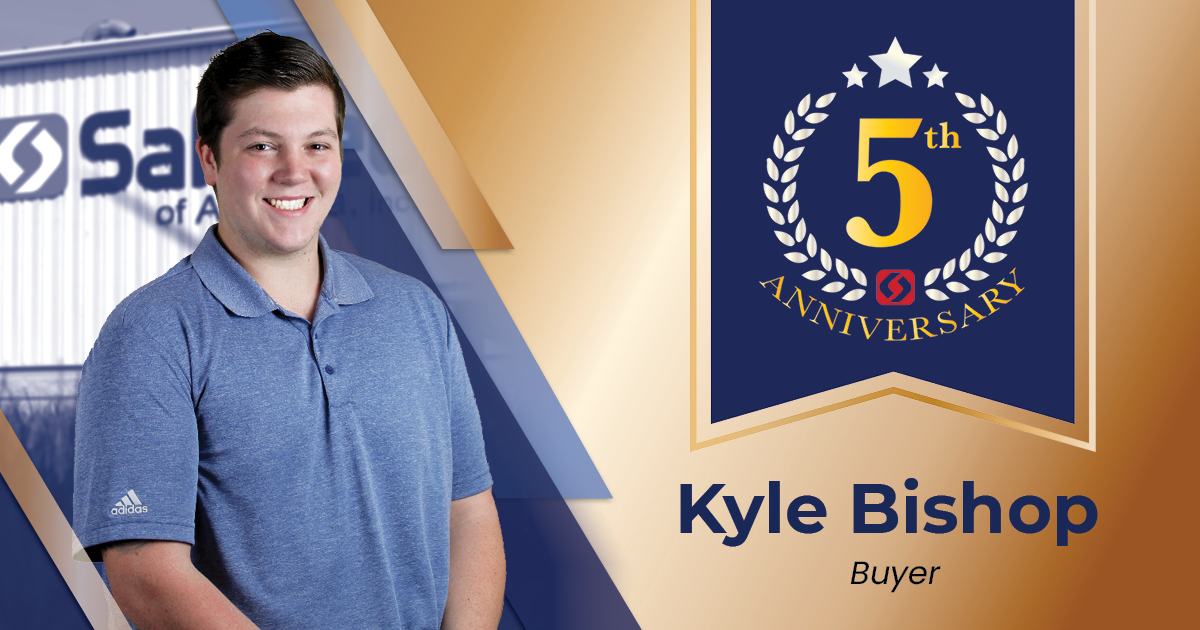 Safetec Milestone: Kyle Bishop
05/02/23
By Dana Szymkowiak
Safetec of America, Inc. is proud to celebrate the 5-year work anniversary of Kyle Bishop. Kyle's journey with Safetec began in the shipping department, where he quickly proved himself to be a hardworking and reliable employee. Through his diligence and determination, he worked his way up the ranks, eventually earning a role as a Buyer in the purchasing department. Kyle's growth within the company is a testament to his hard work and willingness to take on new challenges. 
One thing that makes Kyle such an asset to our team is his great team-player mentality. He is always willing to help his fellow teammates in any way he can, even if it means shifting back to shipping during times of need. His willingness to go above and beyond for the team has not gone unnoticed, and we are grateful for his positive attitude and work ethic. 
Another remarkable quality that Kyle possesses is his promptness in completing tasks. He understands the importance of meeting deadlines and ensuring that tasks are completed efficiently and effectively. We can always count on him to follow through on his commitments. 
On behalf of the entire Safetec team, we want to thank Kyle for his incredible contributions to our company over the past five years. We appreciate his hard work, dedication, and commitment to our success. We look forward to continuing to work with Kyle and watching him continue to grow and develop his career with Safetec. 
Congratulations, Kyle, on your 5-year anniversary! 
Get to Know Kyle!
What is your favorite food?  
My favorite food would be smoked brisket. My friends and I try to smoke different meats over summer and have a bbq when we can. We've smoked brisket, ribs, chicken, sausage, and bologna (which is a lot better than fried bologna).
What makes you smile?  
Anything aviation related. I can talk for HOURS about aviation. Sometimes my friends get bored of it but I try and fly as much as I can which is always a thrill. Never a dull moment!
What advice would you give to recent new hires?  
Not to be intimidated by a new position. May seem hard to find the right group of people but everyone here at Safetec welcomes new hires like family and makes sure you feel welcome! No one will let you fail. If you make a mistake, pick yourself back up and try again. If you need help, don't be afraid to ask. There will always be someone who will give a helping hand.