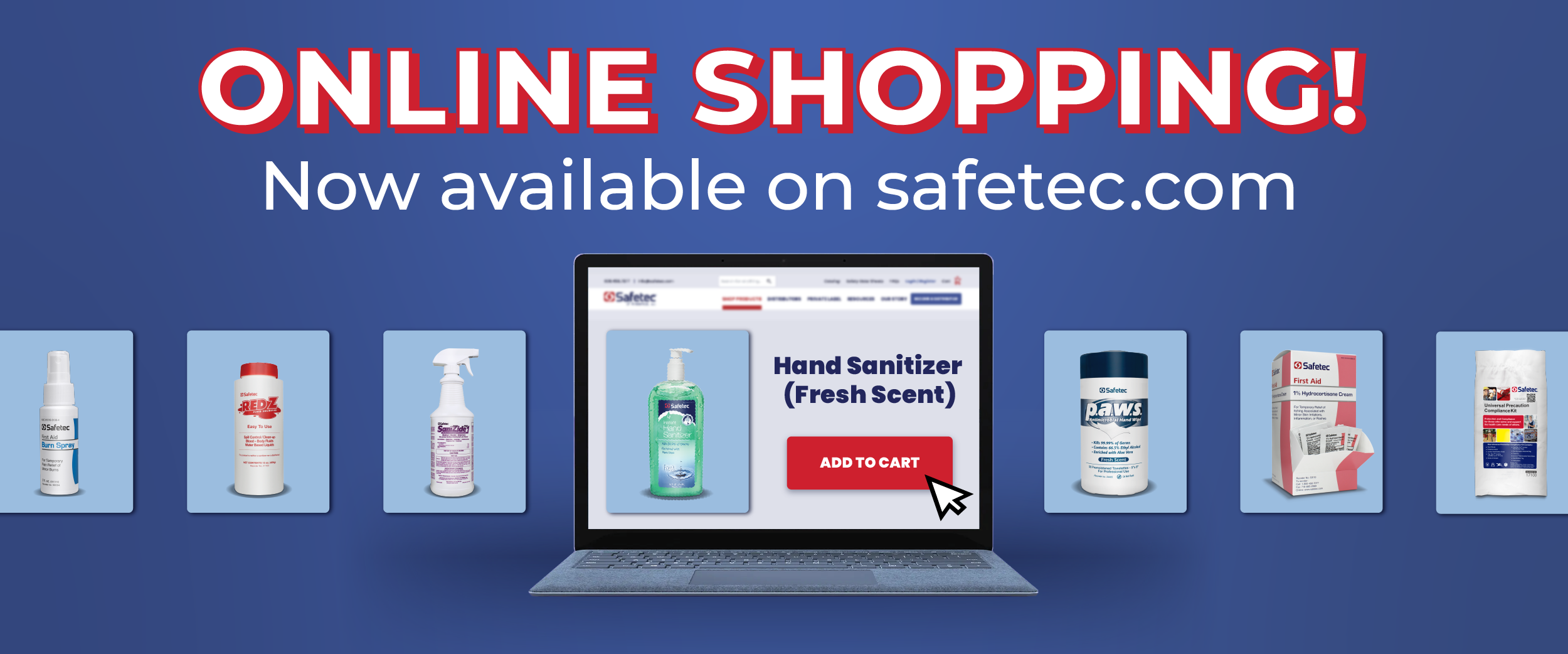 Now Available: New Safetec Online Shopping Feature
04/24/23
By Dana Szymkowiak
Safetec is excited to announce the launch of our new online shopping feature! Now customers will have access to all the Safetec products they know and love from the comfort of their own homes or offices. With just a few clicks, you can browse our wide selection of high-quality first aid, infection control, and compliance products and place an order that will be delivered straight to your door. 
We've designed our shopping platform to be very user-friendly, with intuitive navigation and a streamlined checkout process. The e-commerce feature allows customers to easily search for products and add them to their cart based on their desired packaging configurations and quantity. In addition, customers can easily review their orders and make secure payments online. 
Here are some other ways our new Shopping Feature can help benefit you: 
Quick and Easy Ordering
With the new online shopping feature, customers can quickly and easily place orders for Safetec products without calling or emailing a sales representative. This can save them time and effort, especially for repeat orders.  
Another great feature of buying online is that there are no minimum order quantities  – making it ideal for customers who are new to Safetec and want to try our products before they expand their Safetec offerings. Keep in mind that products can be purchased in full case quantities only. 
Access to Product Information
The new shopping feature provides detailed product information, including descriptions, specifications, and images, which can help customers make informed decisions about which products to order. 
Fast Delivery
For customers looking for fast delivery, Safetec of America, Inc. has got you covered! In-stock orders will ship within 24-48 hours, ensuring that customers receive their orders as quickly as possible. The new online shopping feature also provides real-time inventory tracking, so customers can easily see which products are available for immediate shipment. 
Account Management
Customers can create an account on the Safetec website to manage their orders, track their shipments, and view their purchase history. They can also save their shipping, billing, and payment information for faster checkout in the future. This saves time and hassle for customers who may need to place repeat orders, as they can simply log in and quickly reorder their desired products. This feature also ensures accuracy in shipping and billing information, minimizing the potential for errors and delays in order processing. 
Having an e-commerce site is essential in today's digital age. It allows us to reach a wider audience and make our products accessible to customers who may not have been able to purchase them otherwise. Overall, we hope our new Safetec Shopping Feature can help our customers by making the ordering process more efficient, providing access to detailed product information, and offering other useful resources that can help you make informed decisions about your purchases. 
Ready to buy in larger volumes? Looking for discount pricing on higher order quantities? Visit www.safetec.com/distributors to become a Safetec Distributor or contact salesteam@safetec.com.