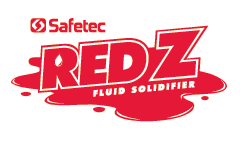 Spill Control Solidifier Solutions
Safetec recently celebrated its twenty-fifth anniversary, and it's important to look back at the products that were there since the beginning, Safetec's Fluid control solidifiers. When it comes to disposing of spills, it is paramount that they are solidified before removal. A non-solid spill causes a severe risk of cross-contamination. In a hospital or healthcare environment these spills can contain harmful bacteria, so the cross-contamination risk becomes even more severe. Thankfully, Safetec has three fluid control solidifiers perfect for your needs.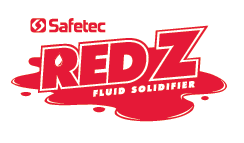 The first, Red-Z, is the product that put Safetec on the map. This solidifier is formulated from a superabsorbent polymer and a small amount of chlorine. The polymer expands when wet, and solidifies the spill. The chlorine is used as a deodorizing agent, so your waste doesn't smell. Red Z is not incinerator friendly because of the chlorine.
The second, Green-Z, is similar to Red Z. This product is also formulated from a superabsorbent polymer and absorbs most spills. Green-Z doesn't contain chlorine, so after a spill has been solidified and collected, it can be used in an incinerator for disposal.
The final product, Speedy Cleanz, is an economical way to dispose of vomit and other bodily fluid spills. Speedy Cleanz has a kitty litter like appearance. This product solidifies and deodorizes most bodily fluids and is perfect for use in schools or other business environments.
All of Safetec's Spill Control Fluid Solidifiers come in different sizes and packaging types to fit your facility's needs. These soldidifiers allow you to control and remove whatever spills occur in your workplace easily. Also, these solidifiers play a significant role in remaining compliant with OSHA's regulations. For more information on Fluid Soldifiers and Spill Control Kits head over to the products area on our website.