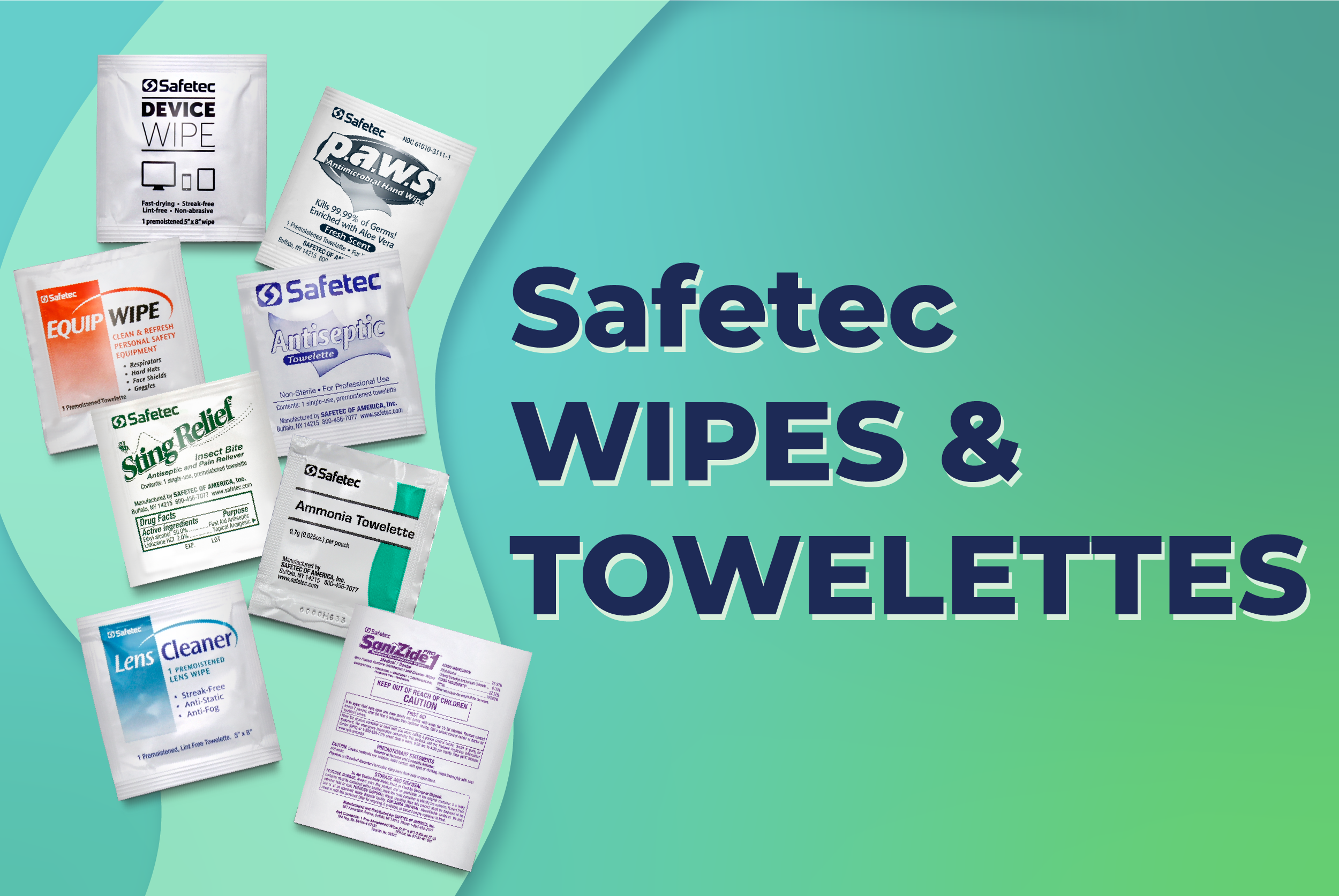 Product Spotlight: Safetec Wipes & Towelettes
02/08/23
By Dana Szymkowiak
Whether you're cleaning your screen, wiping the dirt and grime from your hands, or tending to your mosquito bite for relief – Safetec's got a full line of specialty, personal care, first aid, and hand hygiene wipes for all your needs.
Specialty Wipes
Device Wipe
In today's tech-savvy world, people take their smartphones, tablets, computers, and electronics everywhere they go. The more places we go, the more our devices pick up dirt, grease, grime, and fingerprints along the way. With this idea in mind, Safetec developed a quick, easy-to-use solution to keep your screens and surfaces clean and free from unwanted residue with our Safetec Device Wipe.
Each towelette is formulated to be non-corrosive and non-abrasive, making them suitable for daily use. The formula also dries quickly, leaving a lint-free, streak-free finish that prevents any moisture damage. The individual packaging allows you to easily throw these wipes in your purse, backpack, or even your pocket for a quick, refreshing clean wherever you go. Computers, cell phones, tablets, televisions, cameras, and remote controls, are the perfect application for the Device Wipe.
Lens Cleaner Wipe
Safetec's Lens Cleaner Wipes are available in single-use pouches and provide a crystal clear, streak-free finish for glass and plastic surfaces. These premoistened towelettes allow for faster streak-free drying time, resulting in a crystal-clear finish every time. In addition, the wipes' material is anti-static and silicone-free, making them safe for use on eyewear, safety glasses, computer screens, keyboards, phones, CDs, DVDs, and other glass or plastic items. Purchase in bulk packaging or 100-count easy-to-use dispenser boxes.
Equip Wipe
Clean and protect personal equipment with our alcohol-free, individually wrapped, premoistened towelettes. Wipe away dust and grime and easily throw them away. It is safe for use on personal equipment, respirators, hard hats, face shields, goggles, and more. Available in 100-count dispenser boxes, the Equip Wipe is safe for use on all surfaces, including natural rubber.
Personal Care & First Aid Wipes
Sting Relief Wipe
Sting Relief Wipes are used for temporary relief from pain and itching caused by insect stings and bites. These wipes are formulated with Lidocaine for fast-acting pain relief. Lidocaine is a local anesthetic, which numbs the area where you've used it. It works by stopping nerves from sending pain signals to your brain. If you can stop the urge to itch, you can reduce your chance of a secondary infection.
Antiseptic Wipe
A first aid kit essential! Safetec's Antiseptic Wipe helps to treat, cleanse, and protect wounds. These individually sealed towelettes are formulated with 66.5% ethyl alcohol to kill germs, contain aloe vera, and are free of dyes and sticky residues. They provide a gentle cleansing without the use of soap and water and are ideal for use on the face, hands, and body to clean and refresh.
Ammonia Wipe
Safetec Ammonia Towelettes contain Ammonia, Ethanol, and Purified Water. Ammonia is said to be a powerful respiratory stimulant that helps provide immediate relief from lightheadedness and increase alertness. For use, simply tear it open and wave the pouch under the nostrils. Do not remove the pad from the pouch.
Hand Hygiene Wipes
p.a.w.s. Antimicrobial Wipe
p.a.w.s.® Antimicrobial Hand Wipes combine FDA-required efficacy with the convenience of a compact, easy-to-use hand hygiene solution. P.a.w.s.® towelettes are formulated with 66.5% ethyl alcohol to kill 99.99% of germs, providing fast and effective protection against frequent disease-causing germs.
At Safetec, we know that the total formulation of our products impacts user experience. For example, other hand wipes can cause dry skin or leave your hands sticky. p.a.w.s.® Antimicrobial Hand Wipes are formulated with moisturizing aloe leaving skin soft, healthy, and with no sticky residue. In addition, features such as antimicrobial efficacy, safety, skincare, and aesthetics are all designed into the formulation to ensure our product is safe and effective while gentle on the skin.
Surface Disinfectant Wipes
SaniZide Pro 1 Surface Disinfectant Wipes
Safetec's SaniZide Pro 1® is a broad-spectrum, EPA Registered surface disinfectant that combines cleaning and disinfecting in one simple step with its ready-to-use, alcohol-based hospital-grade formula.
SaniZide Pro 1® makes staying compliant even easier by reducing the risk of cross-contamination with true, one-minute kill claims effective against 48 microorganisms and SARS-CoV-2* (the virus that causes COVID-19) and safe for repeated use on hard, nonporous surfaces. It is available in individual pouches, pull-out canisters, 32 oz. Sprayer Bottles, and 5 Gallon Carboys.
*according to the emerging viral pathogen claim.
SaniZide Plus Surface Disinfectant Wipes
SaniZide Plus® Germicidal Wipes are pre-saturated hard surface wipes that kill viruses such as MRSA, TB, VRE, and E. Coli in 10 minutes and HIV-1 in 2 minutes. The towelettes leave behind virtually no lint or particles to scratch or contaminate surfaces. Our dual-quat, alcohol-free formula is non-flammable, safe to ship, and non-corrosive on surfaces. Effective Against: H1N1, MRSA, HIV-1, TB, HEP, E. Coli, VRE, AVIAN FLU A, NOROVIRUS, H1N1 INFLUENZA A and SARS-CoV-2 (the virus that causes COVID-19) according to the emerging viral pathogen claim.
The ready-to-use SaniZide Plus® Wipes clean, disinfect and deodorize hard, nonporous surfaces normally treated with a disinfectant.
Private Label Your Own Wipes
Safetec of America is a full-service private label manufacturer with a long history of partnering with retailers and brands of all sizes, from startups to Fortune 500 companies. As a U.S. manufacturer, we focus on the highest level of quality.
Safetec specialty, personal care, first aid, and hand hygiene wipes are perfect for extending your current brand or creating a new one. Offering a liquid solution in a wet wipe extends your product line while satisfying your customer's needs. Partner today with Safetec to bring your consumer wipe to market!