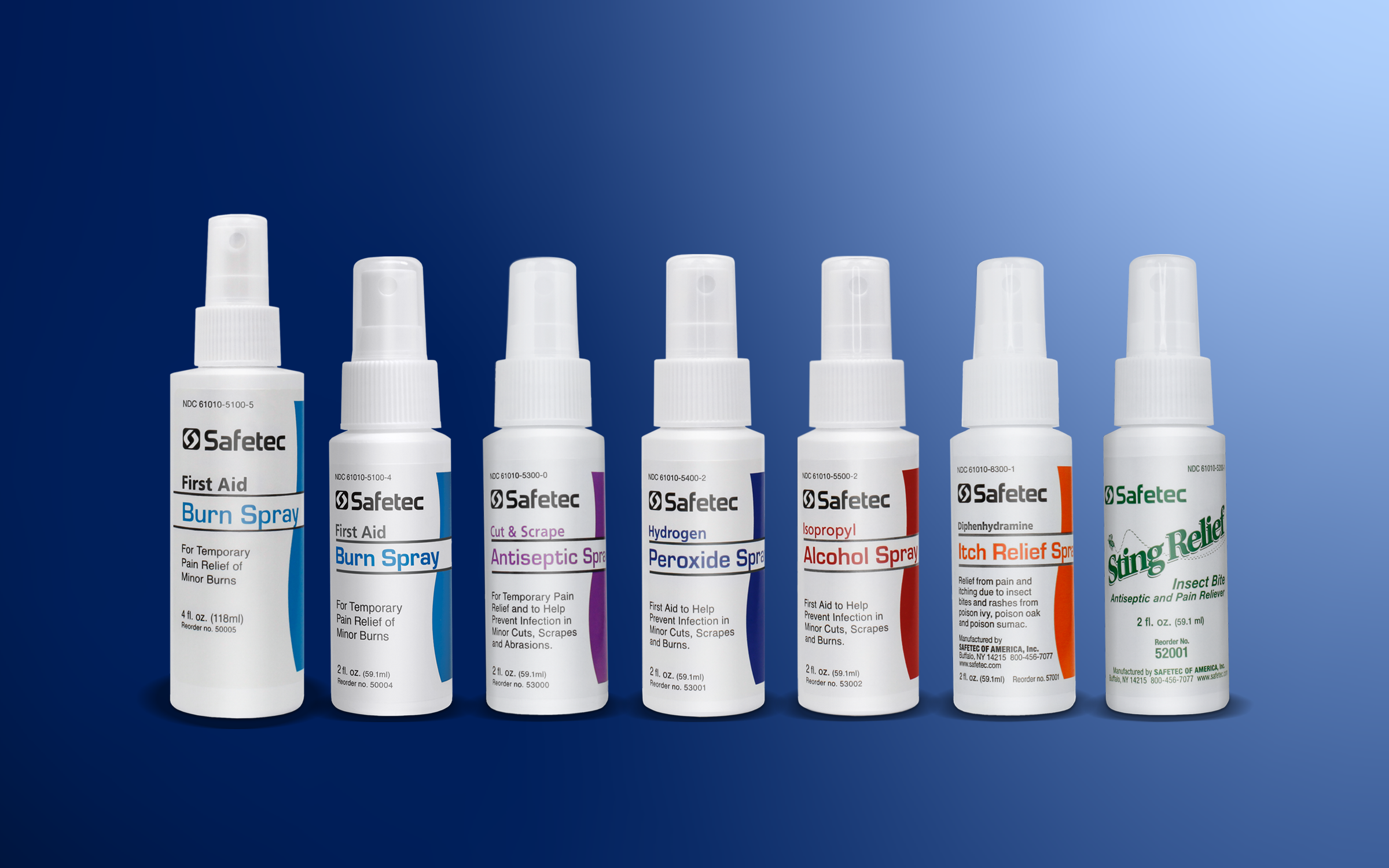 Private Label First Aid Sprays
Total retail sales in the US for private label products hit $5.47 trillion in 2019 and are projected to hit $5.94 trillion in 2024, according to data from Statista. Considering almost every retail store has a private label brand, this should come as no surprise. 
According to the US Consumer Healthcare Products Association (CHPA), 81% of adults use OTC products to treat minor illnesses. While the first aid and OTC market will continue to grow for years to come, brands are trying to gain an advantage in the OTC market by offering consumers a more convenient way to administer their products. In a modern world where everyone is short on time, delivery and convenience are key, which is why fast-absorbing sprays are quickly becoming the go-to method of OTC application.
With over 20 years of experience partnering with leading OTC brands, Safetec can successfully extend your product line by adding first aid sprays to your portfolio. Check out our turnkey formulations!
Burn Relief Spray
Safetec's Burn Relief Spray provides fast relief from sunburn, cuts and scrapes, insect bites, skin irritation, and minor burns. This topical pain reliever is made with 2% lidocaine to help numb and soothe painful areas due to irritation. 
Pain Relieving Spray 
Our fast-acting, topical pain relievers are made with all-natural ingredients that are safe, effective, and long-lasting. The cooling application penetrates deep and warms up to provide soothing relief.
Sting Relief Spray
Used for temporary relief from pain and itching caused by insect stings and bites (contains Lidocaine for fast-acting pain relief. Using the "no-touch" spray applicator, spray Sting Relief to the affected area and feel relief fast; it dries instantly.
Antiseptic Spray
Antiseptic Spray provides temporary pain relief and aids in preventing infection in minor cuts, scrapes, and abrasions.
Isopropyl Alcohol Spray
Isopropyl Alcohol Spray provides a convenient method for cleaning and sanitizing minor cuts, scrapes, and abrasions. Simply spray over the affected area to help prevent infection, and it dries in seconds.
Itch Relief Spray
Itch Relief Spray provides temporary relief from pain and itching associated with minor skin irritations and rashes due to poison ivy, poison oak, poison sumac, and insect bites.
Hydrogen Peroxide Spray
Hydrogen Peroxide Spray is a convenient and effective way of treating minor cuts and scrapes without worrying about cross-contamination. In addition, the bubbling properties of hydrogen peroxide help clean debris from wounds.
Safetec of America, Inc.
Safetec of America, Inc. is a full-service private label manufacturer with an extensive range of fully stable and commercialized brand equivalent formulations. Safetec manufactures EPA-registered and over-the-counter (OTC) products in our FDA-regulated facility in Buffalo, NY.
Our private label products are designed to ensure you are in complete compliance with OTC monograph requirements. In addition to turnkey solutions, we have an in-house chemistry lab and Quality team to work with you in developing and testing your unique formula.