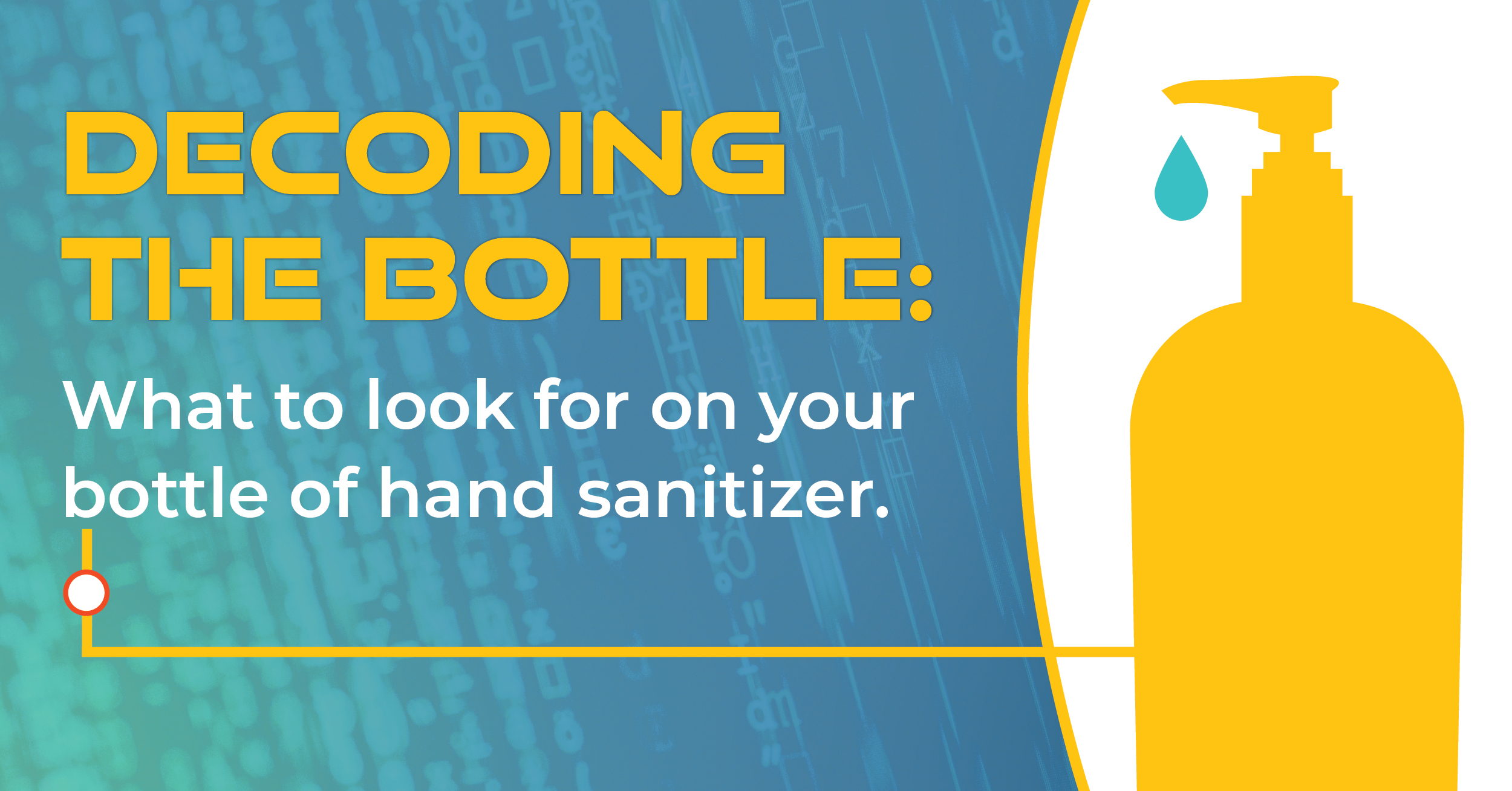 Decode the Bottle: Hand Sanitizer
04/01/21
By Dana Szymkowiak
Do you know what to look for on your bottle of hand sanitizer? 
The FDA and other global regulatory agencies continue to crack down on product ingredients and manufacturing controls for hand hygiene solutions. These actions in the United States include an import alert, meaning all hand sanitizers originating in Mexico will be subject to heightened scrutiny, and the FDA may detain shipments.
While methanol contamination is one of the top safety concerns, the FDA is also concerned with improper labeling and claims. Some of these labels claim products are FDA-approved or misrepresent the ethanol content, leading to hand sanitizers that do not live up to their germ-killing claims.
Proper hand hygiene is a critical component to preventing the spread of diseases like COVID-19, and product quality, safety, and efficacy can make all the difference. As the COVID-19 pandemic rages on and more companies introduce hand sanitizers into the market, it is important to know what to look for to identify safe and effective solutions. Don't endanger your health and safety with potentially toxic or illegal products.
Hand sanitizers sold in the United States must comply with strict labeling guidance. To help ensure the product you are using meets FDA recommendations, the Safetec team is here to help you learn how to read your bottle of hand sanitizer.
Look for the "Active Ingredient."
Look at the label on the back of the bottle for the active ingredient. The active ingredient and percentage of the active ingredient in the formula should be at the top of the label. For hand sanitizer, Ethyl Alcohol (also written as Ethanol), or Isopropyl Alcohol (Isopropanol), with the percentage of at least 60% (Ethyl) or 70% (Isopropyl) to be effective. Do not use a hand sanitizer that's formulated with methanol or 1-propanol.
Check the expiration date.
Check that your product is still effective. Unfortunately, with the increased demand of hand sanitizer, more expired products are on the market. On Safetec products, you can now find an expiration date stamped on the back of the bottle above the label. If you have an older bottle and don't see an expiration date, there will be a lot number in this same area. Contact our team to check when the lot number was manufactured. Our hand sanitizer has a shelf life of 3 years.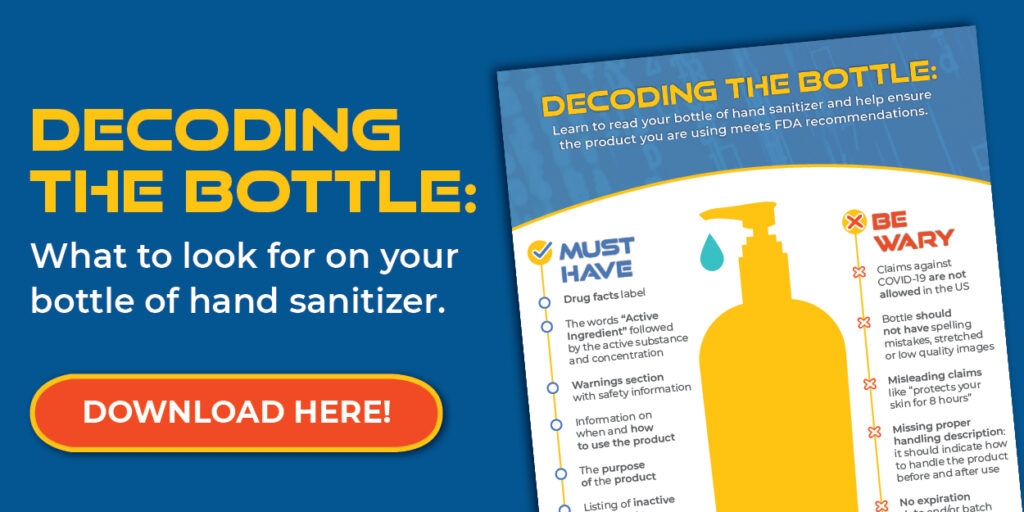 Check the "Country of Origin."
Check the label for the country of origin. Hand sanitizers sold in the United States must comply with strict labeling guidance. If your product is manufactured in the U.S., the manufacturer's name and address should be on the bottle.
Check for a formula designed for "repeated use."
During cold and flu season, it's recommended that you use hand sanitizer once an hour to reduce the chance of illness. This is even more important now that we are in a global pandemic with heightened use in certain professions such as healthcare. Formulas for repeated use have more hydrating and less drying ingredients.
Check for clues of quality issues before and during use.
The product should look even throughout and not have separation of color or opacity. If the product produces an unexpected odor, it could be a sign of impurities in ingredients.
Made in America, for America
As a global leader in infection prevention solutions and expertise, Safetec of America is committed to providing high-quality products to our customers. All Safetec hand hygiene products follow FDA guidance and stringent manufacturing controls, ensuring that our hand sanitizers are formulated with 66.5% ethyl alcohol, killing 99.9% of widespread germs, and is scented with a fresh or citrus fragrance. Safetec Instant Hand Sanitizer prevents the spread of germ causing illnesses and infections and is enriched with aloe vera. Please refer to the product label for proper safety and use.
Sources:
https://www.verywellhealth.com/fda-mexican-made-hand-sanitizers-alert-5101282