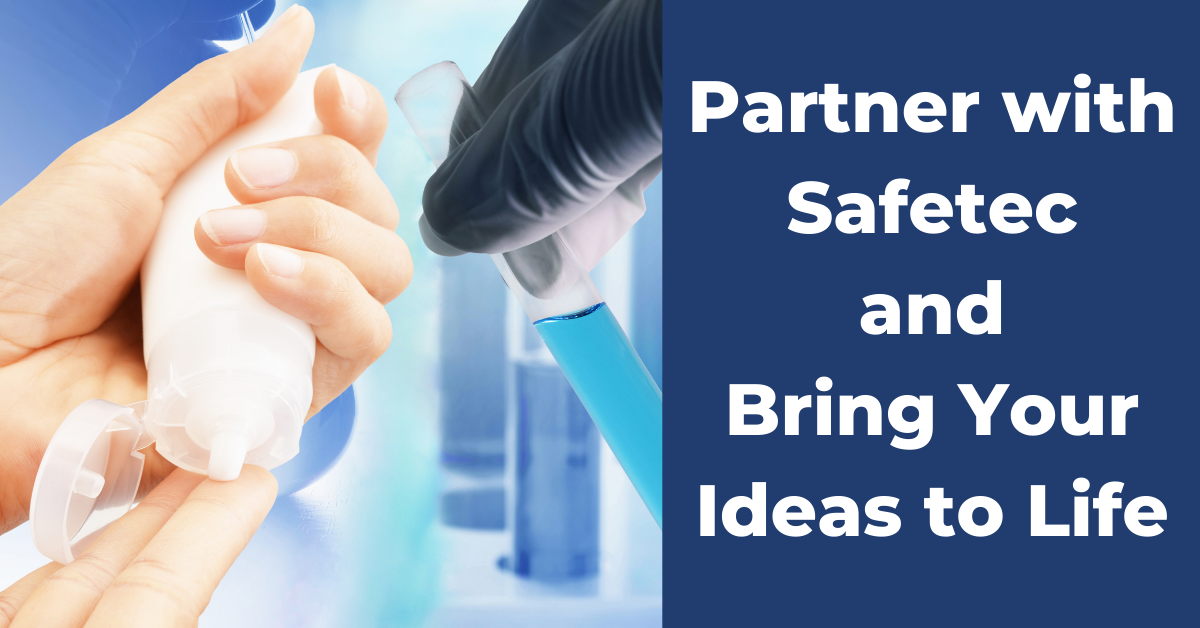 Bring Your Ideas to Life
04/15/21
By Dana Szymkowiak
According to the Private Label Manufacturers Association, one out of every four products sold in the United States is private label or store brand. For many consumers, store brands have become an essential ally in providing their families with high-quality, everyday products at an excellent value. They give the chains a way to set themselves apart from the competition and enable them to offer their customers more choice. 
By not selling branded items, private labelers have control of the look and branding of their products. Private label companies like Safetec handle the research, product development, and manufacturing processes, so brands don't have to, allowing brands quality control, low startup costs, and higher profit margins.
What to Look for in a Manufacturer
Deciding what manufacturer to go with boils down to what products you intend to sell. When making this decision, there are various manufacturing logistics to consider. For example, you'll have to determine which manufacturer can provide:
The goods needed to produce the product

Highest product quality

The capabilities you require to bring your product idea to life
There is a common myth that every brand has its army of formulators and scientists working away in some high-tech lab creating its products. The reality is that many of those products are researched, developed, and packaged by private label companies. As a private label manufacturer for over 20 years, Safetec of America, Inc. offers a tiered approach to private label capabilities.
Turn-Key Private Label
Private label one of our existing Safetec products or formulas from our extensive catalog of formulas and packaging options! You can trust Safetec when searching for a full-service private label or national brand equivalent (NBE) manufacturer for your product or product line. We have a dedicated team of in-house experts to work closely with you from start to finish in the creation process. Our mission is to ensure the best possible experience for our customers.
Revised Formulation
With Safetec's in-house R&D and chemistry lab's help, we work with our customers to customize one of our existing formulas. We have packaging options in stock and ready to go, and if you want something custom, we'll partner with you to source the perfect custom option to fit your brand. Are you worried about including the correct fine print? No problem, we'll take care of all the regulatory language, and will handle the printing of your labels with our experienced team, saving time and money.
Custom Formulation
Custom formulation development starts with identifying the customer's ideal product. From packaging configurations to label claims such as vegan or all-natural, Safetec's top-notch product development team compiles all the necessary information to develop a unique plan for each project brought in. From there, our scientists get to work sourcing the right ingredients to make the customers' vision come to life, all while performing essential analytical testing to ensure the end result is of the highest quality. Combined with our marketing research team, our experienced quality assurance department, and a brilliant production team, Safetec can create a customer's dream formulation that will take their product launches to the next level.
Safetec of America
By upholding the industry's most demanding quality control standards and maintaining a UL GMP certification (Management System Certified by UL with regard to 21 CFR Parts 210/211), to ensure proper quality, purity, and effectiveness for all our products, the team at Safetec complies strictly with the FDA Code of Federal Regulations. Our private label formulations are designed to allow you to be in complete compliance with OTC monograph requirements. From ensuring your labels are compliant to providing a full team of experts to manage and handle your project closely, Safetec is equipped to bring your product to commercialization from start to finish.
Our on-site capabilities include formulation development, scale-up to commercialization, QC method development, and validation at our state-of-the-art FDA-compliant and GMP-certified facility. Safetec also offers an ICH-compliant stability program (ambient and accelerated) to develop expiration dates and QA regulatory label review.