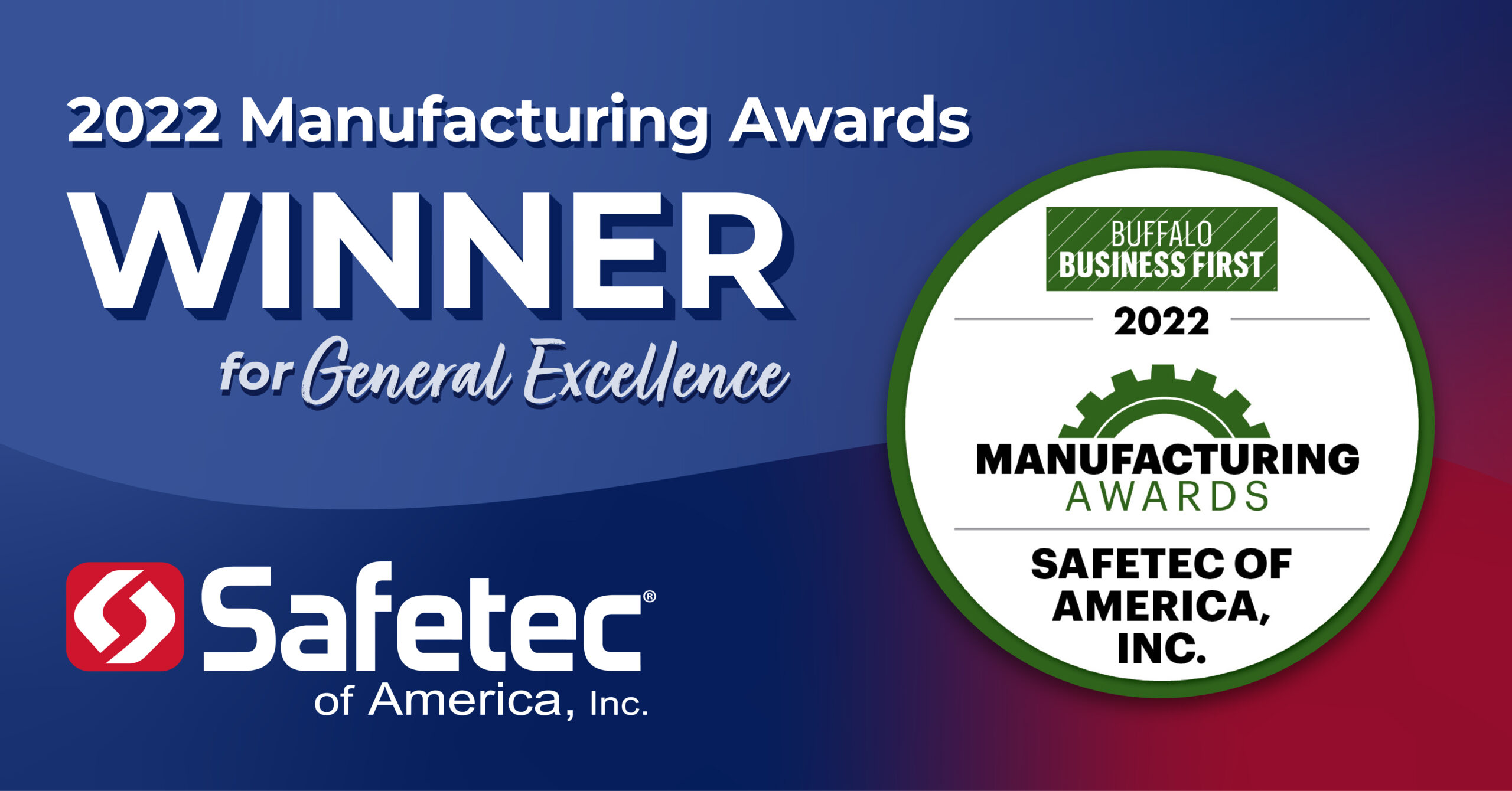 Safetec is a 2022 Manufacturing Awards winner!
05/24/22
By Dana Szymkowiak
We are excited and honored to share the news that Safetec of America, Inc. has been chosen as a winner in the General Excellence category for Buffalo Business First's 2022 Manufacturing Awards!
Safetec has made tremendous strides toward growth, efficiency, and innovation in 2021, with plans in place for further development and increased manufacturing capacity well into the future. This past year Safetec has been focused on building for growth and adapting to changing workforce needs.
Learning from the high demand brought on by the COVID-19 pandemic, Safetec installed two new state-of-the-art bottle fill lines, high-speed wipe machines, and a tube machine. Our investment in new equipment helps ensure our role in future pandemics and outbreaks as we've streamlined the increased demand for essential products such as surface disinfectants, specialty wipes, and hand hygiene products.
Furthermore, Safetec made significant investments and implemented lean concepts. By reorganizing the workplace layout using 5S, a lean manufacturing concept that prioritizes productivity and effectiveness within the workplace, we've maximized efficiency and output. 
Our expansion efforts continued to grow in the community as we completed the renovations on a new facility that serves as our distribution center and warehouse. This 66,712 sqft expansion allowed Safetec to increase its footprint in the WNY community and grow the Safetec family.
Safetec's success is largely attributed to its diverse workforce and dedicated employees. They have been the heart of Safetec's operations, particularly through the pandemic and supply chain challenges. In addition, our skilled Facility Maintenance Team allows for adaptability to market changes, and our team can adjust equipment facilities to match those needs.
Safetec of America, Inc. has evolved over the last 30 years, but we have always stood firm by our values. The company that we grow to become tomorrow is what's most important. Our greatest goal is to keep evolving and improving through our people, products, and unyielding loyalty to our mission: we want to positively impact our customers and communities by continuing to manufacture high-quality products that protect people from infection and illness.