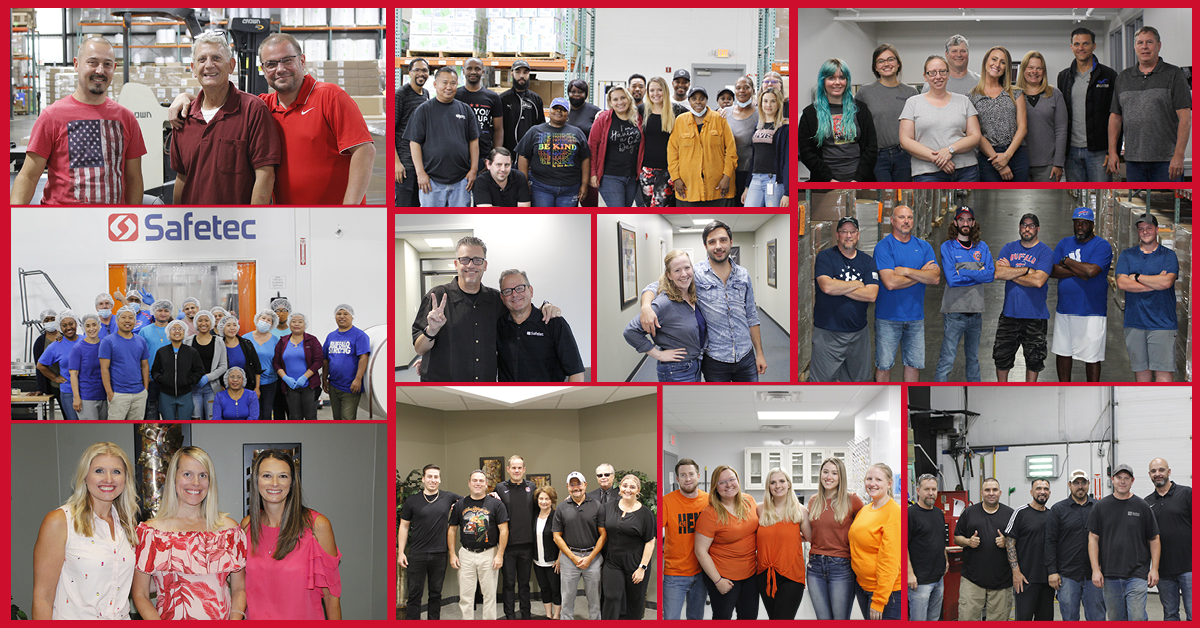 Safetec Celebrates Employee Appreciation Month!
09/16/21
By Dana Szymkowiak
At Safetec, we understand that our employees are at the center of all we do, and we truly would not have achieved this level of success over the past nearly 30 years without the dedication of our team. Our team is the lifeblood of Safetec's vision and mission, so we wanted our employee appreciation event to be a month-long celebration! 
Here is what our month looked like:
Week 1: Buffalo Bills apparel, pizza party, and Safetec apparel.
The first week of employee appreciation month kicked off with a celebration of our community, Buffalo, NY. First, the Safetec team wore their favorite Buffalo Bills or Buffalo attire and indulged in pizza and chicken wings from La Nova Pizza. Next, our team wore their Safetec apparel and tested their luck at the Safetec prize wheel, trying their hand at winning additional time off, lottery tickets, gift cards, and more!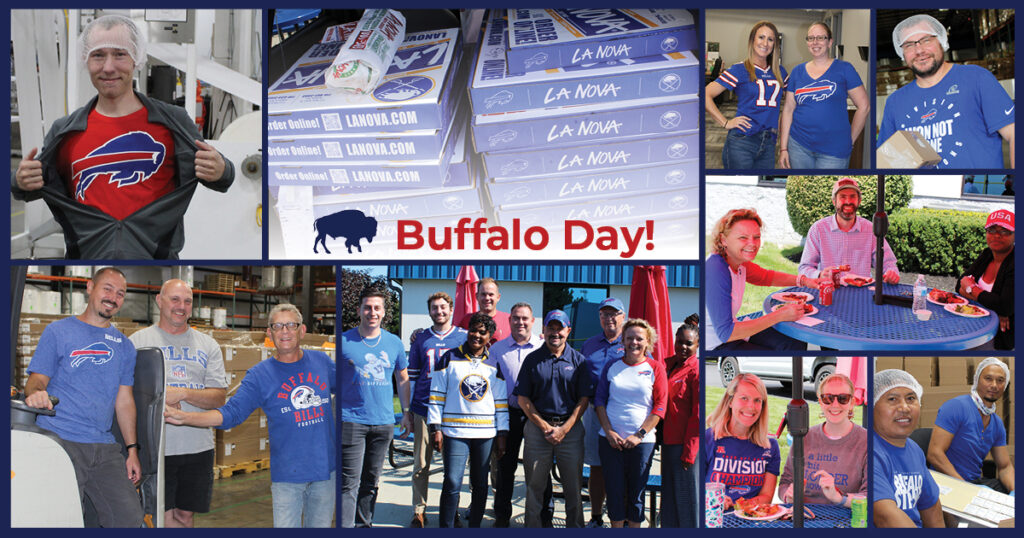 Week 2: Mismatch day, ice cream truck, cheesy chick, and cornhole.
August in Buffalo can get hot, which is why the Mister Softee truck couldn't have come at a better time! First, our team cooled off with ice cream cones, milkshakes, and sundaes while wearing mismatched outfits. The Safetec Cornhole Tournament went on throughout the week as pairs faced off head-to-head in a single-elimination tournament. Next, the team got into the 70s spirit by sporting their grooviest tie-dye and dined on gourmet twisted grilled cheese from our local Cheesy Chick Food Truck.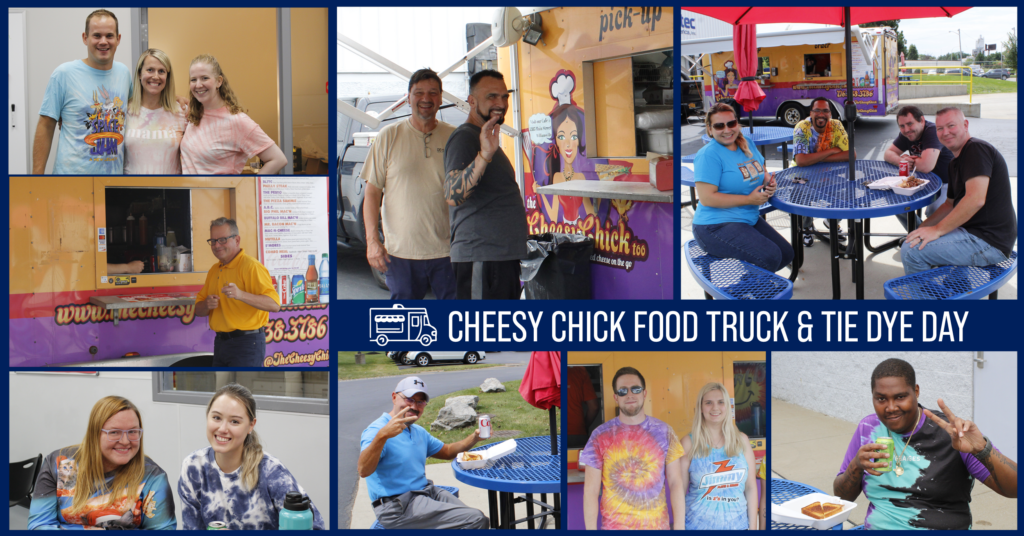 Week 3:
Department Color Day, Hawaiian Shirt Day, and Chicken BBQ. 
To kick off week 3, each department at Safetec came together to show off their favorite hues and enjoy breakfast pizza. Thursday, August 19th was Hawaiian shirt day, and it did not disappoint! In typical lei'd back style, the team donned flowers in our hair and beautiful island prints. The team took part in the chicken BBQ for lunch, catered by Carson's Mobile Kitchen.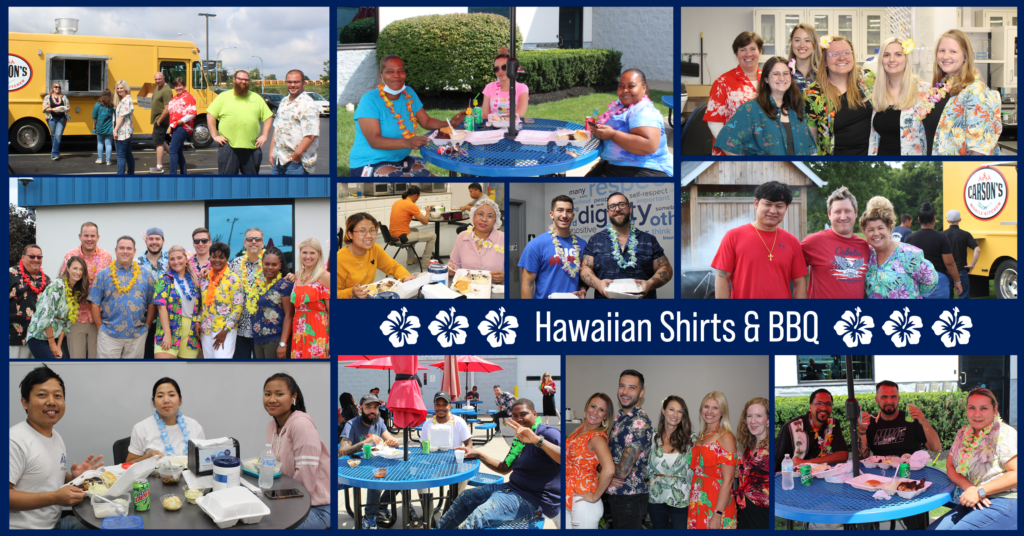 Week 4: Red & Blue Day, Ted's Hot Dogs, and a special grand finale.
As Employee Appreciation month came to a close, the leaders at Safetec had one more surprise up their sleeves. First, the theme was red & blue day, where the Safetec team was asked to wear our company colors. Ted's Hot Dogs food truck served up their world-famous hot dogs, sausages, and chicken with hand-battered onion rings or french fries. Next, the grand finale. Each Safetec team member rode in style to Safetec East. Safetec East is the site of the former post office. Fully remodeled, Safetec East is the home of our distribution center, warehouse, and purchasing and accounting departments. The newest Safetec building, purchased in August 2020, is an expansive 67,000 sqft with room to expand in the future. The new facility was finally ready to be shown off and, to celebrate, Safetec threw a "grand opening" party at the new site by hosting a cookout and allowing for tours.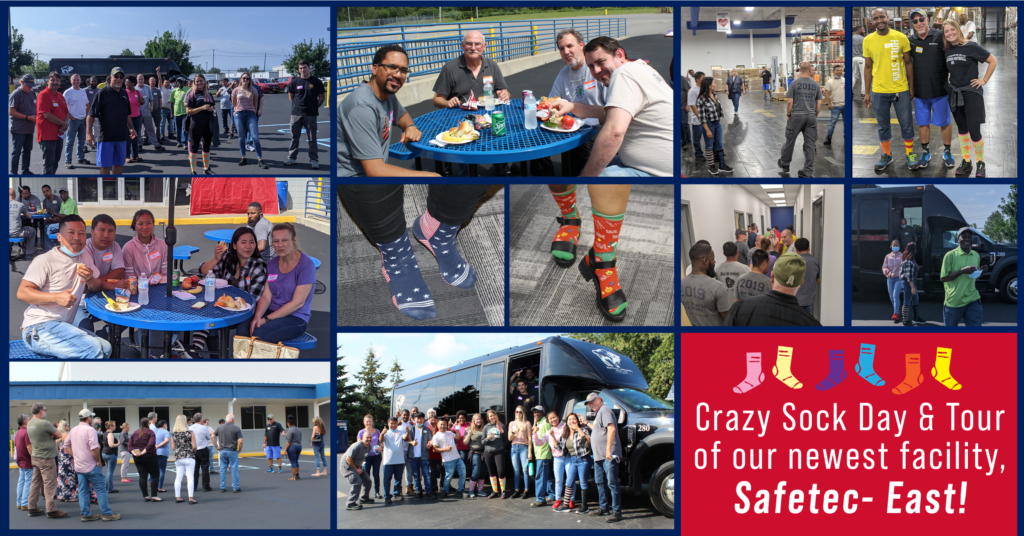 Week 5: One last surprise and toast to our team!
For the final day of August and employee appreciation month, our team enjoyed cool treats from our favorite ice cream truck, Mr. Softee. It was the perfect way to say goodbye to employee appreciation month and summer.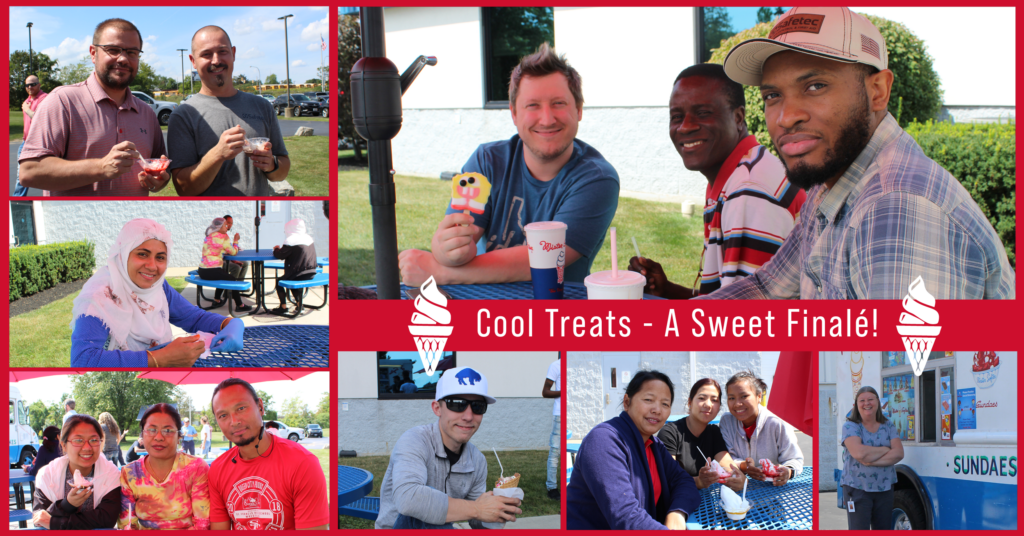 Throughout the month, team members were able to receive 10-minute massages, candy, and other treats. But the best part about Employee Appreciation Month was finally being together and seeing all the smiling faces. Thank you to the leaders of Safetec for pulling off a month-long event the Safetec team is sure never to forget!