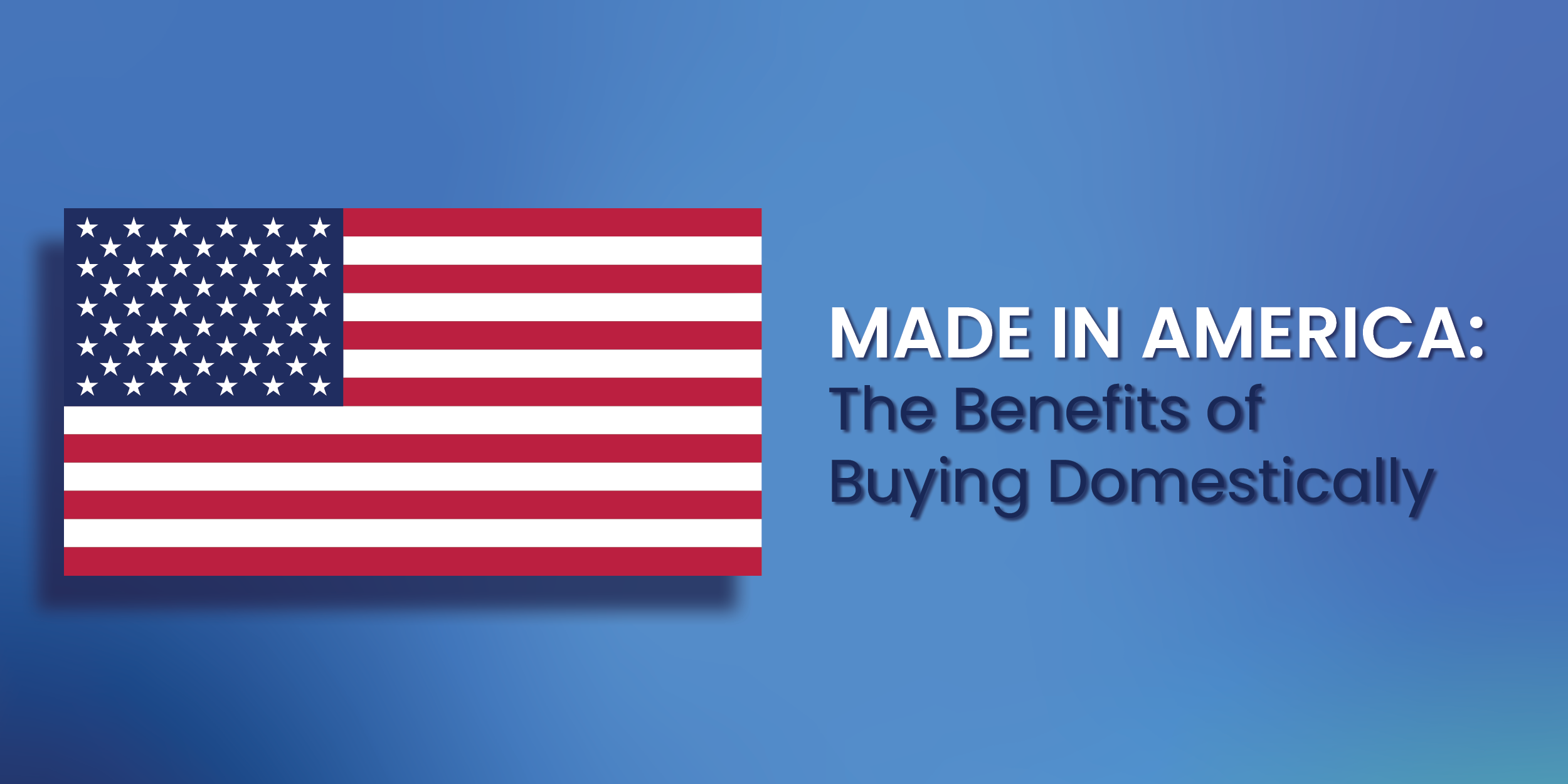 Made in America: The Benefits of Buying Domestically
11/17/22
By Dana Szymkowiak
Now more than ever, consumers are more conscious of the products they use and where they come from. While many businesses are often tempted to outsource and manufacture abroad to cut production and labor costs, they need to consider the many benefits of manufacturing in the USA.
Higher Standard of Safety & Quality Control
The United States enforces safety standards and regulations to protect employees on the job. These standards have been set by The Occupational Safety and Health Administration (OSHA). These safety regulations help reduce overall costs associated with litigation due to defective products, worker injury, and consumer harm. Unfortunately, countries, where manufacturing is commonly outsourced, tend to have little to no safety regulations in place, which may put workers at a much higher risk of injury.
India, China, and Malaysia are among the biggest outsourcing destinations in the world. China, for example, has become infamous for its poor working conditions in factories where people are working extremely long hours in unsafe environments with exposure to pollution and harmful chemicals.
Trusted Suppliers & Convenient Customer Service
In addition to OSHA's standards for employee and workplace safety, there are many organizations and regulations in the U.S. to ensure product quality, like the FDA (U.S. Food and Drug Administration) and EPA (U.S. Environmental Protection Agency). For example, the FDA conducts several types of inspections to help protect consumers from unsafe products. Likewise, the EPA protects people and the environment from significant health risks by developing and enforcing environmental regulations.
Not only is having governing agencies looking over the quality and integrity of the products being made important but having a dedicated customer service department is an integral part of any company's success. Customer service encourages customer loyalty, strengthens relationships, and helps businesses grow. If problems arise, being geographically closer to the manufacturing plant and customer service will help you resolve the issue quickly and efficiently, saving you time and money. Often, when businesses are outsourced overseas, so is customer service which can lead to language barriers that can cause miscommunication, frustration, and distrust.
Shorter Supply Chains & Lead Times
A supply chain involves all the people, organizations, resources, activities, and technology involved in the creation and sale of a product, from sourcing materials to delivery to the end user. By sourcing, manufacturing, and shipping your product all in the U.S., you are shortening your supply chain and lead times.
Shorter lead times mean happier customers – especially in today's world where places like Amazon have bred consumers to expect their products to arrive within very short time frames. Unfortunately, to meet these demands, many companies who outsource and manufacture abroad must warehouse large inventories of products which can be very costly.
Jobs for the Community
Choosing a US-based manufacturer means creating more manufacturing jobs here at home for Americans. U.S. manufacturing helps create jobs for the individuals who are manufacturing the components and products on the line and those who are selling and distributing them. In addition, consumers tend to value businesses that employ their neighbors, family, and friends and support the economy of our local communities and country.
American Made for Over 30 Years
Safetec has been proudly manufacturing in the United States for over 30 years. Since the inception of our company, we've manufactured over 500 different American-made infection control, first aid, OTC, and compliance products in our FDA-regulated facility in Buffalo, NY.
We take pride in being a U.S. manufacturer and are committed to remaining an industry leader by reinvesting in our company and the communities in which we live. Safetec has made tremendous strides toward growth, efficiency, and innovation, and our greatest goal is to keep evolving and improving. We believe in the importance of U.S. manufacturing and fully support the growing trend to buy domestically.