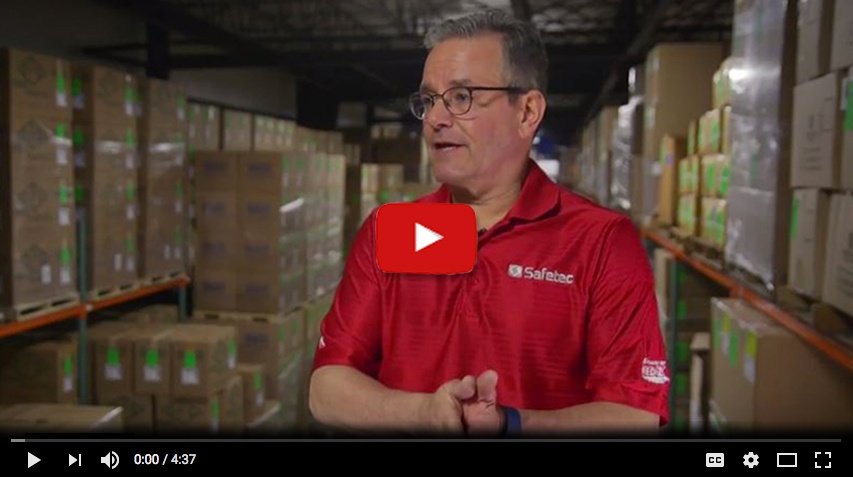 25 Years of Protection (Video)
07/20/17
By Jordan Weinstein
For 25 years, Safetec has been running as a team for countless days and nights as a company dedicated to health safety and effectiveness. Scott Weinstein, the CEO/President of Safetec states, "The key is to have great people and to satisfy our customers. That is what differentiates us and that is our success story."

This company all started with the product Red-Z, which was primarily a spill clean-up product at the time. It was originally created in the basement of the President and Vice President's Father, Marshall Weinstein's house. 25 years later, Safetec currently manufactures over 150 products for the safety and infection control industries.
Whether employees are building a kit or taking an order, every person is involved at Safetec. We have some people that have worked here 5, 10, even all 25 years, helping our company grow. All of our products are formulated, packaged, labeled, and shipped internationally all from Safetec's facilities here in Buffalo, NY, shipping approximately 9,500 orders every year. We follow FDA, OSHA, and EPA guidelines while also offering private label capabilities from artwork to concept to packaging to the market place, working from the start to the finish.
Safetec currently works with over 500 distributors all over the United States and also internationally. The VP of Sales, Ken Bianchi, has said: "We are sales and marketing people but we are also educators." What differentiates Safetec from other companies is that we like to help educate our buyers on how to properly sell and use our products efficiently.
Quality plays a major role in every move Safetec makes from the inspection of raw materials until the moment our products are shipped out, our mission is to ensure the best possible experience for our customers. Our quality & regulatory director, Lori Aleshin explains, "If you do it right the first time then your customers will be happy." We proudly service health care, promotional, government, and occupational health and safety.
Peter Weinstein, Safetec's Vice President articulates, "I believe that we help our customers most by listening to them. Our customers have helped us develop to who we are today." Although Safetec has grown exponentially over the past 25 years between our team of employees and our product line, it has always been a fun and exciting place to work.
Please watch Safetec's 25 Years of Protection video below!