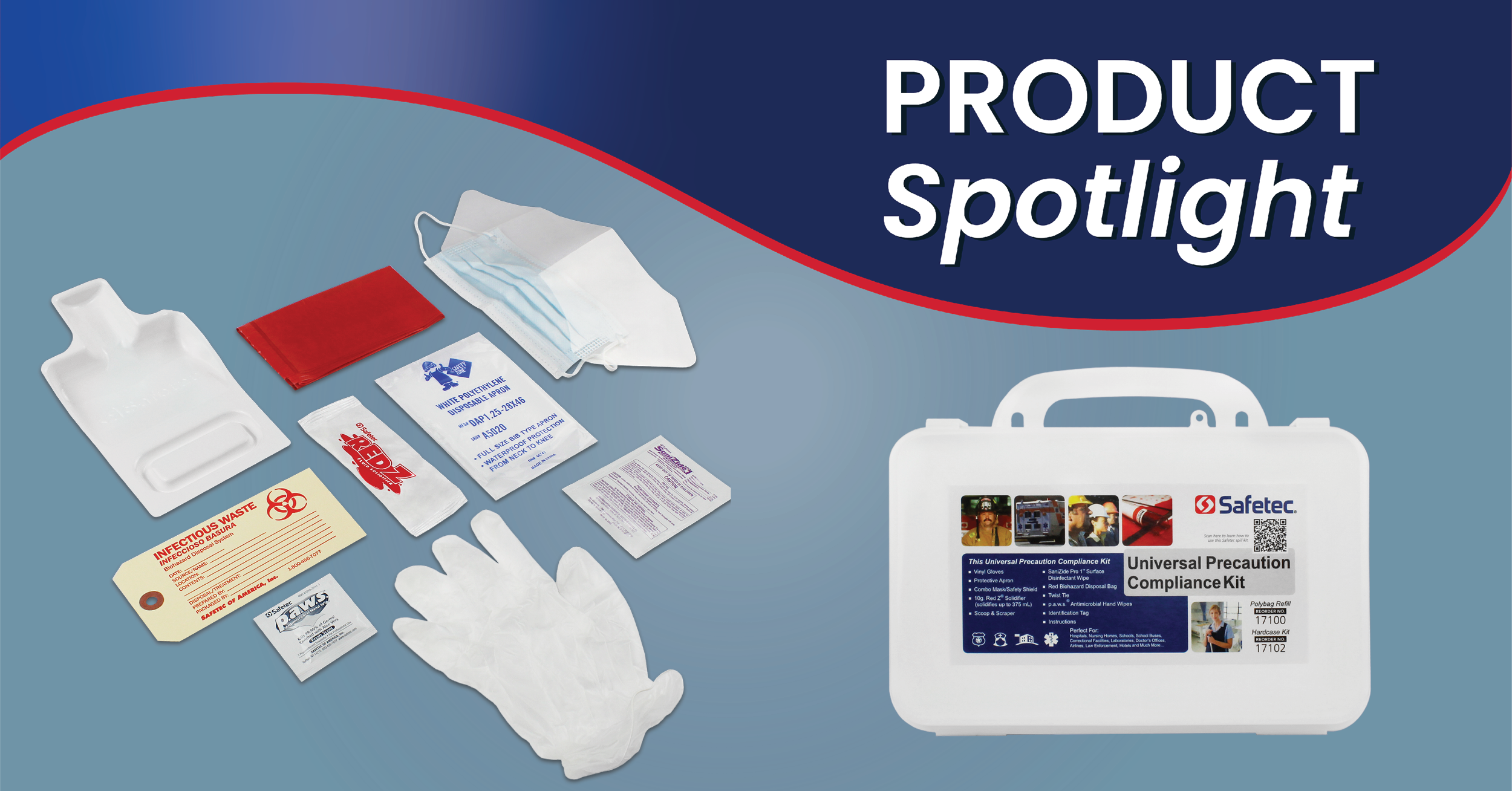 Product Spotlight: Universal Precaution Compliance Kit
05/23/22
By Dana Szymkowiak
Taking the proper precautions around bloodborne pathogens is vital to workplace safety. Bloodborne pathogens include, but are not limited to, Hepatitis B Virus (HBV), Hepatitis C Virus (HCV), and Human Immunodeficiency Virus (HIV), the virus that causes AIDS. 
Pathogens can be present in human blood and cause disease. Bloodborne pathogens can be transmitted when blood or body fluid from an infected person enters another person's body. Employees exposed to bloodborne pathogens through their job tasks are at risk of contracting severe or life-threatening illnesses. 
The OSHA Bloodborne Pathogens Standard (29 CFR 1910.1030) applies to employees who work in occupations where they're at higher risk of exposure to blood or other potentially infectious materials. Exposures to blood and other body fluids occur across a wide variety of occupations. Essentially, if any blood spills in your workplace, you are required to have supplies on hand to deal with it appropriately. Don't worry. Safetec makes compliance easy!
Universal Precaution Compliance Kit
Designed as an emergency response kit, the Universal Precaution Compliance Kit meets the OSHA Compliance 1910.1030 Bloodborne Pathogens Standard by combining personal protection and cleanup items mandated by OSHA, CDC, and State Health Departments. 
Perfect for nursing homes, hospitals, schools, school buses, correctional facilities, laboratories, doctor's offices, airlines, law enforcement, hotels, and any business where there is a reasonably anticipated job-related contact with blood.
Universal Precaution Compliance Kit Contents
• Pair of Vinyl Gloves
• Protective Apron
• Combo Mask/Safety Shield
• Red Z® Solidifier– a fast and effective solution to solidify blood and body fluids while also removing odor. 
• Scoop/Scraper
• SaniZide Pro 1® Disinfectant Wipe– with true, one-minute kill claims that are effective against 48 microorganisms and safe for repeated use on hard, non-porous surfaces.
• Red Biohazard Waste Bag
• Twist Tie
• p.a.w.s.® Antimicrobial Hand Wipe- Formulated with 66.5% ethyl alcohol to kill 99.99% of germs and aloe vera to keep your skin feeling soft and smooth
• Identification Tag
• and Instructions
Be prepared for the unexpected.
Safetec makes staying compliant while preparing for the unexpected easy with convenient and cost-effective pre-packaged bloodborne pathogen kits. View our full line of spill kits HERE.