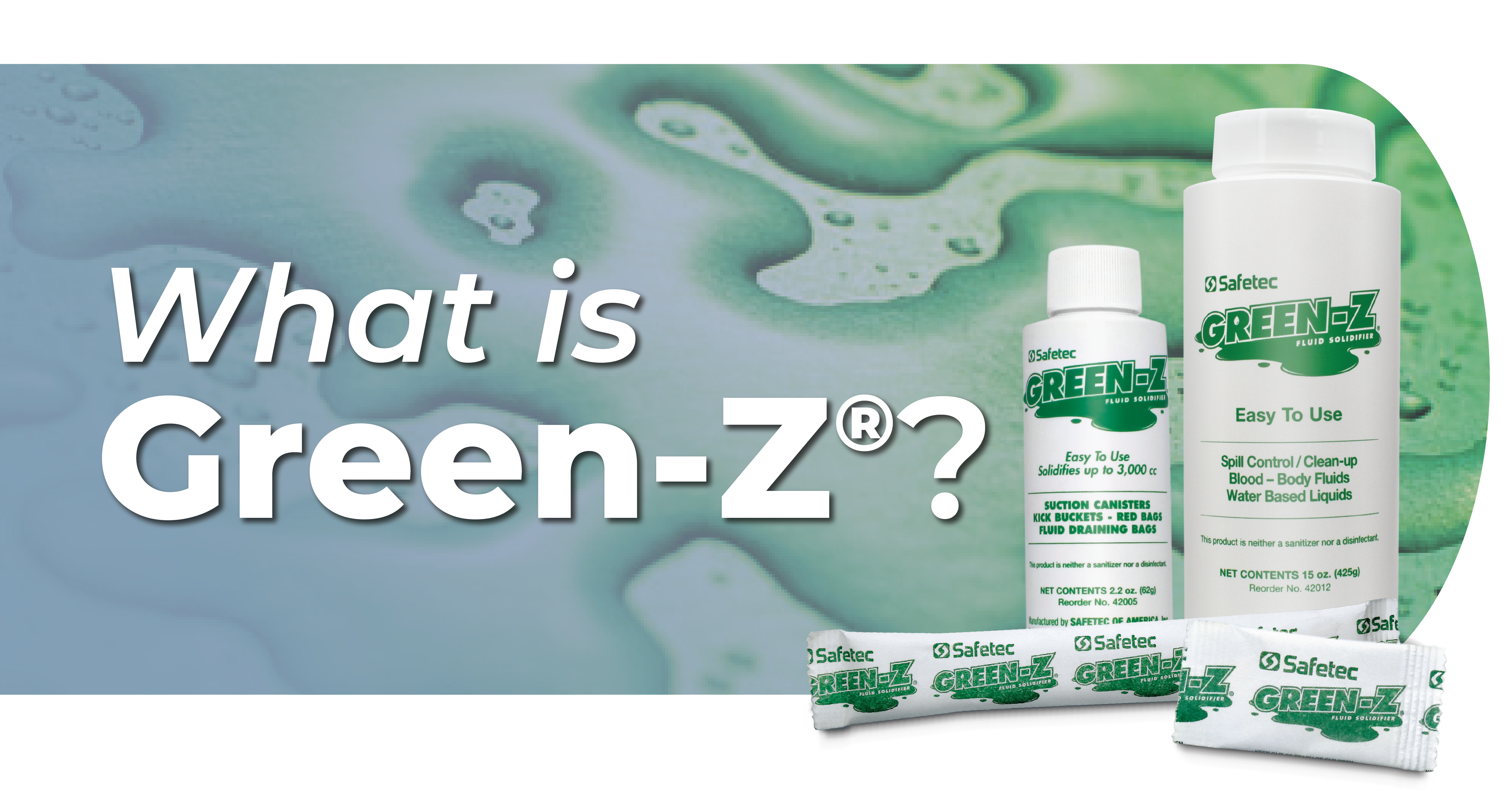 What is Green-Z®?
10/06/23
By Dana Szymkowiak
Spills are an inevitable part of various industries, and when they involve blood, bodily fluids, or chemicals, proper cleanup becomes paramount for safety and infection control. Green-Z® is a versatile and cost-effective solution that reduces exposure risks and enhances safety in infectious substances and chemical spill cleanup situations. One of the highlights of Green-Z® is that it can be used in a wider range of settings, given its Chlorine-free formula, which makes it safe to use in certain chemical spills or when heat is used to dispose of materials. 
Where Green-Z® Can Be Used 
Green-Z® is a versatile spill cleanup product that can be employed in various settings where people are present, and spills of blood, bodily fluids, and chemicals could occur. Its flexibility makes it applicable to numerous industries and facility types, including: 
Healthcare Facilities: Whether it's acute or long-term care, doctor's offices, or clinics, Green-Z® is a trusted companion for managing blood and bodily fluid spills. 
Laboratories and Pharmacies: Research centers and pharmacies rely on Green-Z® to swiftly and safely handle spills of hazardous substances. 
EMS First Responders: Police, fire departments, and EMT teams find Green-Z® indispensable for containing and cleaning up spills, keeping their environment safe while out in the field.  
Occupational Health and Safety: Government facilities, including military installations, schools, and colleges, benefit from Green-Z®'s spill containment capabilities. Additionally, the transportation sector (airlines, buses, trains) and janitorial and sanitation services (hospitality, restaurants, salons) rely on Green-Z® for spill cleanup.
How Green-Z® Works 
Green-Z® offers cutting-edge immobilizing technology designed to halt spills, such as those in emergency rooms, from spreading further. Its ease of use is one of its most significant advantages. To contain a spill, simply sprinkle Green-Z ® powder over the affected area. Within seconds, the powder goes to work, absorbing the fluids and transforming them into a safer and more manageable semi-solid gel form. This gel can then be easily scooped up and disposed of in  accordance with all local, state, and federal regulations.
Green-Z® Kits for Your Convenience 
Green-Z® is available as a standalone product, but for added convenience, it can also be found as part of specialized spill cleanup kits tailored to different facility types and applications. These kits include: 
Chemotherapy Spill Kit: Designed for healthcare settings where chemotherapy agents pose spill risks. 
Multi-Purpose Spill Kit: Versatile kits suitable for various industries and spill types, offering comprehensive spill response solutions. 
Spill Leader Kit: For those responsible for spill response leadership, this kit equips leaders with the tools needed to efficiently manage spills. 
Green-Z® In Your Facility 
Is Green-Z® the right solution for your facility? To learn more about Green-Z® and its applications or to inquire about distribution opportunities, feel free to contact Safetec's dedicated team today. Reach out by emailing info@safetec.com or calling 800-456-7077. Ensure your facility's safety with Green-Z®, the ultimate solution for spill cleanup.