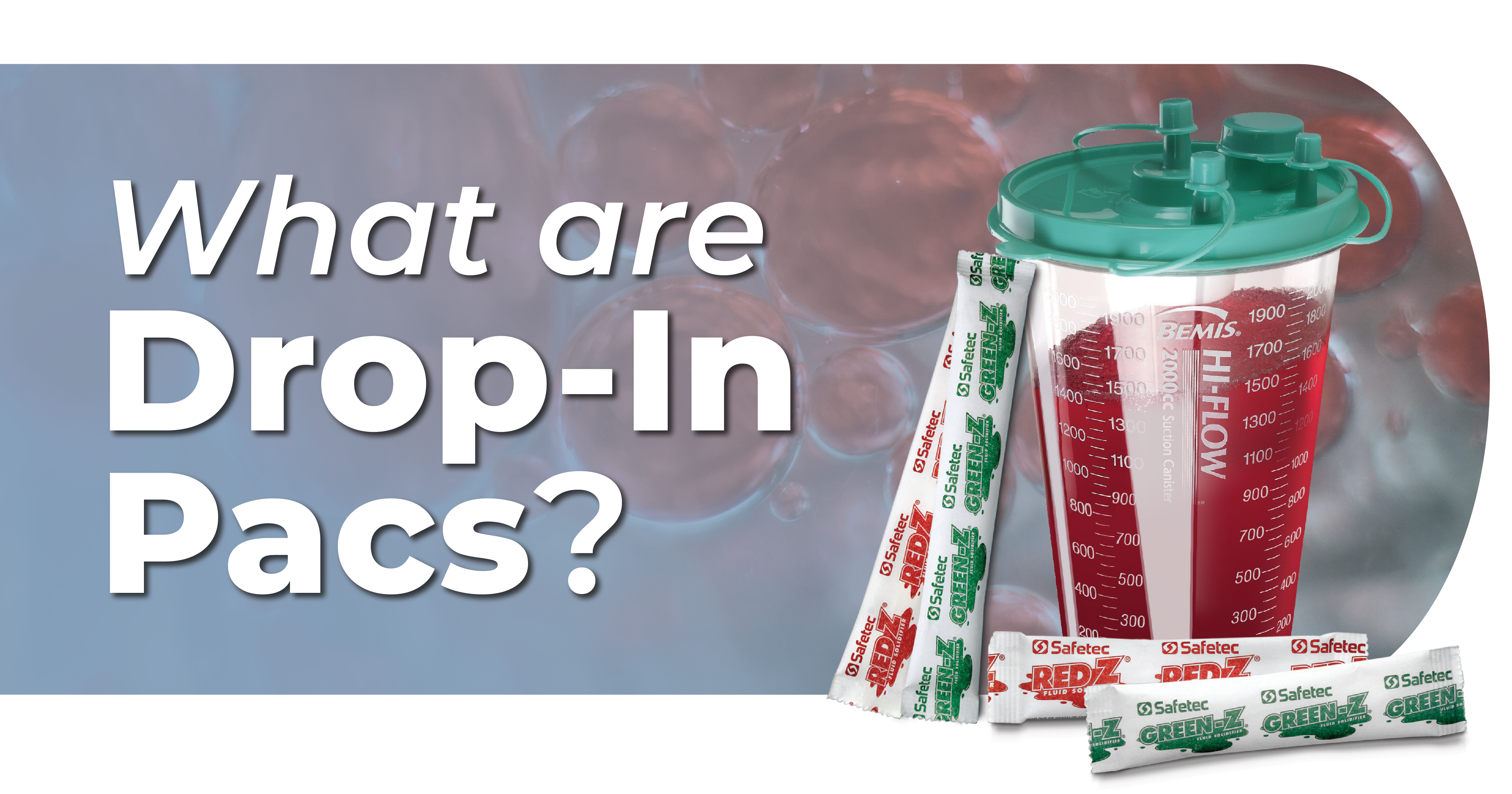 What are Drop-In Pacs?
10/18/23
By Dana Szymkowiak
Years ago, hospitals and healthcare facilities faced a significant challenge in the proper disposal of medical byproducts generated during various procedures. Dealing with blood, body fluids, and pathological waste can be messy and hazardous, even with personal protective equipment (PPE) safeguards. Ruptured storage bags and the risk of canister spills during transportation further compounded the issue.
An Initial Fix
In response to this dilemma, Safetec of America, Inc., a leader in infection control, introduced a game-changing solution: fluid solidifier packets. The fluid solidifier was designed to absorb and solidify the liquid pathological waste, transforming it into a manageable, solid form within the standard suction eliminated the risk of liquid splatter during storage, transport, or handling. However, a packaging challenge remained.
Packaging Predicament
While Safetec's fluid solidifier packets effectively addressed the spill containment issue, the packaging method needed refinement. Tear-off packets that required users to empty the contents into a narrow opening atop the canister were widely used. Unfortunately, this method proved difficult to get the solidifier into the small opening, leading to error and potential exposure.
A Complete Solution
Luckily, a packaging solution had already been invented – an advanced self-dissolving paper developed by fellow industry pioneer SmartSolve. This unique paper is fully dissolvable in a solution of at least 6% water, enabling the entire solidifier product to interact with the medical waste effectively.
Safetec and SmartSolve partnered to design a slim packet that could be dropped directly into the narrow opening of a suction canister. Once dropped in, the packet dissolves, thoroughly solidifying its contents for safe transport and disposal.
Drop-In Pacs: A Game-Changer
The result of this groundbreaking collaboration gave way to Red Z® and Green-Z® Drop-In Pacs. These medical solidifiers offer advanced self-dissolving technology, instantly absorbing and solidifying pathological waste. These Drop-In Pacs are revolutionary in several ways:
Streamlined Use: Drop-In Pacs eliminate the need to unscrew or cut the top of a bottle and pour the solidifier in.. They are pre-measured and designed for specific container sizes or fluid volumes, simplifying the process.
Immediate Action: Once the Drop-In Pacs meet the liquid waste, they begin working instantly. There's no need for measuring or waiting; it's a rapid and efficient solution.
Eco-Friendly: These pouches are eco-friendly and reduce disposal costs associated with traditional bottles. They are designed to fit in the porthole of suction canisters, making waste containment in red biohazard bags, kick buckets, and wound care therapy more efficient.
Ensuring Compliance with Safety Standards
Safetec's Drop-In Pacs play a pivotal role in ensuring compliance with safety standards, including OSHA's Bloodborne Pathogens Standard (29 CFR 1910.1030). This standard outlines the requirement to protect workers occupationally exposed to blood or other potentially infectious materials (OPIM) during their job duties. Additionally, another key regulation is UN3373, a DG (Dangerous Goods) shipment classification under IATA DGR (International Air Transport Association Dangerous Goods Regulations), specifically covering Infectious Substances.
Using Drop-In Pacs, healthcare facilities can enhance worker safety, prevent contamination, and safeguard the environment. All while meeting these regulatory requirements.
Drop-In Pacs in Your Facility
By incorporating Safetec's Drop- In Pacs into the process, the risk of cross-contamination within the facility is significantly reduced, benefiting staff members and patients. This ensures compliance with regulations governing the handling and transport of potentially hazardous and infectious bio-waste, aligning with the guidelines set forth by The Joint Commission, the governing body for hospitals and surgery centers in the USA.
Talk to one of our Account Managers today to start using Safetec's innovative Drop-In Pacs in your facility. Contact us at (800) 456-7077 or info@safetec.com.