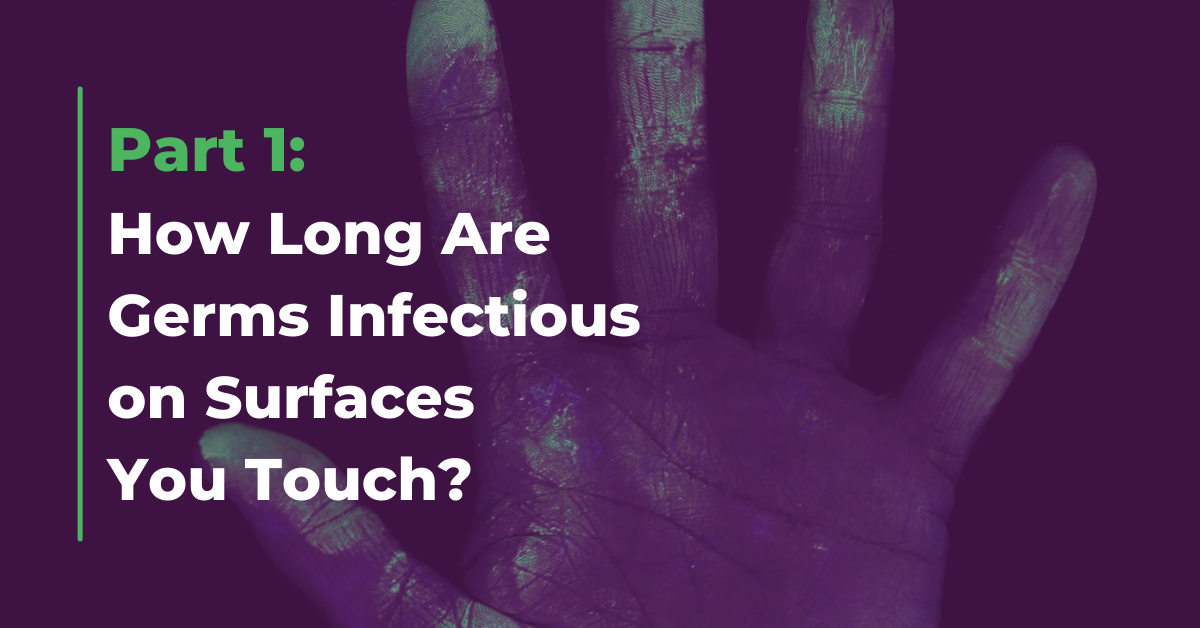 How Long Do Germs Live on Surfaces You Touch? Part 1
02/18/21
By Dana Szymkowiak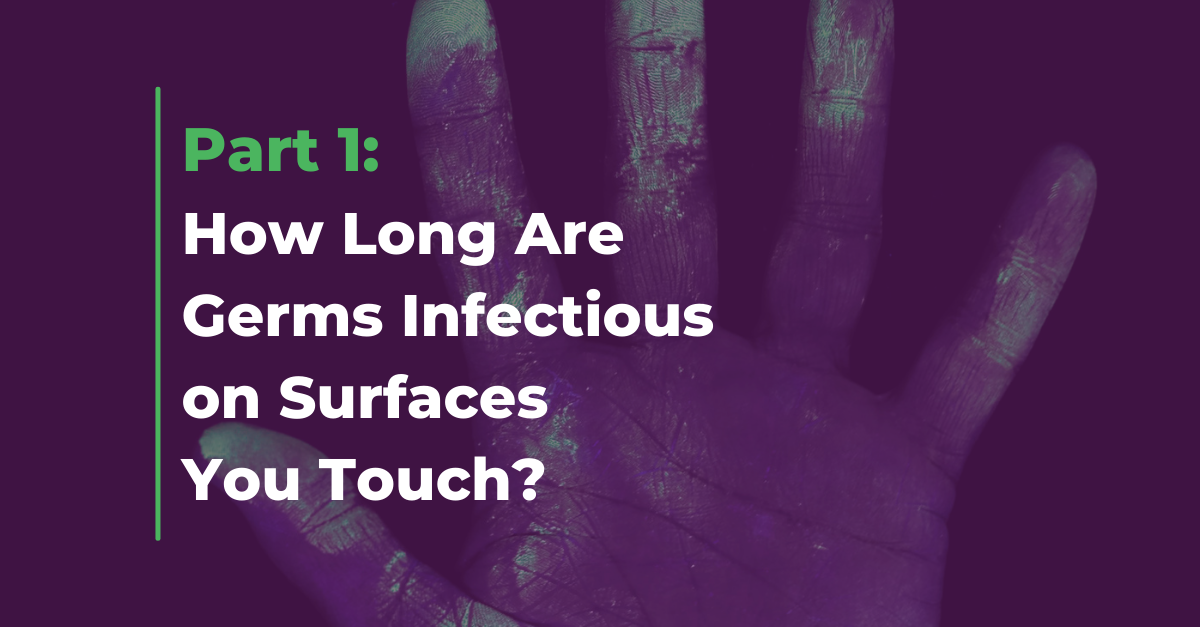 Germs are everywhere. They're all around you, no matter how clean you are. For the most part, germs are harmless. However, there are also some problematic disease-causing germs out there. These are known as pathogens.
Pathogens evolved to live in or on hosts. Pathogens cannot live forever once outside of a host. However, they can hang around on the right surface for quite a while, awaiting their next host.
How long a pathogen can survive on a surface depends on the type of pathogen and surface. Although viruses (i.e., cold, flu & SARS-CoV-2) usually live the longest on hard, nonporous surfaces, any surface can harbor pathogens.
The Lifespans of Common Pathogens
If someone is suffering from an infectious disease like the flu, it's easy for the illness-causing pathogens to leave their bodies by coughing and sneezing. Once germs come into contact with a surface, they can remain infectious for quite some time out of the body. A pathogen's ability to make you ill degrades over time, and if it is no longer "active," it cannot cause an infection.
How Long Do Germs Live Outside the Body?
That is the question scientists have been trying to answer for decades. There are so many factors to consider, like temperature, light exposure, surface material, type of virus, and the amount of virus present.
The Takeaway
Flu viruses may live for a day yet pose much less threat even after the first five minutes. While a cold virus may live for several days, it becomes less infectious after the first day. Whether or not germs are infectious depends on how many pathogens are present, the route of exposure, and a person's immune system.
In "How Long Are Germs Infectious on Surfaces You Touch? Part 2" we'll dive into longer viability surfaces, different types of pathogens, and minimizing germs and bacteria. Sign up for our E-newsletter and receive updates right to your inbox.
Made in America, for America
Founded in 1992, Safetec of America products are USA made and manufactured in Buffalo, New York. Safetec continues to make significant investments in our FDA Regulated manufacturing facility, the machines we use to manufacture, and the people of Safetec to ensure the quality and strength of our products.
Safetec's SaniZide Pro 1® Surface Disinfectant Spray & Wipes is a broad spectrum, EPA Registered surface disinfectant that combines cleaning and disinfecting in one simple step with its ready-to-use, alcohol-based hospital-grade formula. With true one minute kill claims for 48 microorganisms as well as SARS-CoV-2, the virus that causes COVID-19*, SaniZide Pro 1 is safe and effective for any facility.
Safetec also offers an alcohol-free option, SaniZide Plus® Surface Disinfectant Spray is a non-corrosive, EPA registered, quaternary ammonium compound effective against MRSA, VRE, Tuberculosis, Influenza, Poliovirus, Norovirus and SARS-CoV-2, the virus that causes COVID-19. SaniZide Plus® Germicidal Wipes are pre-saturated hard surface wipes that kill viruses such as MRSA, TB, VRE, and E. Coli in 10 minutes and HIV-1 in 2 minutes. They are also effective against SARS-CoV-2, the virus that causes COVID-19, according to the emerging viral pathogen claim. Our dual quat, alcohol-free formula is non-flammable and non-corrosive on surfaces.
*According to the emerging viral pathogen claim.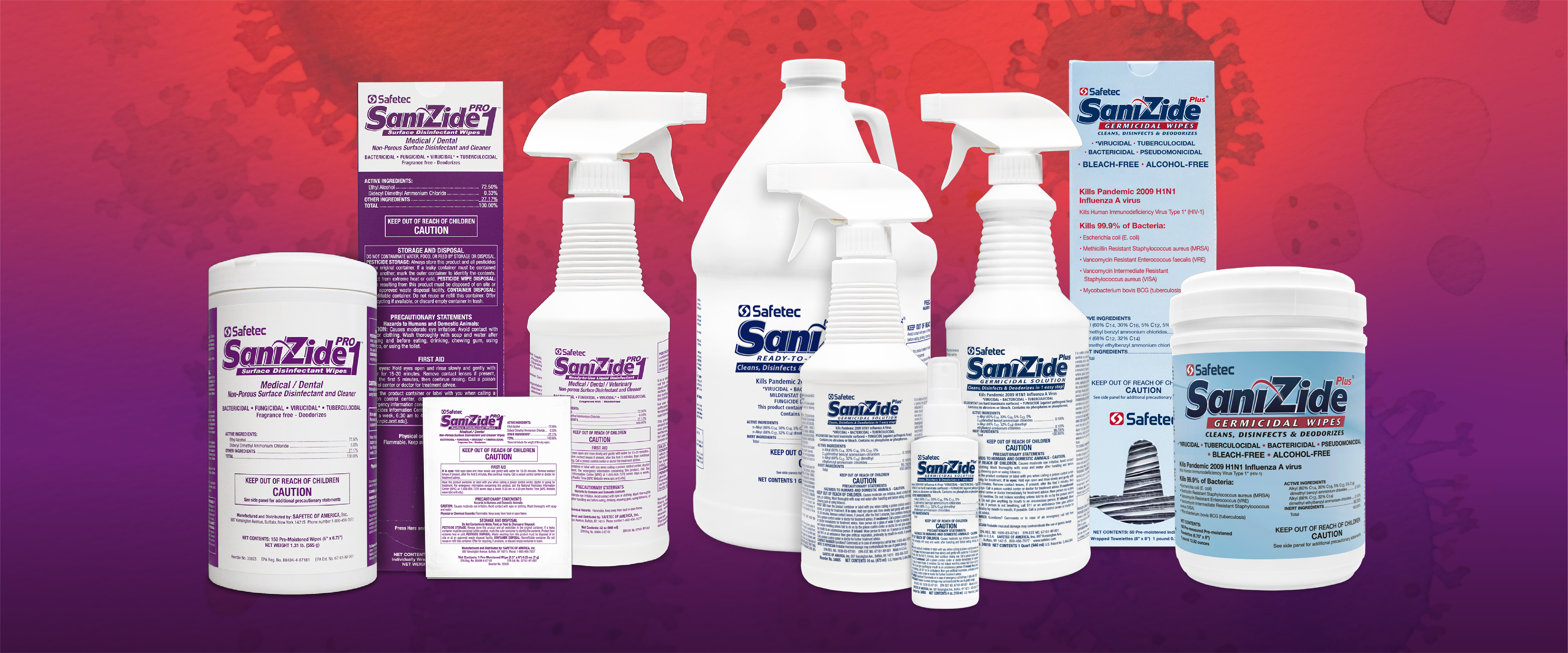 Sources:
https://cleaning.lovetoknow.com/how-kill-household-germs/how-long-germs-live-common-surfaces
https://www.thoughtco.com/how-long-do-germs-live-4156954
https://pubmed.ncbi.nlm.nih.gov/17705174/
https://academic.oup.com/jid/article-abstract/146/1/47/992812