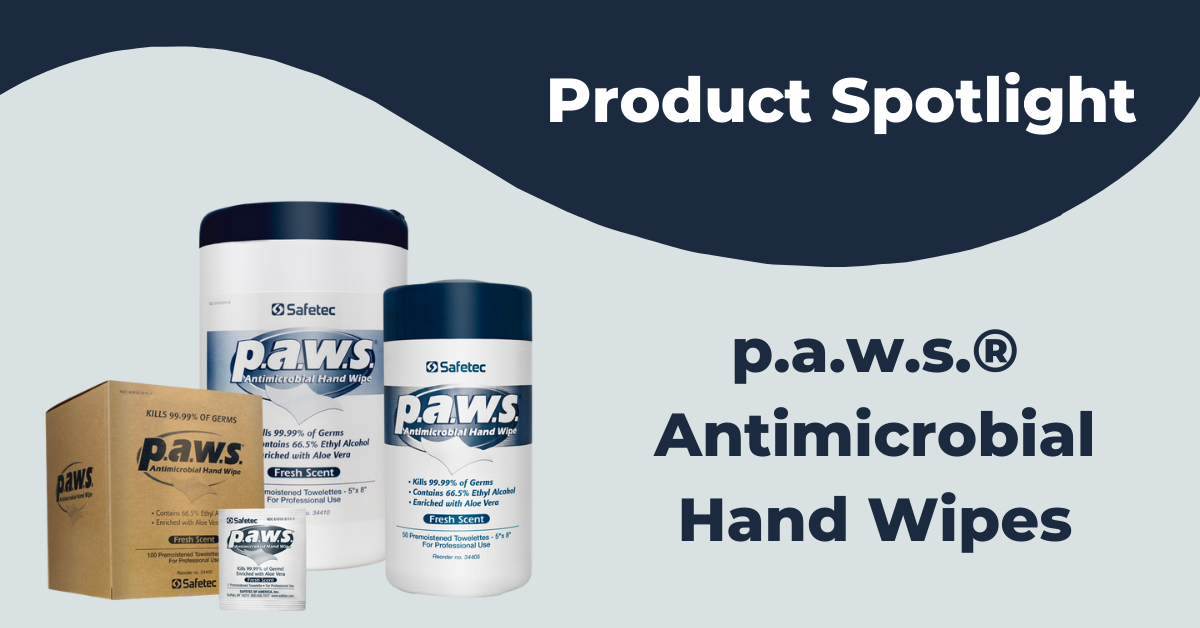 Product Spotlight: p.a.w.s.® Antimicrobial Hand Wipes
01/27/22
By Dana Szymkowiak
P.a.w.s.® Antimicrobial Hand Wipes have remained our customers' favorite product since it was developed and manufactured by Safetec in 1997. Since then, our family of p.a.w.s.® (Personal Antimicrobial Wipes by Safetec) has continued to grow. So why has this line been so popular for all these years? The reasons are many.
Sanitize While Removing Dirt and Grime 
We all know good hand hygiene is crucial to curtailing the spread of bacteria and viruses, but Safetec's p.a.w.s.® Antimicrobial Hand Wipes take it a step further by offering a handy way to be germ-free, while removing debris and soil from hands and under fingernails. 
Wipe Away Worries
P.a.w.s.® Antimicrobial Hand Wipes combine FDA-required efficacy with the convenience of a compact, easy-to-use hand hygiene solution. P.a.w.s.® towelettes are formulated with 66.5% ethyl alcohol to kill 99.99% of germs, providing fast and effective protection against frequent disease-causing germs. 
Formulation Counts
At Safetec, we know that the total formulation of our products impacts user experience. For example, other hand wipes can cause dry skin or leave your hands sticky. P.a.w.s.® Antimicrobial Hand Wipes are formulated with moisturizing aloe leaving skin soft, healthy, and with no sticky residue. In addition, features such as antimicrobial efficacy, safety, skincare, and aesthetics are all designed into the formulation to ensure our product is safe and effective while gentle on the skin.
Convenient Packaging Options
P.a.w.s.® Antimicrobial Hand Wipes are available in individual towelettes (100 count box) or canisters (50 count or 160 count). Our convenient packaging options are great for first aid kits, offices, hospitals, vehicles, and workshops. Make hand hygiene a priority at any facility!