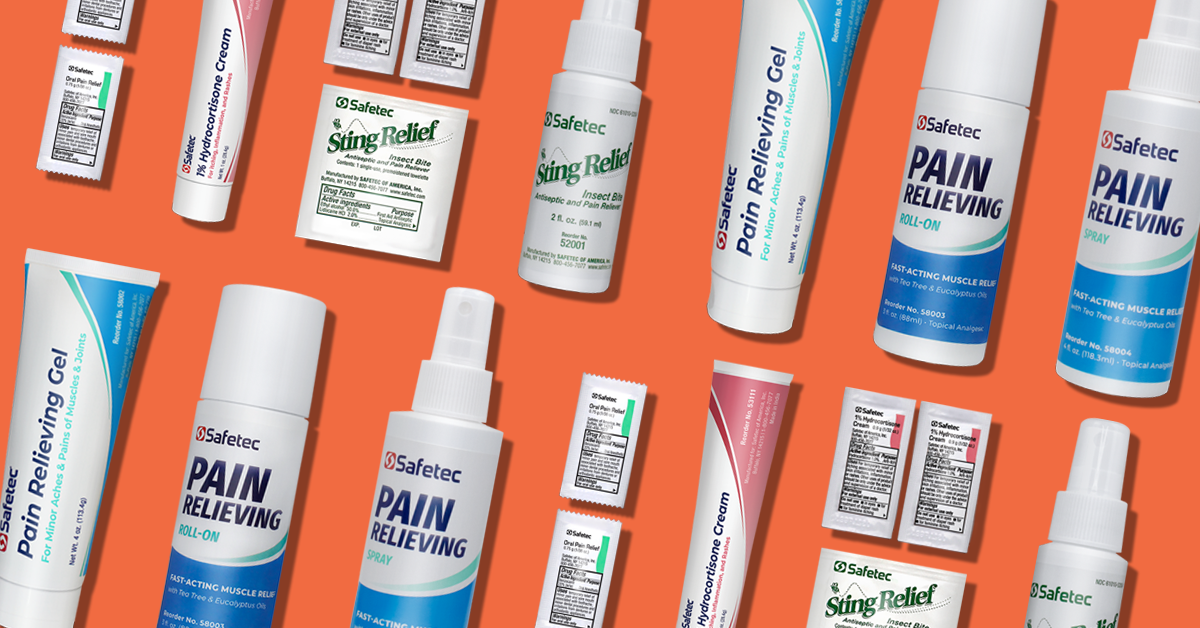 Do you know your OTCs? Part 1
07/01/21
By Dana Szymkowiak
No matter how careful you are, minor injuries or irritations are bound to happen. When they do, you reach for the nearest ointment, cream, or gel. Different types of over-the-counter (OTC) medicines protect skin and treat common ailments, including skin protectants and first aid products. The active ingredients are the components in the drug that works to treat the problem. Although you don't need a prescription for over-the-counter medications, it's still important to understand the active ingredients in popular OTC medications and the correct usage. In addition, these products are for external use only.
Skin Care
There are plenty of active ingredients in OTC products aimed to treat skin irritations. For now, we will focus on two: Hydrocortisone and Menthol. 
Hydrocortisone
Hydrocortisone is a corticosteroid available in OTC medications that temporarily relieves external itching associated with minor skin irritations, inflammation, and rashes. Different types of products containing this active ingredient have different strengths. That's why it is always necessary to read and follow the Drug Facts label. 
Menthol
Menthol is either derived naturally from peppermint or other mint oils or made in a lab. When used as an active ingredient in over-the-counter (OTC) medicines, menthol has several different uses. For example, products used externally for topical pain relief may contain menthol alone or menthol combined with other active ingredients. Menthol can also be combined with other active ingredients in cough suppressant medicines (such as chest rubs and steam vaporizers) and lip balms.
OTC Anesthetics
OTC anesthetics are medications that prevent pain by blocking the signals at the nerve endings in the skin, rendering a small area of your body temporarily numb. Topical anesthetics are applied directly to your skin or mucus membranes, such as the inside of your mouth.
Lidocaine 
Lidocaine is used in a topical gel or ointment on different parts of the body to cause numbness or loss of feeling. It is also used to relieve pain and itching caused by sunburns or other minor burns, insect bites or stings, poison ivy, poison oak, and minor cuts or scratches. Lidocaine is found in topical pain relief, sting relief products, or burn gel. Do not swallow lidocaine cream or put lidocaine cream in your mouth. 
Benzocaine
Benzocaine is currently used to relieve pain in the mouth and gums from various conditions in many oral drug products. Benzocaine oral drug products come in the form of gels, sprays, liquids, and lozenges. Benzocaine is relatively safe and low-risk when applied topically. However, it is not FDA-approved for children under two years old.
Over-the-counter medications are safe and effective when you follow the directions on the label and as directed by your health care professional. Generic, store, and brand names contain the same active ingredients and are identical in their action on the body if the concentration of the active ingredients is the same. In part 2, do you know your OTCs? the Safetec team will cover the active ingredients in common first aid products. 
Made in America, for America
Safetec is committed to providing our customers with first aid components to assist in compliance with the ANSI / ISEA Z308.1 standard, intended for use in various workplaces. Driven by our firm commitment to high-quality products, we manufacture over-the-counter (OTC) products in our FDA-regulated facility and are in complete compliance with OTC monograph requirements. With our shared vision of protecting people, we offer the very best value in complete product solutions to keep you, your employees, patients, and communities safe. Click here to view Safetec's full line of first aid ointments, creams, gels, and sprays.
With over 20 years of experience as a full-service, private label manufacturer, Safetec has developed a team of highly qualified in-house experts to work directly with our customers, ensuring the best products for their brands. We can handle most private label project requests from product ideation through shipping with all our services under one roof. Learn More about Safetec Private Label.