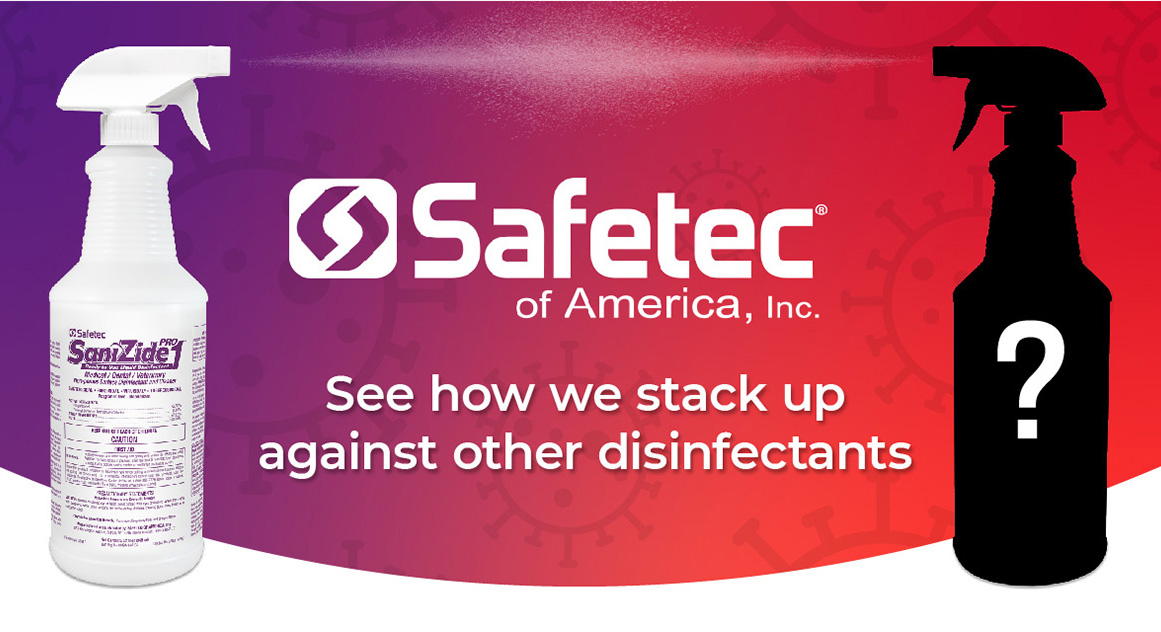 Why Choose Safetec Surface Disinfection Products Over Competitors
10/07/21
By Dana Szymkowiak
Choosing the most effective cleaning products for a commercial facility can be confusing, especially when you throw COVID-19 and the upcoming flu season into the mix. As a result, the pressure to keep a building clean and disinfected increases exponentially. 
Surface disinfection is a critical part of targeted cleaning in any facility, so choosing the best product for the job is crucial. That is where reading the label comes in.
First, EPA Approval is Key
The U.S. Environmental Protection Agency (EPA) regulates surface disinfectants to ensure they are effective and safe for consumers to use. EPA-approved products have a registration number on their label. They cannot make efficacy claims against pathogens unless the EPA has reviewed the data that supports the claim and approves the claim on the label. Therefore, choosing an EPA-approved product ensures that the product's performance claims have been tested and verified. 
Furthermore, many EPA-registered disinfectants must include precautionary statements on their labels such as "Warning" and "Caution" and have other safety precautions, such as requiring gloves and other PPE. Reading the product label is essential to choosing a disinfectant you can feel good about your staff and guests using daily throughout your facility.
Reading and Understanding Product Labels
There are many options when it comes to surface disinfection, so it is important to know the details about the products you choose. 
Active Ingredient

– Take note of the main ingredient used in the product. Some products use harsh chemicals to be effective.

Kill Claims-

 Make sure the product is effective against the bacteria and viruses that concern your facility.

Contact Times-

 Products can have contact times that range from seconds to several minutes to be effective.

Use Sites and Surfaces

– If not used properly, some products can damage surfaces with repeated use.
Why Safetec's SaniZide Pro 1 & Plus Surface Disinfectants are the Right Choice
SaniZide Pro 1® and SaniZide Plus® Surface Disinfectants are a convenient and effective way to disinfect high-touch surfaces in your facility. Our disinfectants are ready to use, broad-spectrum, EPA Registered hospital-grade formulas on the EPA List N for use against SARS-CoV-2 (the virus that causes COVID-19).*
SaniZide Pro 1® makes staying compliant even easier by reducing the risk of cross-contamination with true, one-minute kill claims effective against 48 microorganisms and safe for repeated use on hard, nonporous surfaces. 
SaniZide Plus® is a convenient, fast-acting, multi-purpose, broad-spectrum cleaner, disinfectant, and deodorizer for environmental surfaces. Our alcohol-free formulation is a non-flammable, non-corrosive, EPA-registered, quaternary ammonium compound that meets non-hazardous shipping requirements.
About Safetec of America, Inc. 
As a U.S. infection control, first aid & OTC manufacturer, we have been dedicated to leading the fight against preventable infections and cross-contamination for nearly 30 years. Driven by our firm commitment to high-quality products, we manufacture EPA-registered and over-the-counter (OTC) products in our FDA-regulated facility. With our shared vision of protecting people, we offer the very best value in complete product solutions to keep you, your employees, patients, and communities safe.
*according to the emerging viral pathogen claim
Sources:
https://www.epa.gov/pesticide-registration/selected-epa-registered-disinfectants