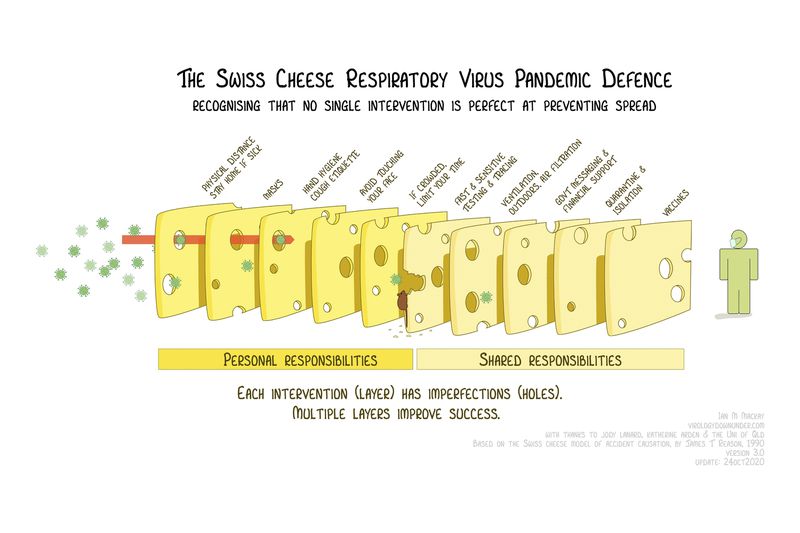 What is the Swiss Cheese Model of Infection Prevention?
01/07/21
By Dana Szymkowiak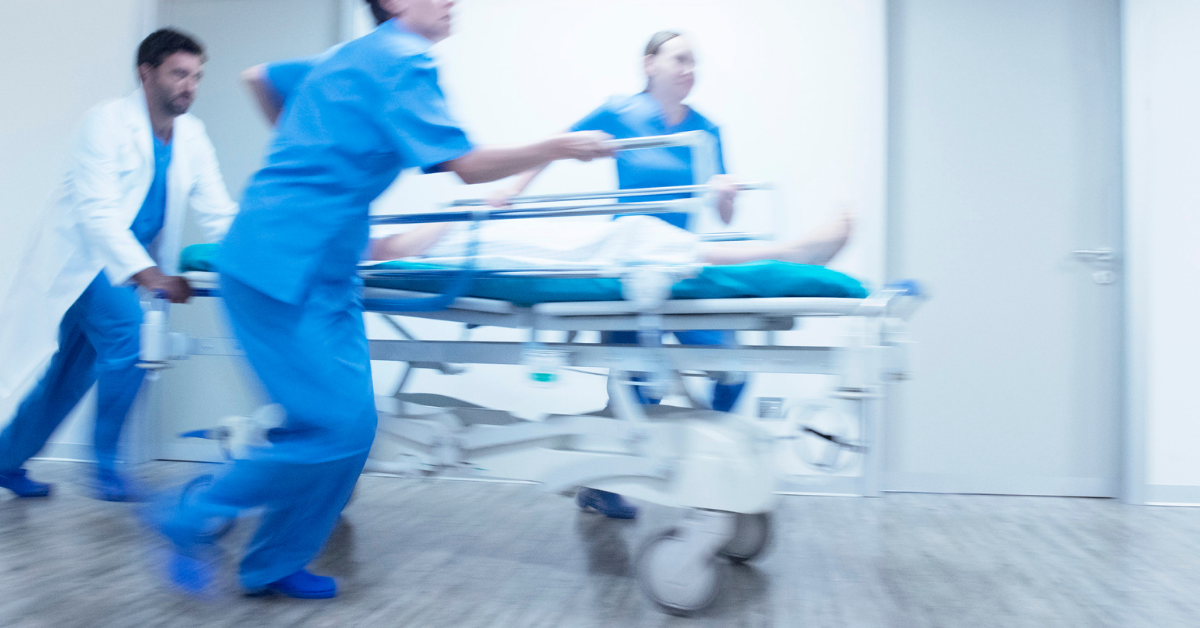 The COVID-19 pandemic has taught us several painful lessons. As of December 2020, the United States is experiencing more than 200,000 cases per day and a new high of 3,000 deaths per day. Initial vaccine deployments are underway, but this is a pivotal time as we move through the current surge. There is still a critical need for infection prevention methods against COVID-19.
Looking back on the early days of the COVID-19 pandemic, it is clear that information and guidance evolved with science. Today, experts urge people to implement the "Swiss cheese model" of infection control for containing the virus.
The Swiss Cheese Model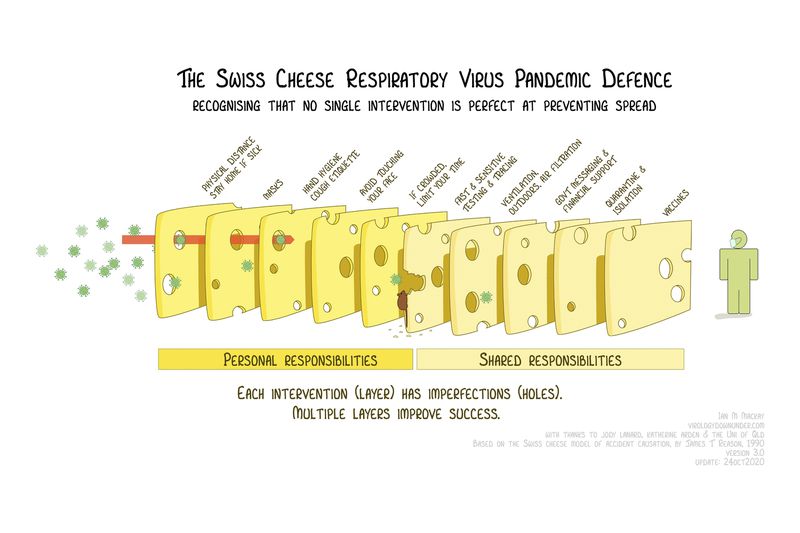 In essence, infection prevention and control isn't just one measure, but many practices and strategies used in conjunction. Each layer is imperfect but plays a vital role in reducing risk.
For years, the "Swiss Cheese Approach" was used in preventing accidents, but it pairs nicely with the current pandemic as the "Swiss Cheese Respiratory Pandemic Defense." From masking to government messaging and vaccines, these layers work cohesively to reduce infection and transmission risk.
The hope is that the holes in one approach will be covered by the strengths in the others. No one layer is perfect; each has holes, and when the holes align, the risk of infection increases. But several layers combined, such as social distancing, masks, hand-washing, testing and tracing, ventilation, and government messaging, reduce the risk of transmission. Vaccination will add one more protective layer when widely available.
Personal Responsibility Layers
We can all do our part, referred to as personal responsibilities, such as physical distancing, staying home when sick, masks, hand hygiene, cough etiquette, disinfection of surfaces, and limiting time in a crowded place. While these layers are undoubtedly important, they alone are not enough to prevent transmission.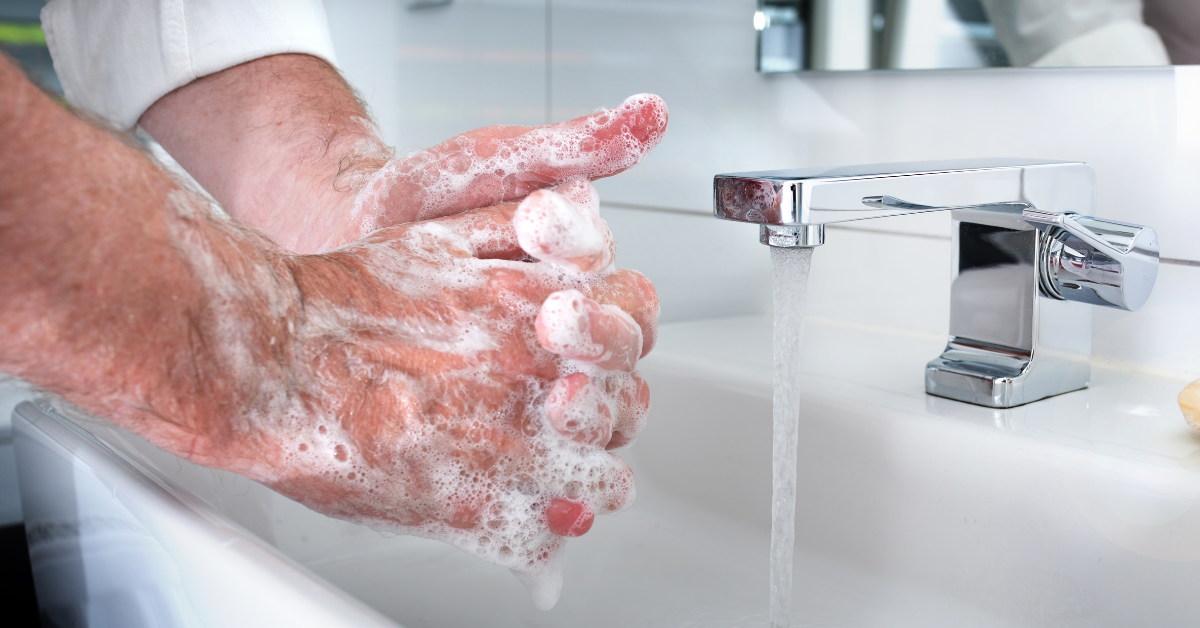 Shared Responsibility Layers
Shared responsibilities are the layers we expect our leadership to work on to create the circumstances for us to be safe.
For example, creating quarantine and isolation practices, communicating with the public, limiting travel, and providing mandates to encourage compliance with infection prevention measures.
Misinformation Mouse
The misinformation mouse can erode any of those layers. If people are uncertain about an intervention, they may deem it ineffective, weakening the approach. When we listen to nonexperts who have no experience in guarding our health and safety, we invite them to impact our lives and our health. It's best to stick to what the experts think we should do. They're looking out for our health.
The Take-Away
By working together to reduce the risk of infection or transmission, we can save lives and improve health. The multilayered approach can even decrease the number of times we get the flu or other respiratory viruses. Sometimes, slices reside under a mandate; other times, it is up to us individually to navigate these approaches to everyday life. Either way, when we layer personal responsibilities on top of shared responsibilities, we are strengthening our defense against COVID-19.
Made in America, for America
Born out of the AIDS Epidemic, Safetec has been there throughout every outbreak, epidemic, and pandemic since 1986 with quality products that help stop the spread of infectious disease. From pandemics to everyday life, Safetec offers you end to end protection from bloodborne pathogens and HAIs to bacterial infections and viruses and everything in between.
At Safetec of America, we take a lot of pride in the fact that the products we work on end up helping people stay safe and lower infection risk. As a trusted infection control and first aid OTC product manufacturer for over 28 years, Safetec strives to keep people safe from infectious disease.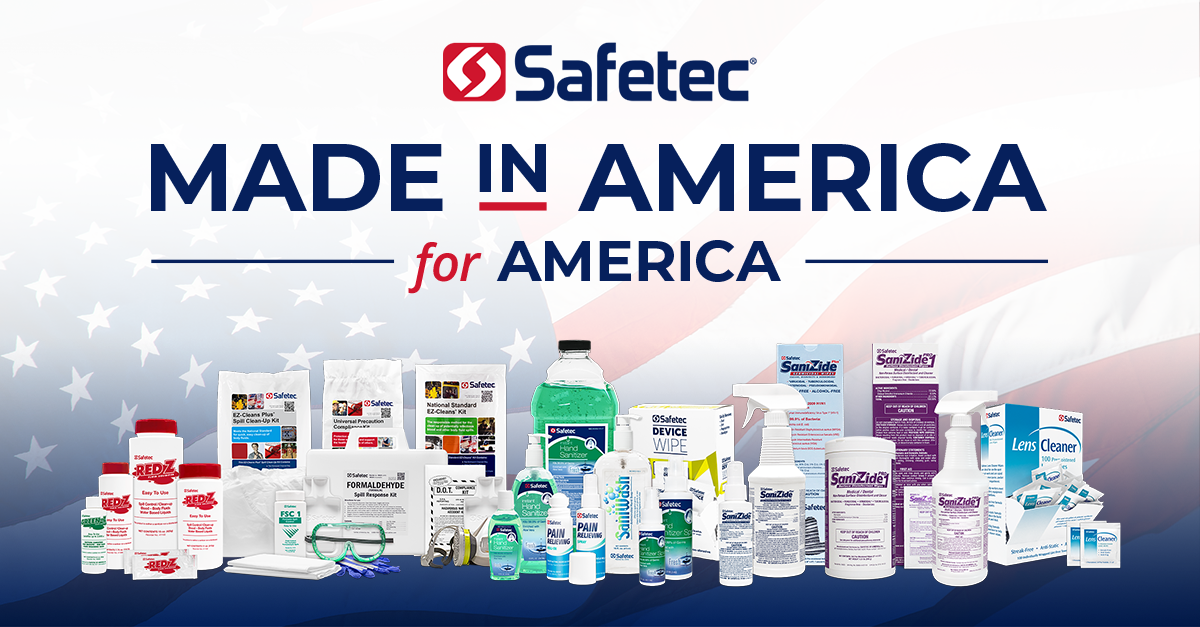 Sources:
https://www.infectioncontroltoday.com/view/wiss-cheese-model-how-infection-prevention-really-works
https://www.chicagotribune.com/coronavirus/ct-nw-nyt-swiss-cheese-model-coronavirus-20201207-jaeuxik6ijdbjlnjbyzygv2aki-story.html
https://www.startribune.com/the-swiss-cheese-model-of-pandemic-defense/573363381/?refresh=true