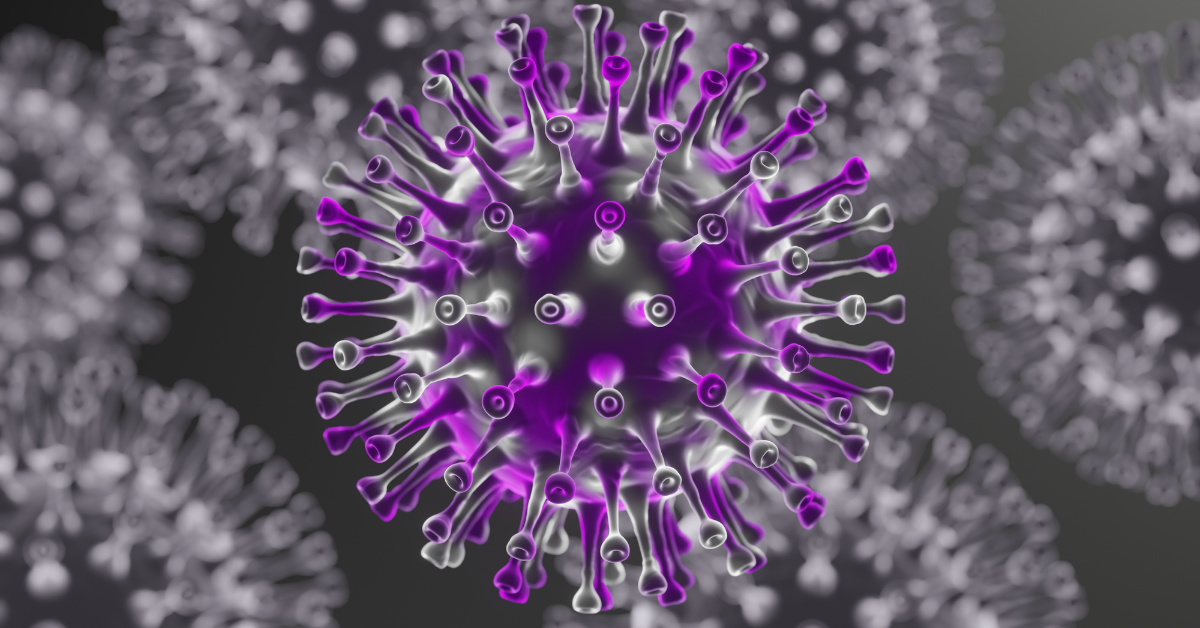 What is the Mu Variant?
09/23/21
By Dana Szymkowiak
We are about halfway through the Greek alphabet for naming coronavirus variants. Only four have raised enough alarm to warrant a WHO "variant of concern" designation- Alpha, Beta, Gamma, and Delta.
One of the newest variants of COVID-19, known as Mu (B.1.621), has spread to 42 countries, but studies suggest it is not spreading as quickly as the Delta variant. However, the World Health Organization labeled Mu a "variant of interest" in August 2021. Mu has many known mutations that can help the virus escape immunity from vaccines or previous infections.
How is Mu different? 
Most genetic sequences show that Mu has eight mutations in the spike protein, many of which are also present in Alpha, Beta, Gamma, and Delta. In addition, some of Mu's mutations help other variants evade antibodies from mRNA vaccines.
Mu also harbors novel mutations that haven't been detected in other variants before, so their consequences are not fully understood.
"[Mu] variant has a constellation of mutations that suggests that it would evade certain antibodies—not only monoclonal antibodies but vaccine and convalescent serum-induced antibodies—but there isn't a lot of clinical data to suggest that. It is mostly laboratory […] data," said Anthony Fauci, director of the National Institute of Allergy and Infectious Diseases, at a White House press briefing on September 2.
How prevalent is Mu?
So far, the mu variant doesn't seem to be spreading quickly: It accounts for fewer than 1% of COVID-19 cases globally. In Colombia, it may be responsible for about 39% of cases. However, most countries remain concerned about the highly contagious delta variant; it is the dominant variant in almost all 174 countries where it's been detected.
What's the difference between a 'variant of interest' and a 'variant of concern?'
A Variant of Interest (VOI) has specific attributes such as specific genetic markers that are predicted to affect transmission, diagnostics, therapeutics, or immune escape or evidence that it is the cause of an increased proportion of cases or unique outbreak clusters. A Variant of Concern (VOC) has attributes such as evidence of increased transmissibility, increased disease severity, or evidence of reduced vaccine-induced protection from severe disease.
The longer COVID-19 circulates, the more dangerous it can become
The longer this virus circulates, the greater the odds that mutations will emerge, which protect it from the vaccines we have now. Therefore, to beat the virus, we need to stop it from spreading by wearing masks, social distancing, practicing hand hygiene, and disinfecting surfaces regularly.
Safetec of America, Inc.
As a U.S. infection control, first aid & OTC manufacturer, we have been dedicated to leading the fight against preventable infections and cross-contamination for nearly 30 years. Driven by our firm commitment to high-quality products, we manufacture EPA-registered and over-the-counter (OTC) products in our FDA-regulated facility. With our shared vision of protecting people, we offer the very best value in complete product solutions to keep you, your employees, patients, and communities safe.
Sources
https://www.cdc.gov/coronavirus/2019-ncov/variants/variant-info.html
https://www.infectioncontroltoday.com/view/mu-variant-might-escape-immunity-from-vaccines-past-infection
https://www.webmd.com/lung/news/20210909/mu-covid-variant-qa