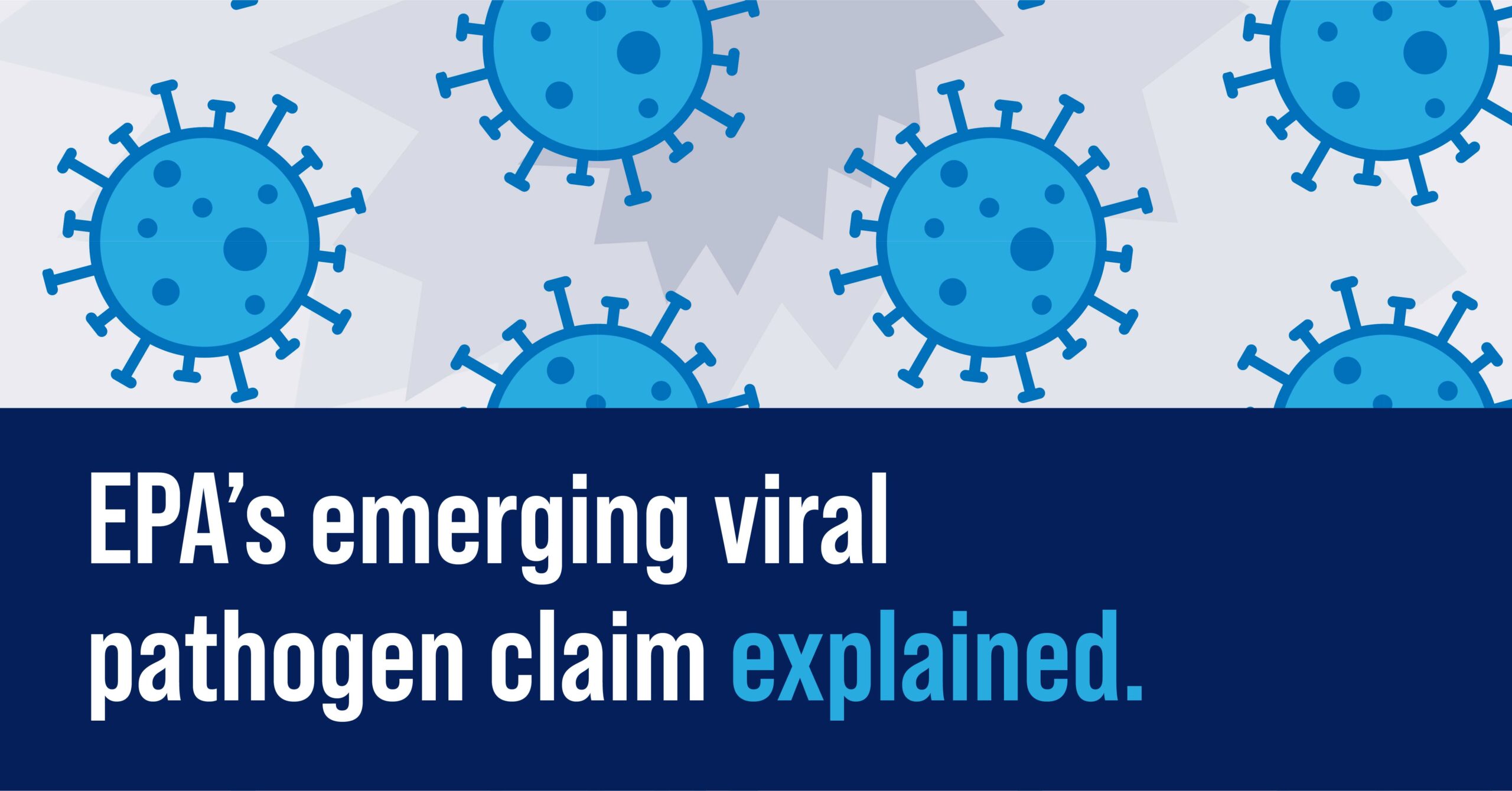 Emerging Viral Pathogen Claim Explained
If you have researched disinfectants anytime since January 2020, you've come across information on the EPA's "N" List, specifying registered disinfectants approved for use against SARS-CoV-2. You may have wondered how the list is developed and how exactly to interpret its phrasing. It can be an overwhelming amount of information, so let us break it down for you!
A History of Lists
Before List N, there were lists designated A through M, each for a new need. A look at all the lists provides a historical tour of emerging pathogens in the United States: TB, then HIV-1, then Hepatitis B, then Hepatitis C, followed by Norovirus, MRSA and VRE, C. diff., Ebola, Avian Flu, and SARS-CoV-2 are among the latest.
The EPA introduced List N in March of 2020. Officially, it is now known as List N: Disinfectants for Coronavirus (COVID-19). Currently, there are more than 500 products on the list, all of which meet one of three criteria. They all are proven effective against:
The coronavirus SARS-CoV-2.

A pathogen that is harder to kill than SARS-CoV-2.

A different human coronavirus similar to SARS-CoV-2.
What is an emerging viral pathogen claim?
The National Institute of Allergy and Infectious Diseases defines "emerging infectious diseases/pathogens" as those "that have newly appeared in a population or have existed but are rapidly increasing in incidence or geographic range." Because the occurrence of emerging viral pathogens is less common and unpredictable than established pathogens, few if any EPA-registered disinfectant product labels specify use against this category of infectious agents when they first emerge. The emerging viral pathogen claim helps us know which disinfectants will work against new pathogens in a timely manner without being delayed by needing to obtain and test the outbreak strain.
Many of the emerging pathogens of concern are pathogenic viruses. How long these viruses last on surfaces can play a role in the disease transmission. SARS-CoV-2 (the virus that causes COVID-19) is the most current example of a pathogenic virus and the first outbreak to trigger the Emerging Viral Pathogen program.
The emerging viral pathogen claim allows companies to make claims against harder-to-kill pathogens in the event of an outbreak. Companies can apply for this claim before an outbreak occurs from previous EPA-approved kill claims. When the emerging viral pathogen guidance is triggered, the disinfectants approved by the EPA for this claim are then able to make off-label claims for the new pathogen responsible for the outbreak.
The EPA introduces List N
The EPA added over 200 products to List N by allowing products that were proven effective against other human coronaviruses. SARS-CoV-2 is just one of many coronaviruses, some of which are quite common, so there had been plenty of testing done on the effectiveness of disinfectants on these viruses.
EPA adds List G and List L to List N
In April of 2020, the EPA expanded List N by adding List G (products effective against norovirus) and list L (products effective against ebola) to list N. As both norovirus and Ebola are harder-to-kill viruses than enveloped viruses like the human coronavirus, it stands to reason that these products are also effective against SARS-CoV-2.
EPA adds products directly tested against SARS-CoV-2 to List N
In July of 2020, products that were tested against SARS-CoV-2 in a lab were added to List N. The EPA does not consider these more or less effective than anything else on List N. But, it's another way the product selection can expand. 
Finding products on List N
So, you have a disinfectant and you are wondering if it is effective against SARS-CoV-2, but you are struggling to find it on List N. Does this mean it is not effective against SARS-CoV-2? Perhaps, but many companies sub-register their disinfectants. This means that the same product formula can be sold under multiple brand and product names. List N only contains primary registered products, so if you have a product that is sub-registered you will not be able to find it by name on the list.
The best way to check this is to use the EPA registration number. To do this, locate the EPA registration number on the disinfectant label and enter the first two sets of numbers into the List N search tool. If a product comes up, this means your disinfectant is effective against SARS-CoV-2 in the contact time noted on the list.
The takeaway
When battling a terrifying new pathogen like SARS-CoV-2, the EPA's N List can be a helpful tool to ensure you have effective and safe disinfectant products. It's also important to understand the background of List N like how products are added, and how the EPA determines they are effective in the fight against COVID-19.
Made in America, for America
Founded in 1992, Safetec of America products are USA-made and manufactured in Buffalo, New York. Safetec continues to make significant investments in our FDA Regulated manufacturing facility, the machines we use to manufacture, and the people of Safetec to ensure the quality and strength of our products.
Safetec offers two broad-spectrum, EPA Registered surface disinfectants that combine cleaning and disinfecting in one simple step with its ready-to-use, hospital-grade formulas.
SaniZide Pro 1® Surface Disinfectant spray and wipes make staying compliant even easier by reducing the risk of cross-contamination with true, one-minute kill claims effective against 48 microorganisms and SARS-CoV-2, the virus that causes COVID-19, and safe for repeated use on hard, non-porous surfaces.
SaniZide Plus® Surface Disinfectant Spray is a convenient, fast-acting, multi-purpose, broad-spectrum disinfectant/deodorizer for environmental surfaces. Our alcohol-free formulation is a non-corrosive, quaternary ammonium compound.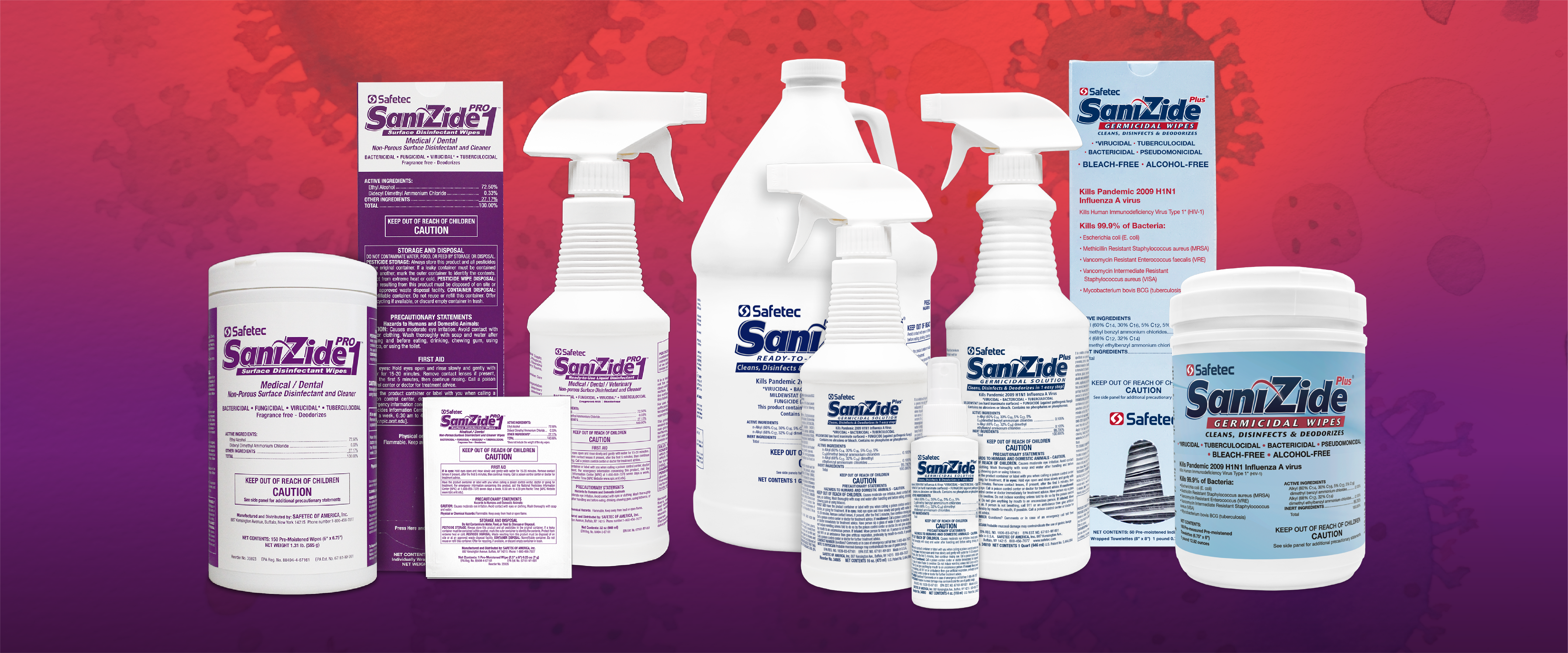 Sources:
https://www.epa.gov/coronavirus/how-does-epa-know-products-list-n-work-sars-cov-2
https://www.epa.gov/coronavirus/what-does-column-emerging-viral-pathogen-claim-indicate-list-n
https://www.epa.gov/coronavirus/what-process-epa-approval-disinfectant-products-related-covid-19
https://www.epa.gov/coronavirus/what-emerging-viral-pathogen-claim