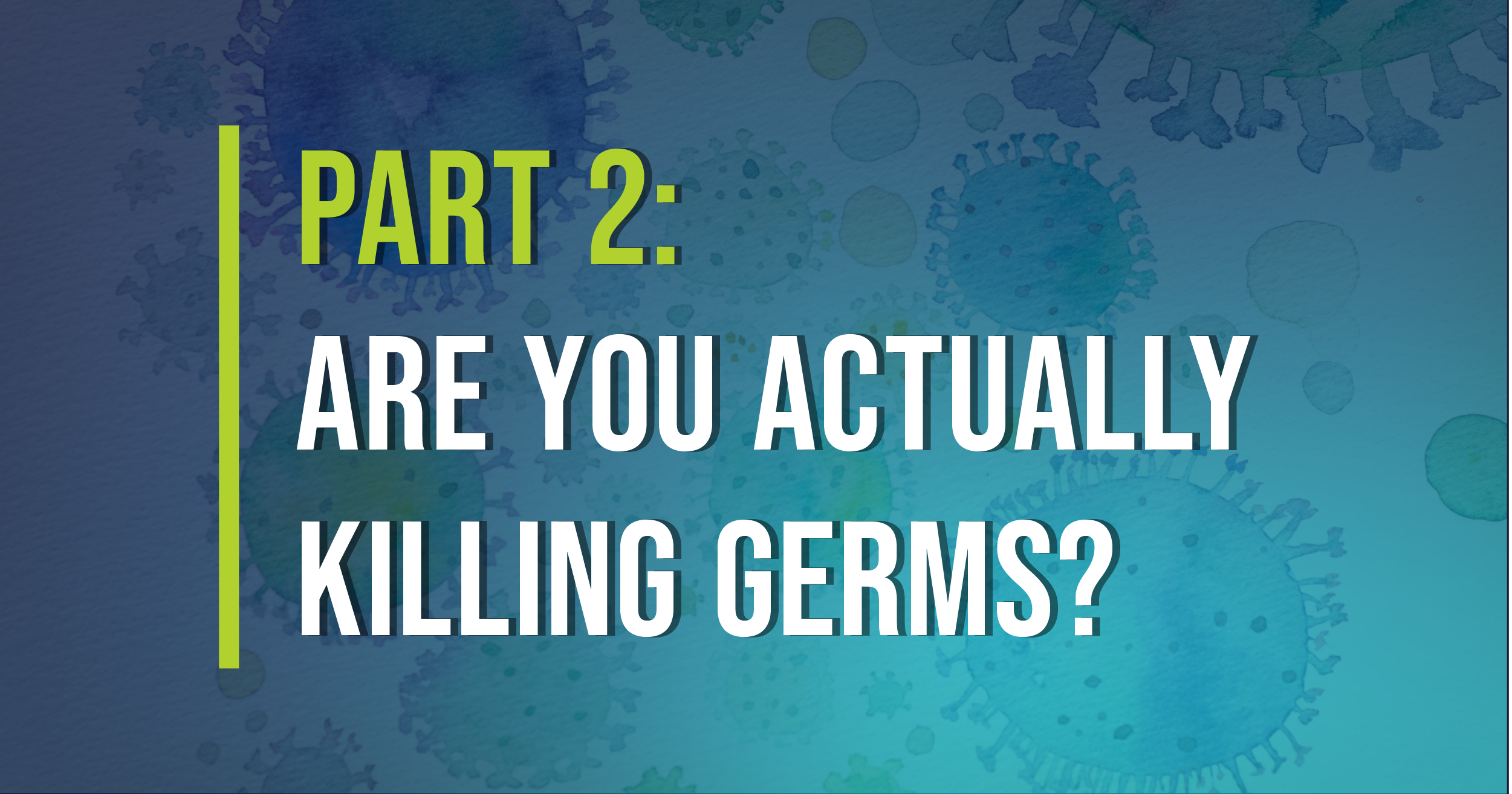 Are You Actually Killing Germs; Part 2
01/28/21
By Dana Szymkowiak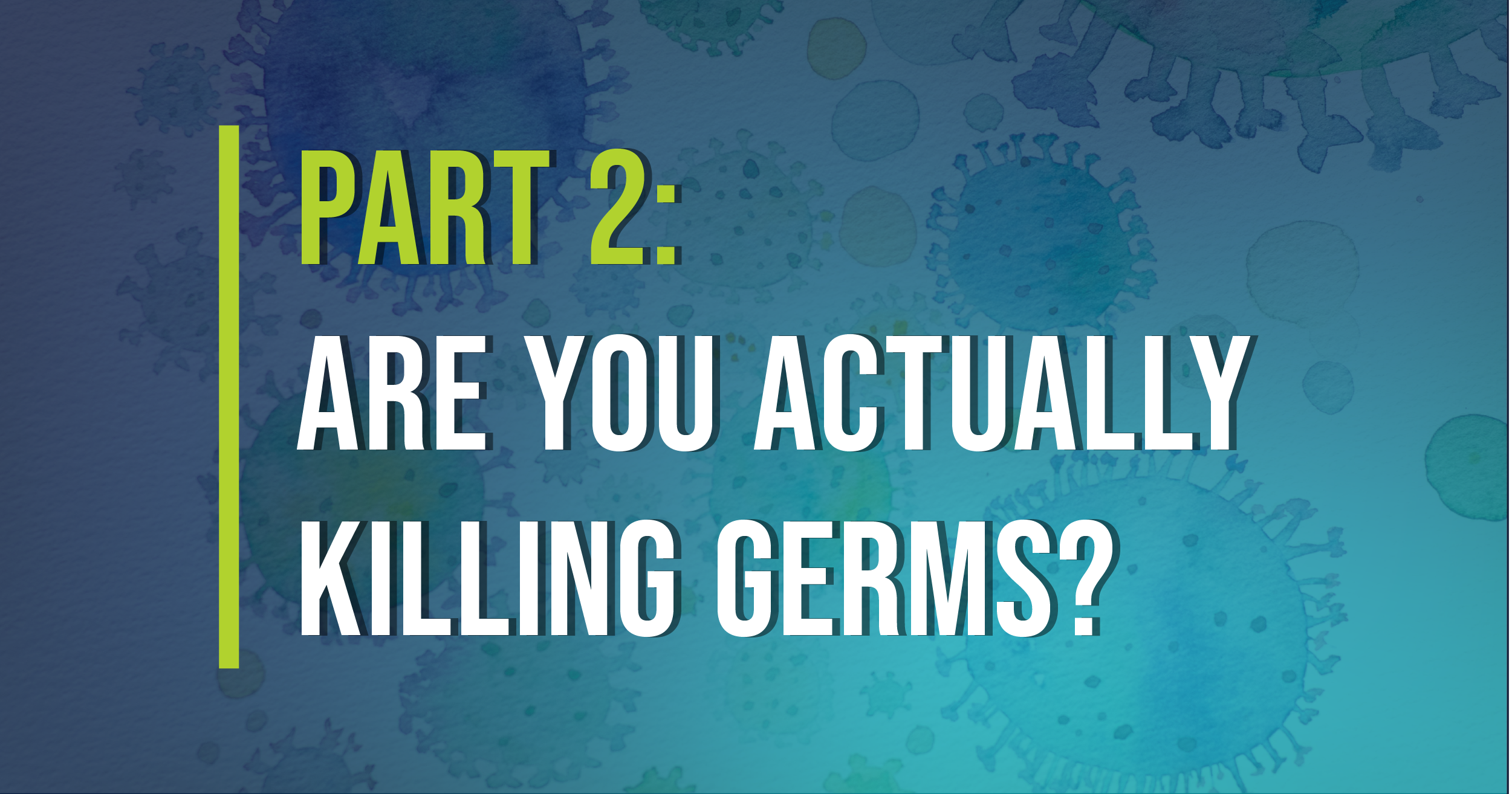 Disinfectants are chemical agents applied to non-living objects to destroy bacteria, viruses, fungi, mold, or mildew living on the surfaces. The "active ingredient" in each disinfectant formula kills pathogens, usually by disrupting or damaging their cells.
As we learned in Part 1, there are many characteristics to look for in a good disinfectant. Since there are several types of disinfectants on the market, it's important to understand how they work in order to make an informed decision on which products will best protect your employees, customers, or patients.
Leaves no Damage
You want a disinfecting product to kill germs, not destroy your expensive equipment or counters. Some disinfectants can harm surfaces or shorten the life of your assets. Understanding a disinfectant's compatibility with these surfaces can help reduce unnecessary damage and costs.
Look for products compatible with all the surfaces you regularly clean. Certain disinfectants only work on hard non-porous surfaces, and harsh disinfectants can cause corrosion on some materials. Pro tip: also check that disinfectant is safe for repeated use.
Look for a RTU (ready-to-use) product
RTU disinfectants are more reliable and help resolve issues associated with mixing inaccurate amounts of concentrate or not throwing the mixture away after 24 hours, often necessary for dilutable disinfectants. Swapping out dilutable cleaners and disinfectants for ready-to-use options may help achieve consistent, compliant use for hard surface disinfection.
Look for Straightforward Usage
You need to follow a specific cleaning and disinfectant procedure for a disinfectant to be effective. Labels should have clear instructions that explain how to use the product, including how long you must leave it on a surface to eliminate the largest number of pathogens. Are the steps required to use a given disinfectant practical for your facility?
Look for Safety
Neither the antimicrobial product nor its residue should negatively impact humans, animals, or the environment. Some disinfectants are irritating to eyes, skin, or respiratory tracts and may require personal protective equipment (PPE) or have a strong odor. Many disinfectants wind up going down the drains of sinks, tubs, or toilets, so choose formulas guaranteed to be safe once released into the environment. When choosing safer cleaning chemicals, you can learn much from Safety Data Sheets (SDS).
Look for a Reputable Source
Purchase from a reputable source. Purchasing from a manufacturer or one of their confirmed distributors can save you from wasting money on counterfeit or expired disinfectants. Websites where anyone can sell something, such as Facebook, Ebay, or Craigslist are not the best source of infection control products. The EPA is actively engaged with U.S. retailers and third-party marketplace platforms to prevent products with unsubstantiated and potentially dangerous claims of protection from coming to market.
The Takeaway
An ideal disinfectant should excel in all the major decision-making criteria outlined in Part 1 and Part 2 of "Are You Really Killing Germs?". Choose a disinfectant that is effective against a broad spectrum of microorganisms (bacteria, viruses, etc.) in a rapid and realistic contact time. Finally, ensure it is safe for the users and the occupants of the facility and the environment.
Safetec of America, Inc.
A passion for effective, safe, and high-quality products has guided us in everything we do at Safetec. As a trusted US infection control and first aid OTC product manufacturer for nearly 30 years, Safetec strives to keep people safe from infectious disease. Our team follows exemplary quality control procedures when developing and manufacturing products and complies with the FDA Code of Federal Regulations and EPA guidelines.
Safetec's SaniZide Pro 1® Surface Disinfectant Spray & Wipes is a broad spectrum, EPA Registered surface disinfectant that combines cleaning and disinfecting in one simple step with its ready-to-use, alcohol-based hospital-grade formula. With true one minute kill claims for 48 microorganisms, SaniZide Pro 1 is safe and effective for any facility.
Safetec also offers an alcohol-free option, SaniZide Plus® Surface Disinfectant Spray is a non-corrosive, EPA registered, quaternary ammonium compound effective against MRSA, VRE, Tuberculosis, Influenza, Poliovirus, Norovirus and SARS-CoV-2, the virus that causes COVID-19. SaniZide Plus® Germicidal Wipes are pre-saturated hard surface wipes that kill viruses such as MRSA, TB, VRE, and E. Coli in 10 minutes and HIV-1 in 2 minutes. They are also effective against SARS-CoV-2, the virus that causes COVID-19, according to the emerging viral pathogen claim. Our dual quat, alcohol-free formula is non-flammable and non-corrosive on surfaces.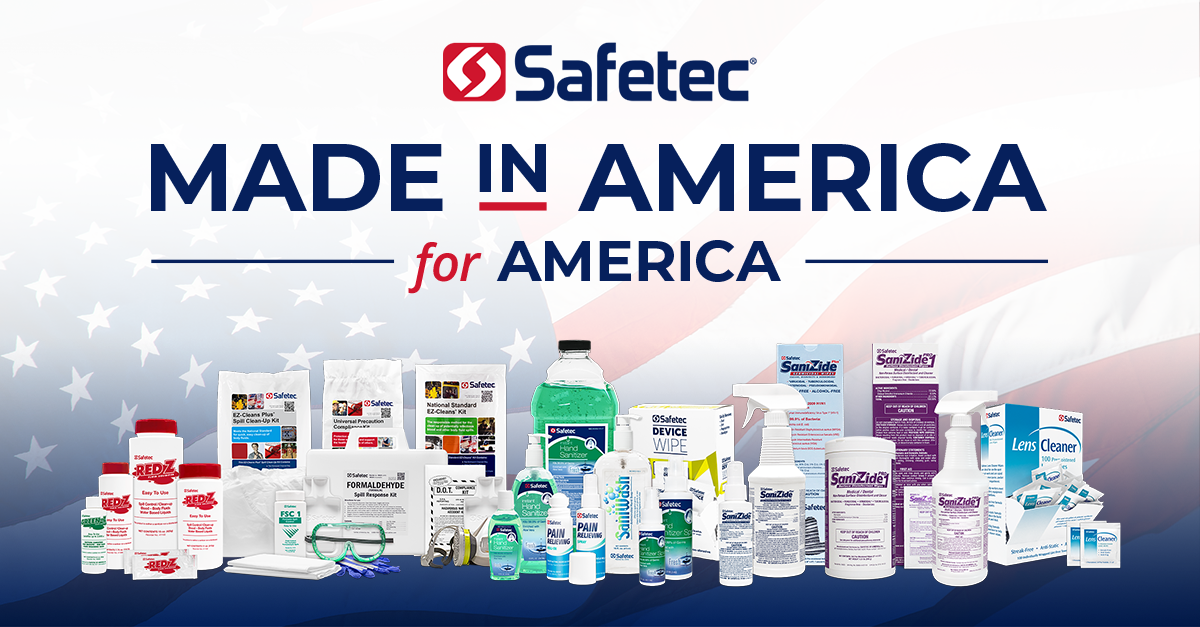 Sources:
https://www.epa.gov/pesticide-registration/selected-epa-registered-disinfectants
https://www.epa.gov/coronavirus/i-cant-tell-if-product-im-interested-list-or-not-can-you-help-me
https://www.cdc.gov/mmwr/volumes/69/wr/mm6923e2.htm
https://www.infectioncontroltoday.com/view/how-select-ideal-disinfectant
https://www.epa.gov/pesticide-registration/pesticide-registration-manual-chapter-4-additional-considerations