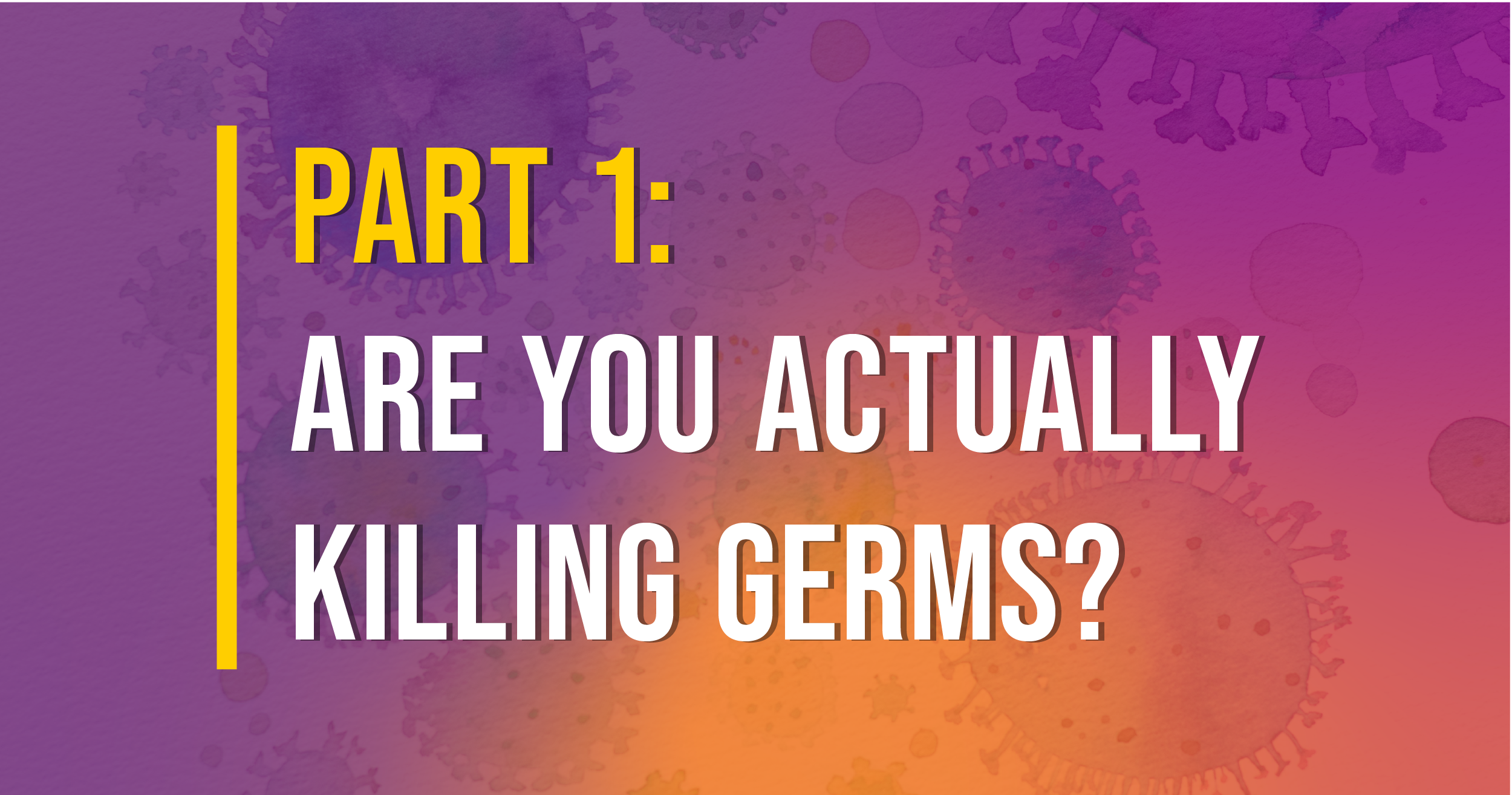 Are You Actually Killing Germs; Part 1
01/21/21
By Dana Szymkowiak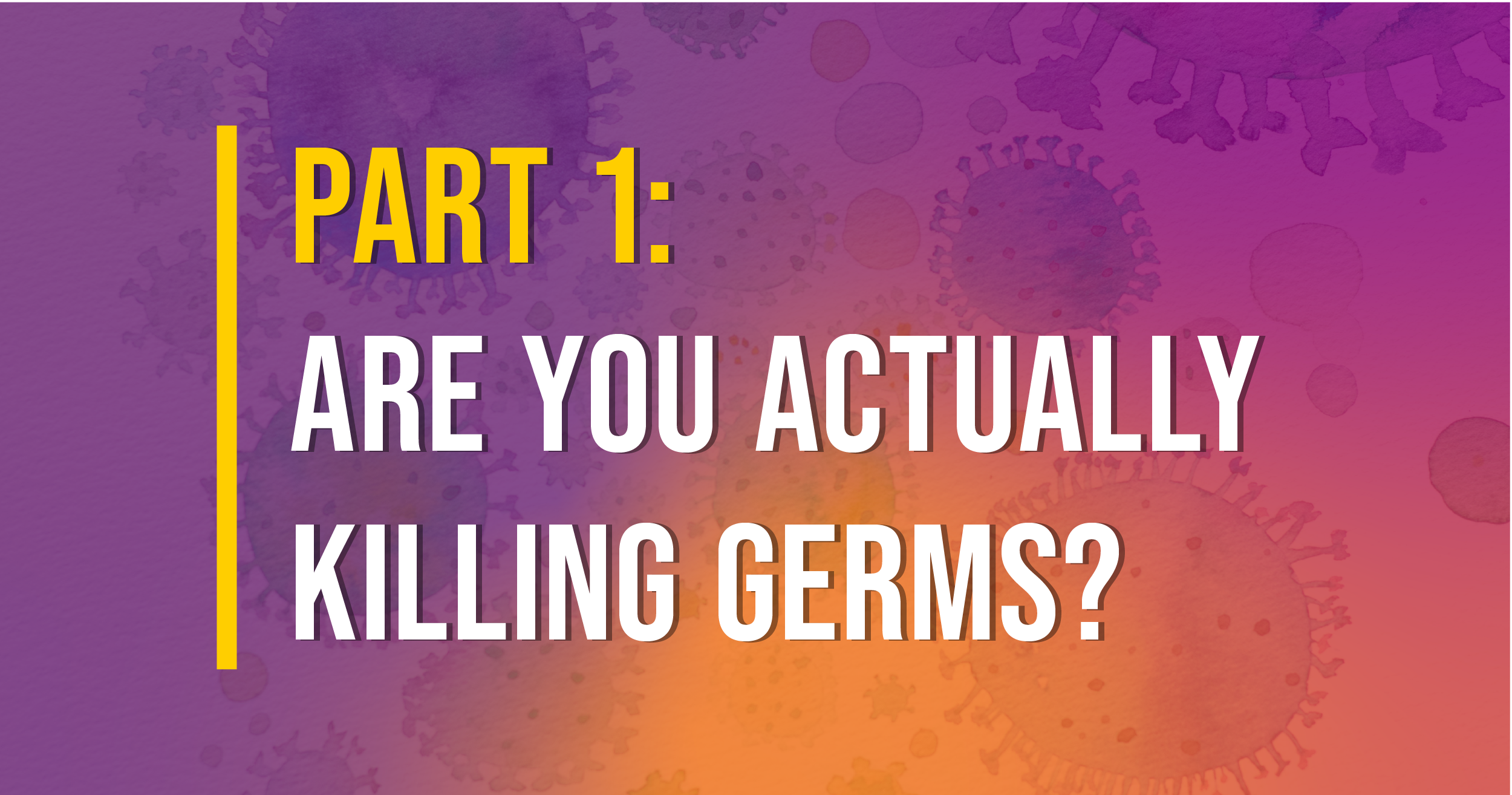 Almost every environment on the planet contains bacteria and microorganisms. Some are harmless, but disease-causing organisms, called pathogens, can be dangerous or deadly. One of the most important steps in reducing the spread of infectious diseases is disinfecting surfaces. According to the CDC, 1 in 3 adults used chemicals or disinfectants unsafely since the onset of COVID-19 to keep their home or facility safe.
Using the right disinfectant regularly on surfaces throughout your facility is crucial in preventing the spread of diseases like colds, Influenza, and even COVID-19. Brand name disinfectants have been challenging to find, leading generic disinfectant products to pop up in stores. We're here to help you make an informed decision on how to find the best disinfectant to protect the people in your facility.
Look for a Disinfectant
While the terms cleaner, sanitizer, and disinfectant are often used interchangeably, they are not the same thing. According to the EPA, "Surface disinfectant products are subject to more rigorous EPA testing requirements and must clear a higher bar for effectiveness than surface sanitizing products. There are no sanitizer-only products with approved virus claims. For this reason, sanitizers do not qualify for inclusion on EPA's List N: Disinfectants for Use Against SARS-CoV-2 (COVID-19)." The EPA only registers cleaning products if they make kill claims on their labeling, such as killing a bacteria or virus. If you're buying a product marketed as a sanitizer, it likely has not been tested on viruses meaning it will not kill the viruses that cause the common cold, the flu, and COVID-19. Cleaners do not kill germs, they only remove some of the germs present.
Look for an EPA Number
Check for an EPA number on the product. The EPA number confirms that this product is registered with the EPA, and the claims on the label are approved. Products not registered by EPA can be harmful to human health, cause adverse effects, and may not be effective against the spread of germs.
The same disinfectant products may be marketed and sold under different brand and product names; If you are trying to determine if a disinfectant is effective against SARS-CoV-2 (the virus that causes COVID-19) using the EPA's List N you need to determine whether a primary registration number is on the list. First, find the registration number on the product label. Look for "EPA Reg. No." followed by two or three sets of numbers. Then enter the first 2 sets of numbers into the List N search bar to see if your disinfectant is suitable for use against SARS-CoV-2.
Look for a Broad-Spectrum Disinfectant
Look for disinfectants that promise to kill the largest number and widest variety of microbial pathogens possible. The EPA's definition of "broad spectrum" disinfectant is one that has public health claims for all three of the major classes of organisms (bacteria, fungi, and viruses). Sanitizers are not considered broad-spectrum by the EPA's definition since they only reduce bacteria levels.
Check the Kill Claims and Kill Times
Remember, disinfectants only work while wet. All disinfecting products need to stay wet on the surface for a specific length of time to kill all pathogens on the label. If the disinfectant dries quickly, EPA regulations (and the product label) dictate that you must reapply until the total kill time is reached.
Before checking claims, determine the pathogens of concern. Next, find a disinfectant that specifically lists those pathogens on the label. Kill times can vary widely. If you need to disinfect surfaces quickly, choose a product with a shorter kill time (1-4 minutes).
The Takeaway
Keeping your environment clean and properly disinfected is an important way to prevent infection and disease spread. There are many factors to consider when choosing a disinfecting product for your facility. Be on the lookout for part 2 in "Are You Actually Killing Germs?" next week! Sign up for our E-newsletter and receive updates right to your inbox.
Made in America, for America
Founded in 1992, Safetec of America products are USA made and manufactured in Buffalo, New York. Safetec continues to make significant investments in our FDA Regulated manufacturing facility, the machines we use to manufacture, and the people of Safetec to ensure the quality and strength of our products.
Safetec's SaniZide Pro 1® Surface Disinfectant Spray & Wipes is a broad spectrum, EPA Registered surface disinfectant that combines cleaning and disinfecting in one simple step with its ready-to-use, alcohol-based hospital-grade formula. With true one minute kill claims for 48 microorganisms, SaniZide Pro 1 is safe and effective for any facility.
Safetec also offers an alcohol-free option, SaniZide Plus® Surface Disinfectant Spray is a non-corrosive, EPA registered, quaternary ammonium compound effective against MRSA, VRE, Tuberculosis, Influenza, Poliovirus, Norovirus and SARS-CoV-2, the virus that causes COVID-19. SaniZide Plus® Germicidal Wipes are pre-saturated hard surface wipes that kill viruses such as MRSA, TB, VRE, and E. Coli in 10 minutes and HIV-1 in 2 minutes. They are also effective against SARS-CoV-2, the virus that causes COVID-19, according to the emerging viral pathogen claim. Our dual quat, alcohol-free formula is non-flammable and non-corrosive on surfaces.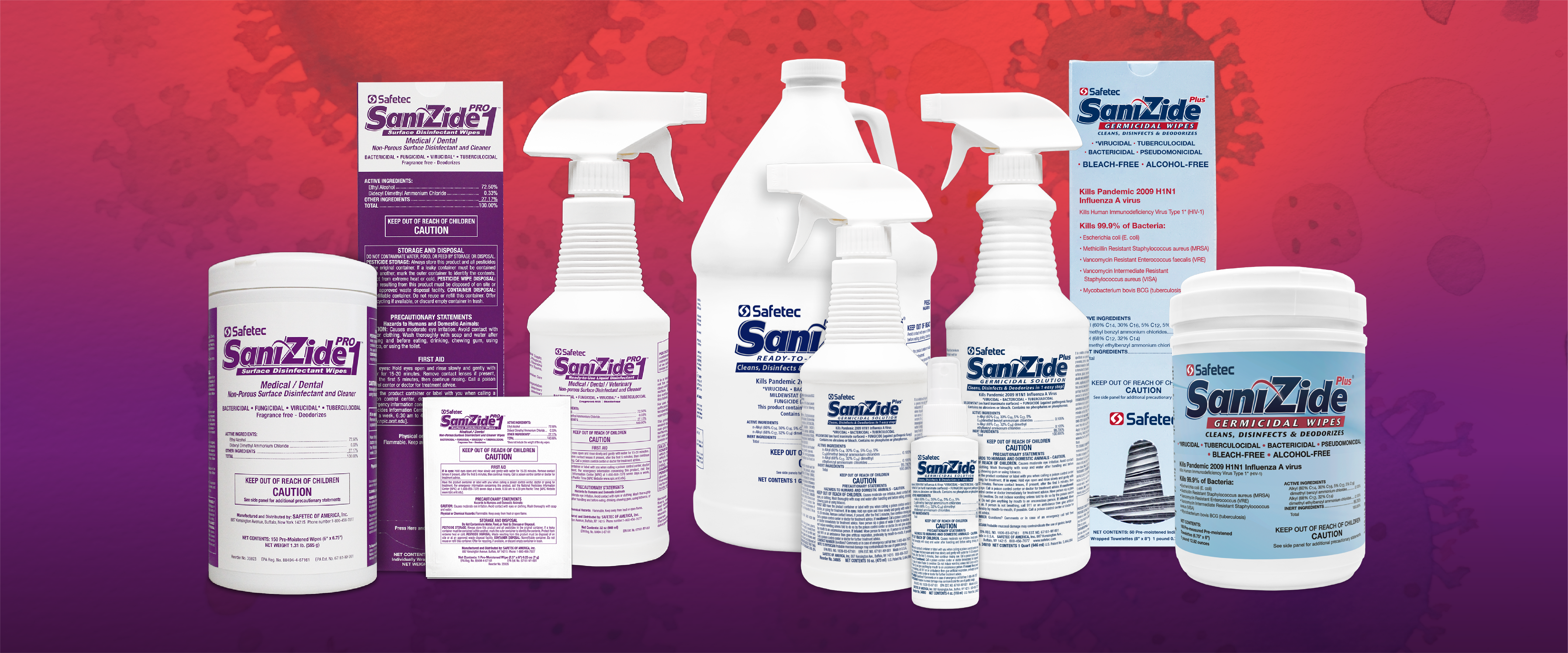 Sources:
https://www.epa.gov/pesticide-registration/selected-epa-registered-disinfectants
https://www.epa.gov/coronavirus/i-cant-tell-if-product-im-interested-list-or-not-can-you-help-me
https://www.cdc.gov/mmwr/volumes/69/wr/mm6923e2.htm
https://www.infectioncontroltoday.com/view/how-select-ideal-disinfectant
https://www.epa.gov/pesticide-registration/pesticide-registration-manual-chapter-4-additional-considerations