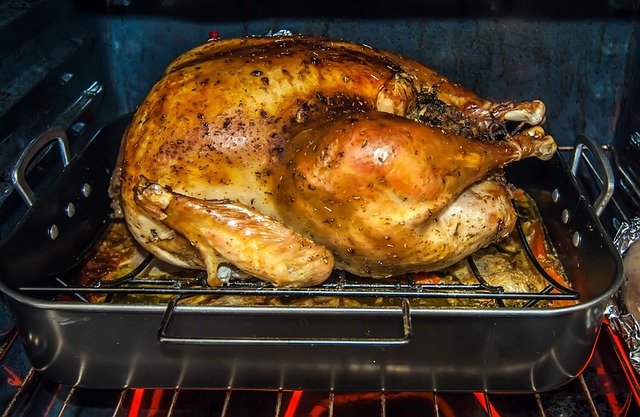 Fowl Ball! 7 of the Most Common Injuries on Thanksgiving
There is just something magical about cooking an oversized 25lb bird in an oven once a year. The smell that fills your home, turkey that fills your tummy. Nothing better!
However, with such great reward, there is always risk. Here are 10 of the most common injuries seen in an Emergency Room on Thanksgiving Day – and maybe a tip or two on how to avoid the same mistake!
Deep Fried Turkey – delicious and dangerous! If the turkey is wet or even partially frozen when it hits the oil, the bird can catch fire or even explode! If you drop your turkey in the oil, you could suffer second degree burns! (For minor burns, it is not a bad idea to be prepared with some first aid/burn cream)
Carving Off More Than The Turkey – Proceed with caution! Those knives (electric or not) are super sharp. Be sure to keep an eye on your digits, unless you want to lose one.
Choking – We know, the number of times that you get to eat a wonderful turkey is limited to a few times a year, but that doesnt mean biting off more than you can chew. You can also choke on your turkey by talking while eating or laughing at Uncle Bob's jokes.
Overindulging – Over eating at any meal is not a healthy thing to do at all. Saving up all of your calories for one meal is not a safe alternative either. Consuming way too much over the holidays can be especially dangerous for those with diabetes, congestive heart failure, kidney disease, or high blood pressure.
Undercooked Food – You may be in a rush to get the bird, ham or pie out of the oven – but eating undercooked food can get you seriously sick. Food that is undercooked or improperly stored can lead to the growth of salmonella. Having food poisoning is not something fun to have when your plans are to shop till you drop on Black Friday.
Drinking – Thanksgiving Week(end) is a time where the drinks are flowing, but if you plan on drinking – also plan on having a safe way home. Have a number to a designated driver program programmed into your phone is always a smart choice.
Shenanegins – Playing a friendly game of two-hand touch can get a bit out of hand once the competitive nature starts coming out of your relatives. Concussions, broken hands and more can all be a result of a "friendly" family football game. Unless your last name is Manning, Gronkowski or Taylor (Go Bills!) you should not try to play like them.
Stay safe this holiday season!