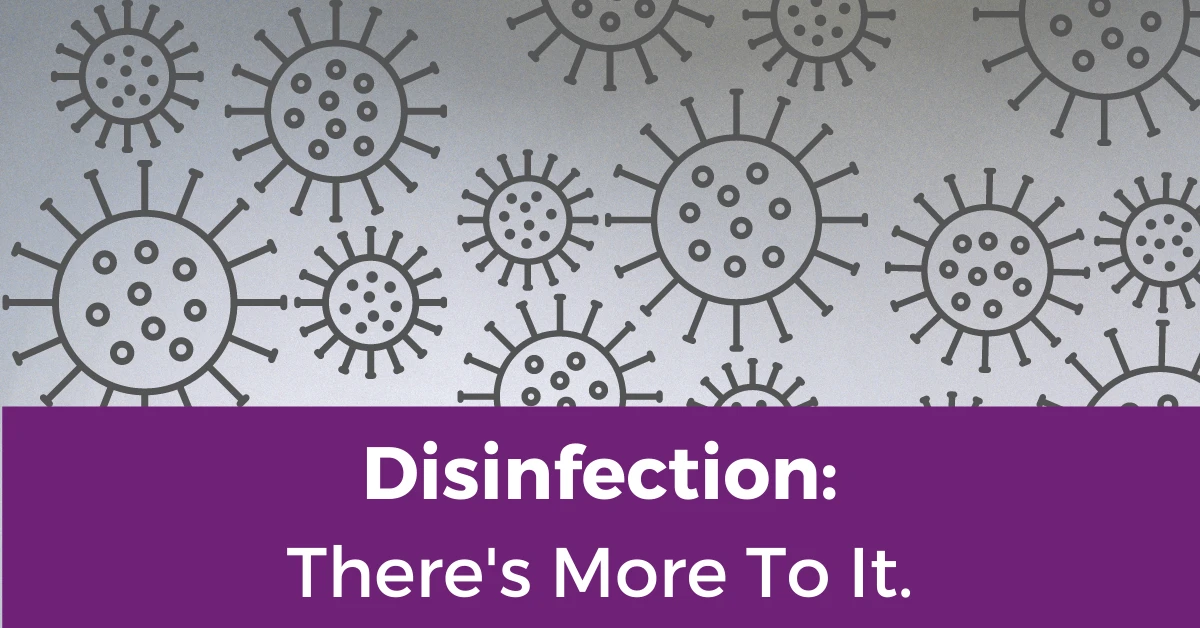 Surface Disinfection: There's More To It.
Microorganisms are some of the tiniest biological organisms known, but we've become far more aware of them in the wake of a global pandemic. As a result, we've become suspicious of surfaces in public spaces and healthcare settings, and with good reason! Scientists have found that many potentially infectious bacteria, viruses, yeasts, and molds can survive on surfaces for considerable amounts of time. 
Surface disinfection is key to containing viral outbreaks. However, the impact of the COVID-19 pandemic on today's world makes it important to change how the health care community and the general public conducts proper surface cleaning and disinfection. 
Surface disinfection 
Surface disinfection practices must evolve to mitigate the spread of pathogens that cause healthcare-associated infections (HAIs) and viral outbreaks. Everyone should know the following:
There is a distinction between cleaning and disinfecting-everyone needs to know the difference.

Disinfectants and their uses vary.

Training about supplies should happen regularly and change based on the immediately available supplies.
Three tips for getting disinfecting right
Tip 1: Know who is responsible for disinfecting your facility
It's everyone's responsibility to ensure surface disinfecting is done quickly and effectively to prevent pathogen transmission, but multiple departments may be responsible in healthcare settings. It comes down to communication, teamwork, and accountability.
Tip 2: Know best practices
Disinfection is a science, meaning every step in the disinfecting process matters, from quality products to contact time. Protocols for individual surfaces or rooms, including frequency and process, should be based on the risk of pathogen transmission.
The CDC recommends the following core practices for environmental cleaning and disinfection:
Clean and disinfect surfaces close to the patient or frequently touched surfaces on a more frequent schedule than other low-risk surfaces. 

Immediately clean and decontaminate spills of blood or other potentially infectious materials.

Select Environmental Protection Agency (EPA)-registered disinfectants with microbiocidal activity against the pathogens most likely to contaminate your facility's specific environment or patient care center.

Follow manufacturers' instructions for proper use of cleaning and disinfecting products

.

 Consider the manufacturer's dilution guidelines, contact time, material compatibility, storage, shelf-life, safe use, and disposal. 
Tip # 3: 
Know what to evaluate in disinfecting products
 Choosing a disinfectant product with a U.S. Environmental Protection Agency (EPA) Emerging Viral Pathogen claim for all virus types (enveloped, large, and small non-enveloped viruses) is a smart investment. According to the National Institute of Allergy and Infectious Diseases, emerging viral pathogens like SARS-CoV-2 are those "that have newly appeared in a population or have existed but are rapidly increasing in incidence or geographic range." 
A disinfectant must be an EPA-registered surface disinfectant and kill at least two different types of small non-enveloped viruses—those that are difficult to kill to qualify for the EVP claim. The EPA created this claim to establish parameters for disinfectant products to carry specific off-label efficacy claims for new and harder-to-kill viruses during a public health crisis. Thus, when using disinfectants with an EVP claim, you use products formulated to meet current and future infection prevention needs.
Understanding the importance of proper surface disinfection, including best practices and the right products, helps eradicate viral pathogens and, ultimately, save lives. 
Made in America, for America
As a global leader in infection prevention solutions and expertise, Safetec of America is committed to providing high-quality products to our customers. Driven by our firm commitment to high-quality products, we manufacture EPA-registered and over-the-counter (OTC) products in our FDA-regulated facility. With our shared vision of protecting people, we offer the very best value in complete product solutions to keep you, your employees, patients, and communities safe.
Check out Safetec's full line of infection control products, including two EPA-registered surface disinfectant lines. According to the emerging viral pathogen claim, all our disinfectants are effective against SARS-CoV-2, the virus that causes COVID-19. Learn More.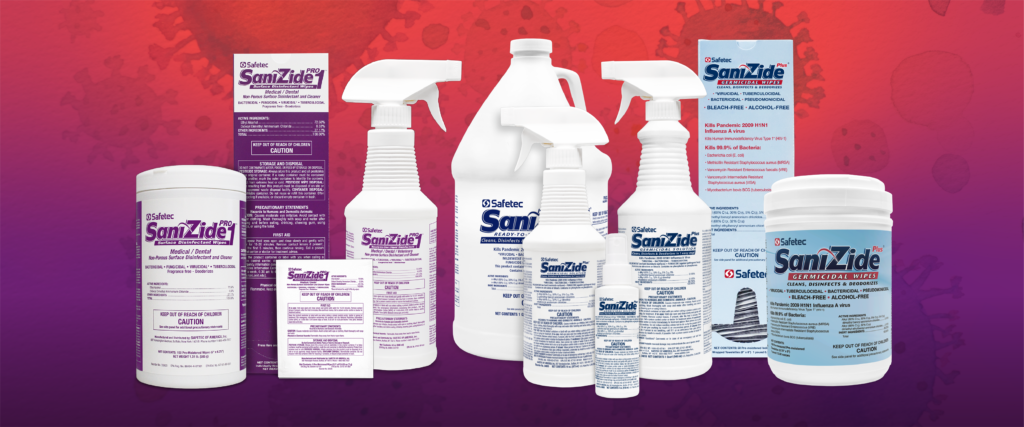 References: