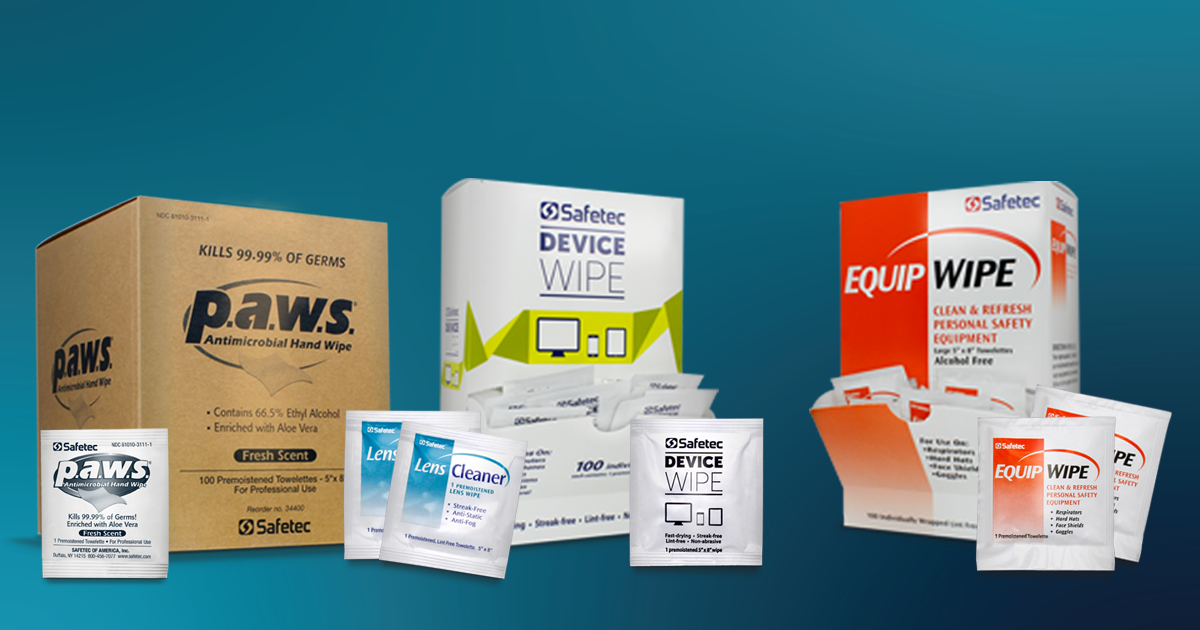 Safetec's Specialty Wipes are Back!
12/16/21
By Dana Szymkowiak
We have an exciting announcement! Safetec's individually packaged premoistened towelettes are back in production for 2022! 
On March 11, 2020, the World Health Organization (WHO) declared COVID-19 a pandemic. As cases grew, there was a nationwide shortage of personal protective equipment (PPE), surface disinfectant liquid, wipes, and hand hygiene products.
As a U.S. manufacturer of infection control and personal care products, Safetec of America, Inc. made the difficult decision to suspend traditional business activity as we focused on increasing production of our products essential to the fight against the spread of COVID-19. 
After supplying our country and essential workers with much-needed surface disinfectant, instant hand sanitizer, and hand soap for the last 18 months, we are thrilled to announce that all of our products are back for 2022, including Safetec's lines of specialty wipes. Gentle and effective, our wipes clean everything from eyeglasses, phones, screens, equipment, devices, and hands.
Lens Cleaner Wipes
Lens wipes are available in single-use pouches and provide a crystal clear, streak-free finish for glass and plastic surfaces. Premoistened towelettes allow for faster streak-free drying time, resulting in a crystal clear finish every time. In addition, the wipes pre-moistened lens tissue is anti-static and silicone-free making them safe for use on eyewear, safety glasses, computer screens, keyboards, phones, CDs, DVDs, and other glass or plastic items. Purchase in bulk packaging or 100 count easy-to-use dispenser boxes.
Device Wipes
Safetec's ready-to-use pre-moistened Device Wipes safely remove dirt, grime, smudges, and fingerprints from all plastic, glass, and touchscreen surfaces. The Safetec Device Wipe is a quick, easy-to-use solution to keep your devices clean and free from unwanted residue. Device Wipes are ideal for computers, cell phones, tablets, televisions, cameras, and remote controls and are available in 100 count dispenser boxes.
Equip Wipes
Clean and protect personal equipment with our alcohol-free, individually wrapped, premoistened towelettes. Wipe away dust and grime and easily throw away. It is safe for use on personal equipment, respirators, hard hats, face shields, goggles, and more. Available in 100 count dispenser boxes, the Equip Wipe is safe for use on all surfaces, including natural rubber.
p.a.w.s.® Antimicrobial Hand Wipes
P.a.w.s.® Antimicrobial Hand Wipes are excellent for removing germs and debris, and soil from hands and under fingernails. They are formulated with 66.5% ethyl alcohol to kill 99.99% of germs and aloe vera to keep your skin feeling soft and smooth, p.a.w.s.® Antimicrobial Hand Wipes are hand hygiene on the go, and our convenient packaging options are great for first aid kits, the office, purses, bags, hospitals, vehicles, and workshops.
Private Label Specialty Wipes!
Safetec of America is a full-service private label manufacturer with a long history of partnering with retailers and brands of all sizes, from startups to Fortune 500 companies. As a U.S. manufacturer, we focus on the highest level of quality.  
Specialty wipes are a perfect way to extend your current brand or create a new one. Offering a liquid solution in a wet wipe extends your product line while satisfying your customer's needs. Partner today with Safetec bring your consumer wipe to market!
Safetec of America, Inc.
As a U.S. infection control, first aid & OTC manufacturer, we have been dedicated to leading the fight against preventable infections and cross-contamination for 30 years. Driven by our firm commitment to high-quality products, we manufacture EPA-registered and over-the-counter (OTC) products in our FDA-regulated facility. With our shared vision of protecting people, we offer the very best value in complete product solutions to keep you, your employees, patients, and communities safe.