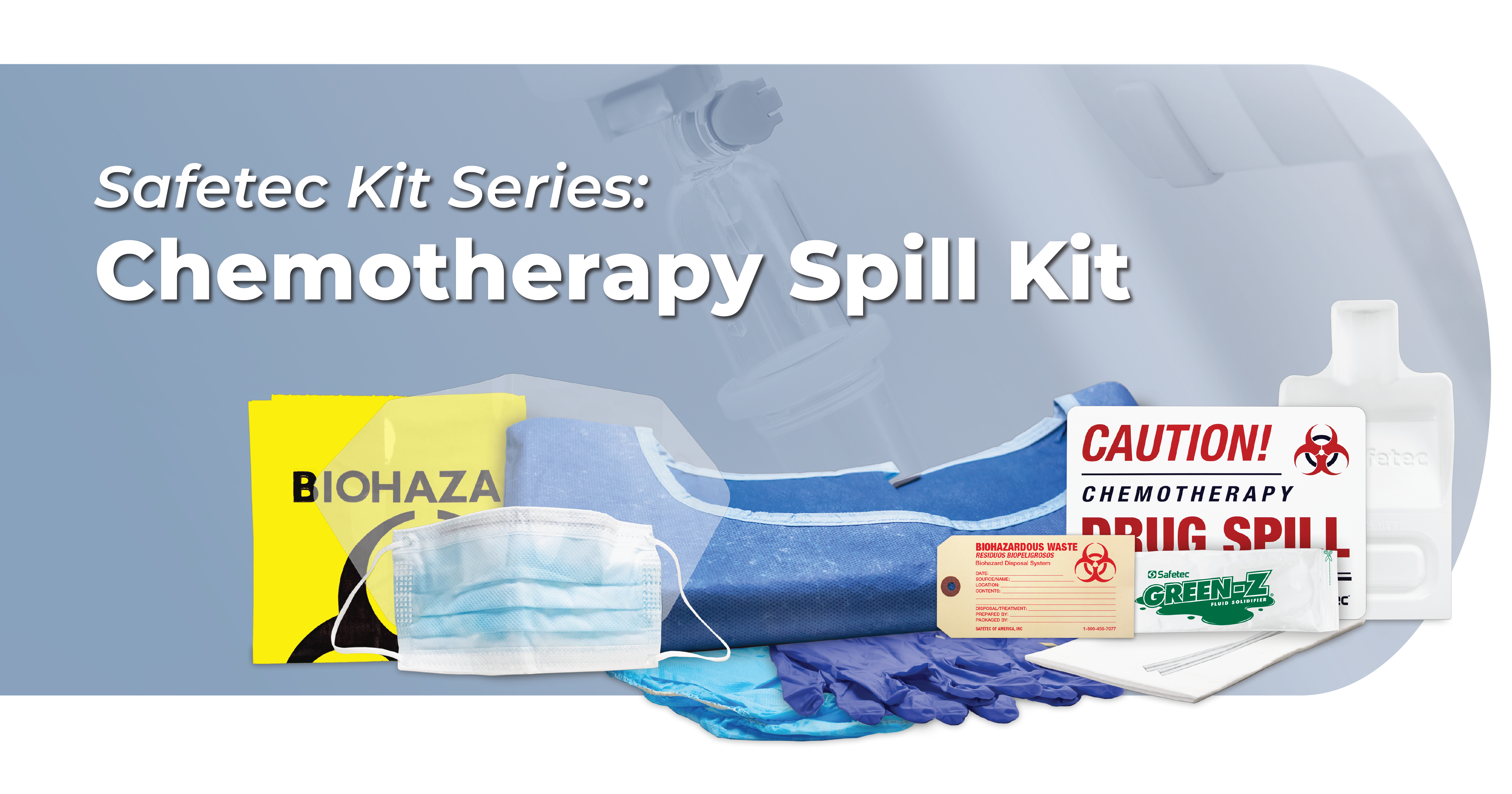 Safetec Kit Series: Chemotherapy Spill Kit
11/06/23
By Victoria Robinson
In compounding pharmacies and healthcare facilities where meticulous precautions are taken during the handling of cytotoxic drugs, unforeseen spills, and exposures can still pose significant threats to healthcare workers, patients, and the environment due to the potential toxicity and harmful effects of these hazardous drugs. To address this critical issue, Safetec of America offers a powerful solution – the Chemotherapy Spill Kit. This frontline defense against hazardous drug (HD) spills is an indispensable resource for any facility that handles HDs, ensuring compliance with USP General Chapter 800 guidelines.
USP 800 Compliance: Protecting Workers and Patients
The requirement for healthcare facilities to have USP 800 compliant spill kits on-site is an essential aspect of USP General Chapter 800. This regulation aims to safeguard the well-being of healthcare workers and patients in the event of accidental spills of hazardous drugs. By adhering to these guidelines, healthcare facilities can mitigate the risks associated with HD spills effectively.
Cutting-Edge Green-Z®️ Solidifier for Swift Cleanup and Disposal
Safetec's Chemotherapy Spill Kit features the cutting-edge Green-Z®️ solidifier, an innovative technology designed to absorb up to 750ml/cc's of hazardous drug spills rapidly. This solidifier not only facilitates quick and efficient cleanup but also minimizes exposure risks to healthcare workers and others in the vicinity. With its high absorption capacity, the Green-Z®️ solidifier ensures that HD spills are effectively contained, preventing contamination and spread.
Safety at Your Fingertips: High-Quality Nitrile Gloves
The Chemotherapy Spill Kit includes a pair of high-quality nitrile gloves that have been rigorously tested for use with cytotoxic drugs according to ASTM D6978 standards. These gloves are not only latex-free but also free from DEHP and silicone, making them suitable for those with latex allergies. The absence of powder reduces the risk of particulate contamination during use, ensuring a safe and secure environment for healthcare professionals.
Gown Designed for Safety and Compliance
The kit also contains a disposable gown that aligns with OSHA recommendations and meets ASHP and ONS guidelines for wearing a gown while preparing or administering hazardous drugs. This gown is constructed from low-permeability fabric, ensuring that hazardous drug particles do not penetrate the material. With its solid front and back closure and long-sleeved design featuring tight-fitting cuffs, this gown provides full coverage and minimizes the risk of contamination.
Key Features at a Glance:
USP 800 compliant Chemotherapy Spill Kit.
Green-Z®️ solidifier for rapid spill cleanup and containment.
Nitrile gloves tested for use with cytotoxic drugs (ASTM D6978).

Powder-free, latex-free, DEHP-free, and silicone-free gloves.

Disposable gown following OSHA, ASHP, and ONS guidelines. Made of low permeability fabric, solid front and back closure, long sleeves, and tight-fitting cuffs.
In conclusion, Safetec of America's Chemotherapy Spill Kit is a vital component in maintaining a safe and compliant healthcare environment for facilities that handle hazardous drugs. It offers an effective line of defense against the potential risks and hazards associated with HD spills, ensuring the safety of healthcare workers, patients, and the environment. For more information on the Chemotherapy Spill Kit or any of our kit offerings, please visit www.safetec.com or contact your Account Manager today.