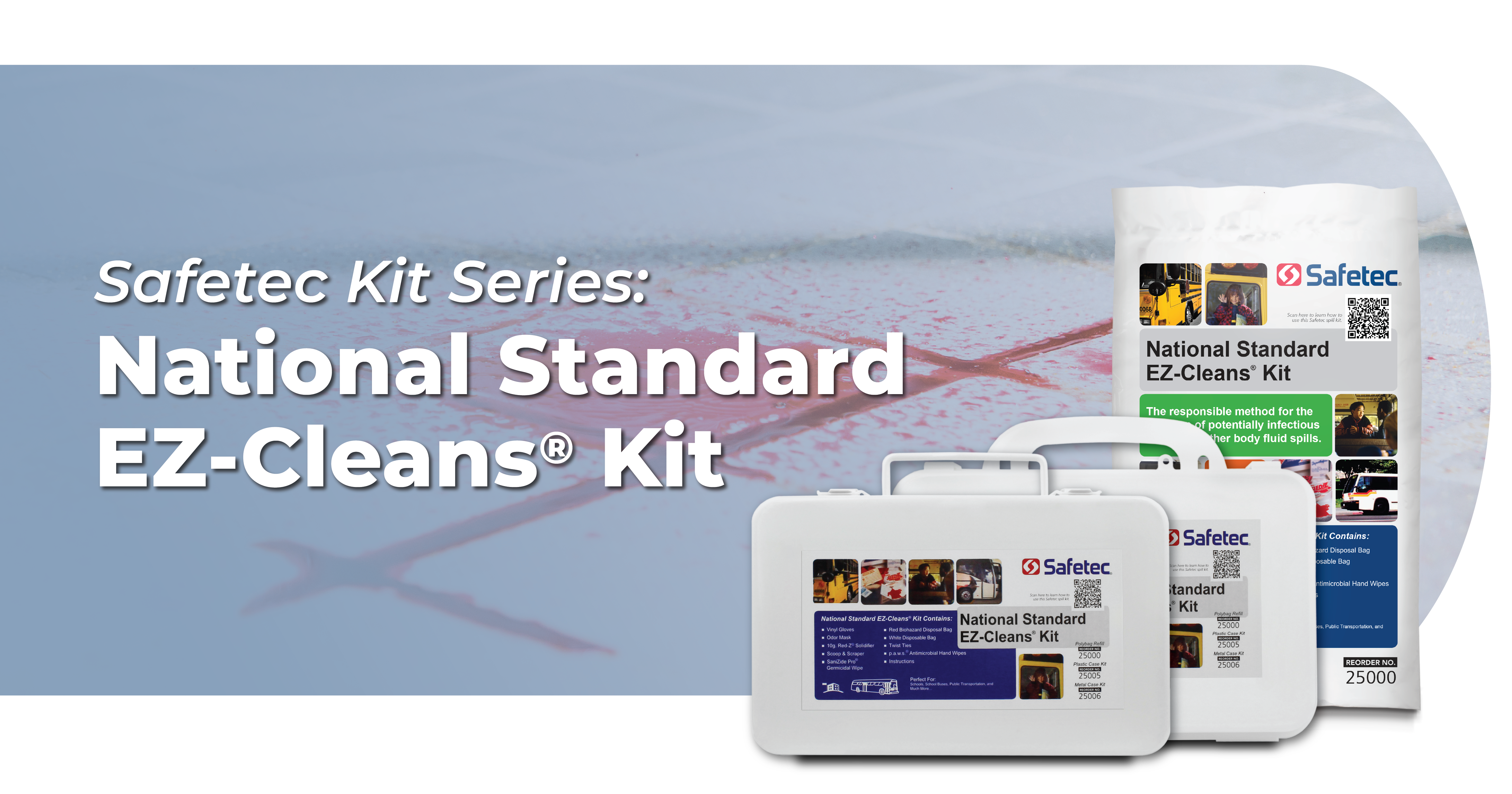 Safetec Kit Series: National Standard EZ-Cleans® Kit
11/06/23
By Dana Szymkowiak
When it comes to biohazard cleanup, whether in a healthcare facility, laboratory, or any other environment, safety is paramount. The presence of potential pathogens in blood and body fluids means that any lapse in safety measures can have serious consequences, including the spread of diseases.
At Safetec, we understand the importance of managing biohazard clean up with swift action and reliable tools. That's where Safetec's National Standard EZ-Cleans® Kit comes into play, offering a dependable solution for safe and efficient cleanup. Designed for scenarios where complete face and body protection isn't necessary, this kit provides a streamlined and cost-effective approach.
The Power of Red Z® and SaniZide Pro 1®
The heart of the National Standard EZ-Cleans® Kit lies in the dynamic duo of Red Z® Solidifier and SaniZide Pro 1® Disinfectant Wipe. Together, they work efficiently to address biohazard spills, ensuring not only quick biohazard cleanup but also the removal of unpleasant odors.
Red Z® Solidifier is designed to solidify blood and body fluids, encapsulating the spill and preventing it from spreading. Red Z® also contains a small amount of chlorine, which helps neutralize lingering odors, creating a more comfortable cleanup experience.
SaniZide Pro 1® Disinfectant Wipes provide added assurance with thorough disinfection. Trusted by professionals for their ability to eliminate 48 different microorganisms, these wipes ensure that the affected area is safe and hygienic after cleanup.
The National Standard EZ-Cleans® Kit Components
Our kit includes components that are not only easy to use but also disposable, making it a convenient choice for any worker tasked with biohazard cleanup. The kit contains:
Pair of Vinyl Gloves: Ensuring hand protection during cleanup.
Red Biohazard Bag and Twist Tie: For secure disposal of contaminated materials.
Odor Mask: Reducing exposure to unpleasant smells during cleanup.
10g Red Z® Solidifier: A fast-acting solution to solidify and deodorize blood and body fluids.
Scoop/Scraper: Facilitating the collection of solidified material.
SaniZide Pro 1® Disinfectant Wipe: Offering a high level of disinfection for surfaces.
Instructions: Providing clear guidance on using the kit effectively.
p.a.w.s.® Antimicrobial Hand Wipe: Ensuring hand hygiene after cleanup.
White Disposal Bag: For the safe disposal of used kit components.
Economical and Efficient
The National Standard EZ-Cleans® Kit is tailored for workers who don't require complete face and body protection, making it a cost-effective alternative for biohazard cleanup. With its comprehensive components and the power of Red Z® and SaniZide Pro 1®, this kit offers a simple, economical, and efficient solution for handling body fluid spills in various settings.
In a world where safety and cleanliness are paramount, the right protection and materials can make all the difference in ensuring safety, minimizing risks, and maintaining a hygienic environment. Safetec's National Standard EZ-Cleans® Kit is a trusted solution for these critical tasks, providing the tools and guidance necessary for efficient and secure cleanup. In a time where safety is paramount, choosing the right materials and protection is not just a recommendation—it's a responsibility.
For more information on the National Standard EZ-Cleans® Kit or any of our kit offerings, please visit www.safetec.com or contact your Account Manager today.