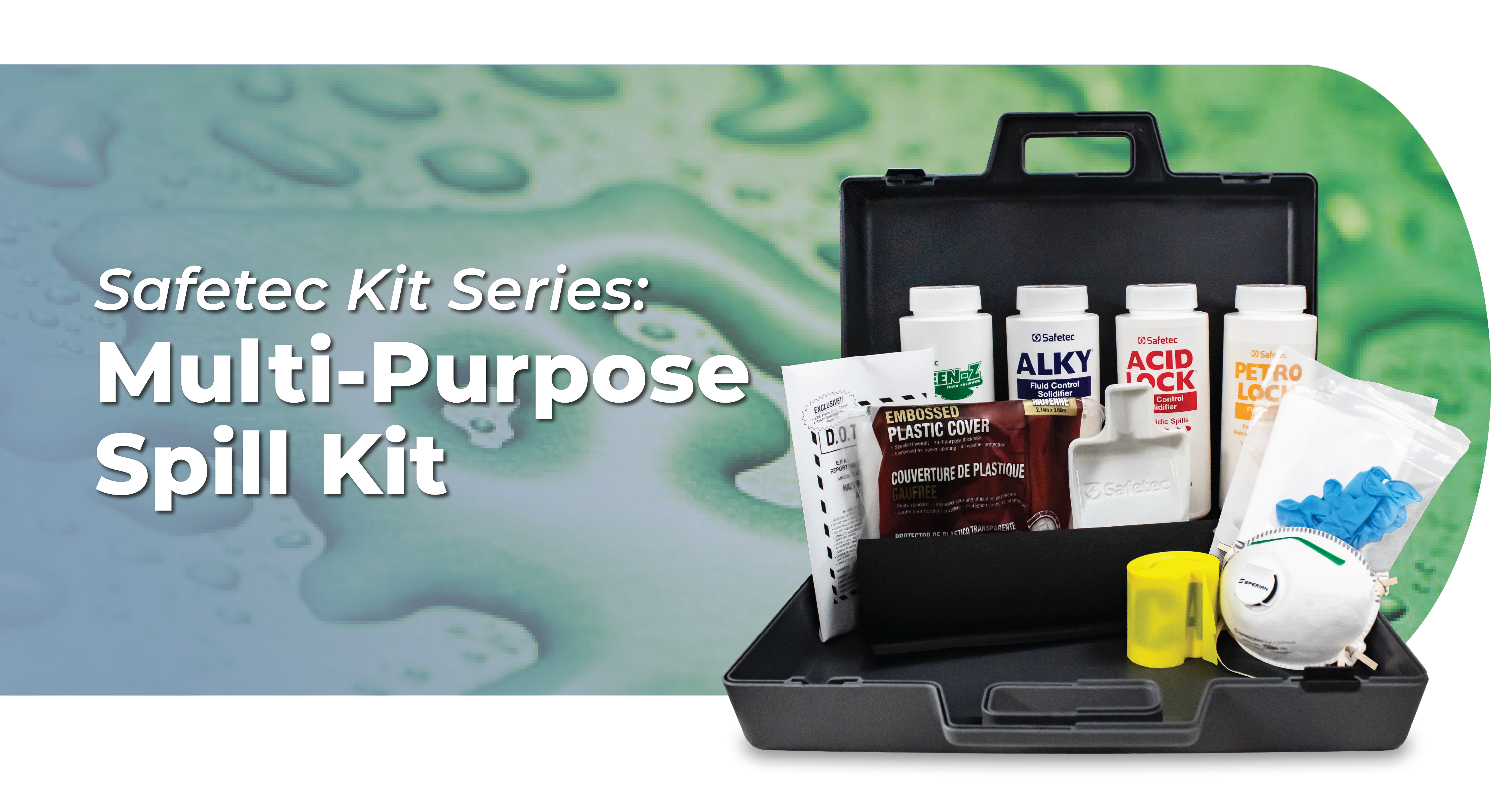 Safetec Kit Series: Multi-Purpose Spill Kit
11/06/23
By Victoria Robinson
In today's fast-paced world, emergencies can happen anywhere, at any time. Whether in a medical facility, an industrial setting, working in transportation, or part of a dedicated spill response team, emergency preparedness is key. Safetec of America's Multi-Purpose Spill Kit is the ultimate solution for managing hazardous spills effectively. In this blog, we'll delve into the features and benefits of this versatile kit, suitable for a wide range of applications.
A Portable and Comprehensive Spill Kit
The Multi-Purpose Spill Kit from Safetec of America stands out as an indispensable tool for those who need to respond quickly to spills in various environments. This kit is housed in a molded plastic case, designed for easy carrying and storage. Its compact size allows it to fit conveniently behind a truck seat or on a spill response cart, ensuring it's always within reach when needed.
Designed for Diverse Applications
One of the standout features of this spill kit is its versatility. Safetec of America developed it to serve various industries, including medical, industrial, transportation, and spill response. No matter where you work, or your profession, the Multi-Purpose Spill Kit equips you with the tools you need to handle hazardous spills effectively.
Key Benefits of the Multi-Purpose Spill Kit:
Portability:

 The compact molded plastic case is easy to carry and store, making it accessible for immediate response.

Versatility:

 This kit is suitable for medical facilities, industrial settings, transportation, and for use by spill response personnel, catering to diverse needs.

Comprehensive Response:

 With a range of tools and absorbents, it empowers you to manage various spills, enhancing safety protocols and minimizing risks.

Peace of Mind:

 By having the Multi-Purpose Spill Kit on hand, you're prepared for unexpected emergencies, safeguarding your personnel and the environment.
The biggest takeaway is that Safetec of America's Multi-Purpose Spill Kit is a valuable addition to any workplace where the potential for hazardous spills exists. Its portability, versatility, and comprehensive contents make it an essential tool for emergency response. 
For more information on the Multi-Purpose Spill Kit or our other kit offerings, please visit www.safetec.com or contact your Account Manager today.  
 *** Careful consideration should be given to chemical spill cleanup, i.e., room size, temperature, quantity, and concentration(s) of the solution(s).